Interview with the world-famous Greek mezzo soprano, Ms. Alexandra Gravas: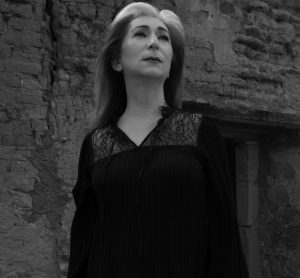 "The climate, the beaches, the easy access to the sea or the mountain… Attica combines everything!"
1. Ms. Gravas, you were born and raised in Germany, however your love for your homeland, Greece, is a known fact. Actually, you have stated that "my origins have made me what I am today". Tell us a few words about what Greece and Attica mean to you…
To me, Attica is natural beauty, the history of humanity, and the early steps of art and expression through its countless theatres, from antiquity to this day. Every step you take, you come across its age-old history. Its climate – the best! Each mountain is memories and historic events. Each shore is endless sea – endless blue – endless scent of Greece! THE BEST PLACE TO LIVE!
2. You travel frequently and perform all around the world. What is it that you miss the most from Attica when you are abroad?
Its climate! Its beaches, the easy access to the sea or to Mount Hymettus! Attica combines everything! Greek sea waters are incredible! I have been to and lived in many countries in my life until today, yet our waters and the beauty of our coasts are incomparable! Athens, for instance, combines vibrant urban life with nature, in a unique way. From the centre of the city you reach the beach or the mountain in a few minutes. That's a luxury that is hard to find! In these challenging economic times we have been experiencing lately, people in Attica could go on a holiday a stone's throw away from their houses, thanks to this geographical advantage of Athens.
3. Stavros Niarchos Foundation Cultural Centre, Megaron Athens Concert Hall, Odeon of Herodes Atticus, Greek National Opera… cultural venues that adorn Attica and host a multitude of Greek and international productions every year. What is your opinion on the quality of sound and the overall standards of these venues, compared to other respective spaces abroad? Which of these venues would you suggest a foreign traveller should definitely visit during their stay in Attica?
These venues you've mentioned are the greatest theatres of Attica, which are also famous worldwide. These stages are at the centre of attention in and outside Europe (naturally the pandemic has caused things to pause right now, all around the planet), due to the cultural events they host, featuring many foreign guest artists. It's a route upwards that started many years ago and reached its peak during the Athens 2004 Olympics. And then the Stavros Niarchos Foundation Cultural Centre was founded. All these cultural venues are adopting an international profile. I believe that – given all difficulties we, and especially culture, went through the last few years – they coped just fine! Also, let's not forget the great wealth of other theatre and music stages. The astonishing ATHENS EPIDAURUS FESTIVAL! What other country has an ODEON OF HERODES ATTICUS? A wealth of expression that Greeks – and everyone else in the world – need. Athens that knows how to have fun, whether in plenty or in want. Greeks who don't forget the meaning of Philoxenia, a word you only find in Greek vocabulary…
4. Which Greek song or melody "takes" you to Attica?
"Athenes, ma ville" composed by Vangelis Papathanassiou. I first heard it by wonderful Melina Merkouri. Later I recorded it myself and included it in the CD SONGBOOK 2 #discoveries.
https://open.spotify.com/track/67VUaPM7hAzj5Q1pOpL5YT?si=d60158e10ce14366
A hymn of love and freedom, dedicated to Athens. Athens, the mother of democracy. This is what the song means to me. When people ask me where I live, I always tell them… "In Athens, the city of democracy in the heart of Attica".
5. Which, in your opinion, are the competitive advantages of Attica in attracting visitors of all ages and travel preferences, around the year? For which reasons would you suggest your friends abroad to visit Attica?
Greece is famous for its islands and sea. I believe that the promotion of its other advantages, which was launched years ago, is very important. Attica with its theatres, museums, the Parthenon, the countless tavernas, the ideal weather and many more, is definitely a good reason to visit this land, without even having to wait for summer. Greek winter, compared to other European countries, is overall a lot milder and inviting for year-round holidays in Attica!
6. Attica with its mainland, coastline and stunning islands, is a colourful mosaic of destinations and experiences that cannot be discovered in a single day. What would you include in your itinerary if you had a… 7-day holiday in Attica?
The Parthenon, Plaka, the Acropolis Museum, the National Gallery, concerts and theatre, the Pnyx, the Byzantine and Christian Museum, Aristotle's Lyceum, a drive to Sounio and refreshing swims in Attica's islands!!
7. What is your opinion on Attica's tourism slogan "Attica – Greece in a Snapshot" and which are your favourite "snapshots" in Attica?
The slogan "Attica: Greece in a Snapshot" reflects very accurately the fact that in Attica one can come across and enjoy the entire beauty of Greece! My own favourite snapshots are the Parthenon, the hotel roof gardens in Syntagma square and the majestic view of the Acropolis they offer, Plaka, strolling around Paleo Faliro and a two-day stay in Sounio!
Photo: Robert Guzman