Interview with the founder of Athens Insiders, Mr. Alexis Frydas: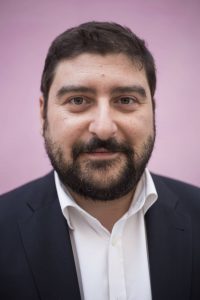 "The wealth of quality choices and the purity of Attica's people can win over even the most demanding visitor"
1. In recent years, foreign visitors tend to search for authentic experiences that bring them closer to the life of locals. Why is Attica ideal for such experience seeking?
Tourism is constantly changing, and tourist needs change along with it. We have gone from massive tourism to individual tourism, and now we have reached the era of thematic tourism. To be more specific, the visitor to our country wants to get deep into our culture and our traditions, and wants to know the place through their personal fields of interest. Attica and Athens, being the main entry gate to our country, have the advantage of welcoming a large number of visitors. The goal in previous years was to try to convince visitors to stay in Athens for 2 or more nights, as the wealth of Athens and Attica is vast. I think we have partly succeeded in that. Attica is now a destination for thematic tourism with its gastronomy, its wineries and the variety of activities it offers for family tourism, thus covering a wide range of visitors.
2. An unforgettable short break (5+ days) in Attica…. which destinations and which experiences would it include?
It always has to do with the visitor's interests. If the visitor is a wine lover, then it would include visiting selected wineries in Mesogeia, and a food and wine pairing with one of our sommeliers in a selected restaurant in Athens city center. If it is a family holiday, our company offers various activities such as treasure hunts, pottery and drawing classes dedicated to ancient Greece, theatrical plays about the revival of the ecclesia of ancient Athens, themed walks on ancient Greek mythology etc. Outside Athens, visitors could try activities such as hiking or mountain biking on Mount Hymettus and Mount Parnitha, tours on inflatable boats and snorkeling in beaches not accessible by car et al.
3. Homemade cuisine, tavernas, street food and awarded restaurants are some of the gastronomic experiences Attica visitors can choose from. Which routes on the gastronomic map of Attica would you "draw" for a foreign visitor and what would an authentic menu with the taste of Attica include?
When it comes to visitors who want to focus on gastronomy, a food tour in the city center of Athens would be an excellent introduction to Greek and Mediterranean gastronomy. Certainly, destinations such as Lavrio, Parnitha or Piraeus would also be included in the itinerary. For those who are ready to go even deeper, we have excellent suggestions such as a themed food tour based on flavours savoured by the ancient Greeks or a visit to a beekeeper followed by an outdoor cooking class.
4. Which local products and dishes from the markets of Attica would you recommend to a visitor?
The list is really long, as Greece is fortunate enough to produce products of high quality that always astonish our visitors. Products such as wine, cheese, honey, herbs and of course olive oil are at the top of the list.
5. What do you think are the advantages of Attica's restaurant scene that make a visitor feel safe in COVID-19 times?
To date, Greece has maintained a good profile regarding the management of the pandemic. I say to date because the situation is unprecedented, and we don't know what the future holds. The overall picture right now is that travel agents are cautiously optimistic that, given the pandemic, Greece will be one of the top destinations for 2021. Obviously, the image of the country draws along all tourism sectors, including food services and restaurants.
6. What are your favorite locations and activities in Attica that you would share with a visitor?
A stroll in Plaka or an outdoor cooking class with local products just harvested from the farm with my children are at the top of the list. Moreover, a visit to the Temple of Poseidon in Sounio at sunset, combined with dinner under the illuminated temple, is one of the most extraordinary experiences.
7. In your opinion, what are the characteristics of Attica hospitality that make it unique for foreign visitors?
Certainly the wealth of quality choices, in combination with the purity and quality of Attica's people, can win over even the most demanding visitor.