Interview with the President of the Hellenic Professional Yacht Owners Association, Mr. Antonis Stelliatos: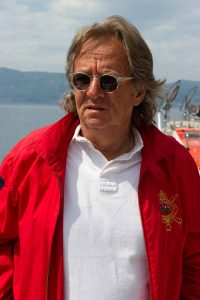 "In Attica, the visitor will enjoy a blend of blue crystal waters, Greek cuisine, Greek hospitality, history and culture with their family and friends"
1. Starting from Athens International Airport and Athens city centre, one may reach the crystal blue Saronic Sea in no time. What infrastructure and particular features make Attica ideal choice for sailing and cruising lovers?
Athens is the first city foreign visitors get to know when they arrive in Attica, before they embark on a cruise from one of Attica's marinas. But it's not just that. They also embark on a journey that combines History and Culture, unique and world-known historical monuments and the Saronic Sea. All charterers of Professional Greek Yachts plan a two- or three-day visit in Athens, and then they set sail for an adventure in the sea and the islands of the Saronic Gulf, which will be engraved on their memory for the rest of their life. Therefore, having visitors stay in Athens for two-three days, brings growth in the city's tourism.
2. Which are the first steps one should follow if they wish to travel in Attica by boat? Where should they go to, what should they know, what are the requirements for a bareboat charter etc?
When they decide to explore Greek seas, they start their research at the travel agencies in their country or the yacht brokers, if available. They should know the exact specifications of the boat, length, width, year built, number of crew – if it is a crewed charter – daily charter rate, fuel oil consumption per hour, VAT charged on the charter fee and any other information the prospect charterer may need.
3. Attica offers visitors a multitude of options for sailing and cruising – from sailboats, motor boats and traditional cruisers to catamarans, yachts, mega yachts and giga yachts. Why is travelling by sea safe in times of COVID and what health protection measures is the professional yacht sector taking?
The Hellenic Professional Yacht fleet numbers approximately 6,300 boats; with the Greek flag and exceptional Greek crews. In terms of seamanship, it is widely known that Greek seafarers are the best in the world. And as for accommodation services, I believe Greek hospitality is unique worldwide.
The boat categories visitors may find in Attica are:
Sailboats, catamarans, traditional wooden cruisers, motor yachts up to 24 metres without crew, motor yachts over 24 metres with a crew of 6-20 depending on the size of the boat and the number of cabins, and small cruise ships for 49 passengers and 25-person crew.
Cruising and sailing holidays is the safest alternative form of tourism in times of Covid 19. Currently, charterers are mainly families with children; they live together and know their health status. Or they are close friends who know each other very well and spend time together back home. Health protocols are strictly followed by crews, Covid-19 testing is conducted regularly, vessels are disinfected, and all instructions of experts are observed.
4. Which routes would you suggest to visitors who wish to have a short break holiday in Attica and explore its sea and islands?
Our visitors are fully aware that in Greece, whether you travel its seas or drive along its coastlines or walk one of its 5,000 islands and islets, one thing is certain: you breathe an air of History, Culture, Mythology and Hospitality that only Greeks and Greece can offer.
Let's have a look at an itinerary that is ideal for visitors of Attica who wish to enjoy a blend of blue crystal waters, Greek cuisine, Greek hospitality, history and culture with their family and friends:
Departure from one of the marinas in Attica
Aegina: Visit the Temple of Aphaia.
Agistri: Arrive at the lush green island and enjoy extraordinary beaches accessible only by boat.
Epidaurus: Visit the Ancient Theatre of Epidaurus.
Poros: Visit and stroll along the picturesque sea channel between Poros and Galatas.
Hydra: One of the most scenic places in the world
Spetses: Elegance, rich history and tradition
Nafplio: Visit the archaeological site of Mycenae.
Monemvasia: Unparalleled picturesque landscape. Visit the Medieval Castle Town.
Kythera: Wild beauty, stunning beaches, delicious local cuisine
Antikythera: Seclusion, peace and quiet like no other!
This cruise may last a week or ten days, depending on the type of vessel.
5. Given the rich naval tradition of Greece, the high-quality awarded marinas of Attica, and the mild weather virtually around the year, when is the ideal time to travel the sea of Attica?
When it comes to weather conditions, our country is a year round destination. For sailing and cruise holidays, the period from May to September is ideal.