Interview with the journalist, restaurant and wine critic, Mr. Dimitris Antonopoulos: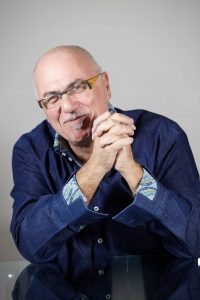 "With world-class flavours and restaurants, the Athens Metropolis radiating feverish energy, the charm of pines in its landscapes and its history, Attica glows"
1. Mr. Antonopoulos, you have tasted flavours from all over the world. Which are the ones you find here in Attica that are impossible to replace?
I can think of two world-class products that renew and evolve tradition. The Greek feta cheese is famous all around the globe, but Attica produces one of its top versions. Following the example of the world's advanced cheese making techniques, according to which a number of choice cheeses develop their flavour through year-long aging, the 12-month aged premium feta cheese by Kostarelos is an extraordinary cheese that features a rich, complex, peppery flavour and long, dynamic aftertaste. Its singularity lies in the fact that its rich milk comes from local ovine and caprine tribes of South Evia, and matures for 12 months in beech wood barrels.
Retsina is identified with Attica but "Botanic" retsina by Nikolou Winery is like a gourmet sci-fi scenario that luckily became true! It is a sparkling resinated wine made with Savatianio variety, using the classic Campania winemaking method, which astonishes with its postmodern refinement. You smell it and the nose is tickled by ethereal aromas of mastic and pine, along with fragrances of melon, mango, white-skin fruit and hints of bread crust. The mouth is overwhelmed by the explosion of an amazing flavour that comes from gentle resin, accompanied by a sophisticated lemony bitterness, while its fine bubbles nibble the palate.
2. Which are, in your opinion, the flavours of Attica that all visitors must taste?
Attica and figs have been hand-in-hand since Antiquity and the designation of Vravrona Markopoulo figs as Protected Geographical Indication (PGI) products attests to this historical taste continuation. Varieties such as the black figs, the royal green figs with the extra sweet flavour and the red Markopoulo figs are starting to lay their cards on the table of modern cooking, alongside their traditional use that we all love.
Gogges are not widely known, but if I may take the liberties, I consider them the "gnocchi" of Elefsina, brought to Attica by the Arvanites when they settled in southern Greece. They are handmade fresh pasta, traditionally cooked during Carnival, with hot butter and grated dried myzithra cheese.
Athens capital city has evolved into a melting pot and meeting point of different regional gastronomic habits. The tradition of unique cured meats brought to Greece by the Greek refugees from Asia Minor is kept alive at Evripidou Street. The variety of pastrami and fragrant sujuk hanging at the area's delis are true temptations.
Attica also embraces the unique Saronic islands, reaching all the way to Kythera, where many special delicacies come from. Aegina pistachios are rightfully a product of Protected Designation of Origin (PDO), given their elegant intense flavour and freshness that make them stand out and be superior to other pistachios. Apart from consuming them in their natural form, it is worth savouring them as a wonderful pistachio praline and pistachio butter. The finesse of amygdalota from Spetses and Hydra is undeniable. From Kythera island we get the incredible kritama (rock samphire), which if you are lucky enough to find raw, you will fall in love with them instantly. Delicious thyme honey, which is one of the best of its kind, and fleur de sel picked from the "alatares", the natural salt pans formed in the island's rocks. This "Attic Salt" seasons food in a unique way, just like the famous expression in ancient Greece that was identified with the wit and eloquence of prominent Athenians, and the innate courtesy of intellectual people.
3. If Attica was a dish, what would it be?
The setting would be a beach decorated with pines, the characteristic trees in Attica's landscapes. The dish would be mussels laid out on pine needles on the sand. When you light them on fire, the heat opens up the shells, which then absorb the aromas of the smoke; a bohemian and relaxed meal. It could also be gogges with a fig and pine nut sauce, plenty of pepper and butter.
4. What is your opinion on Attica's gastronomic scene with its abundance of options, from the traditional taverna to the awarded restaurant?
Attica boasts the city of Athens, which in the last 30 years has evolved into a gastronomic metropolis. This means that it has a wide range of culinary choices to offer, which astonish with their variety. Athenians and visitors of the city alike may enjoy everything from exceptional traditional and modern tavernas, to Michelin star and Golden Chef's Cap awarded restaurants. And not only that; the gastronomic landscape of Athens is remarkably multi-ethnic, featuring: a vast variety of exotic, European and American cuisines – restaurants of different styles where one can enjoy diverse culinary experiences (e.g. wine bars and restaurants, bar restaurants, even an open-air cinema with gourmet dishes) – and of course numerous choices for quality street food – apart from the famous souvlaki they also feature burgers, pizza, crepes, Mexican, Arabic and Indian delicacies.
5. What do you think of Attica's fine dining?
With 5 Michelin stars, 3 Bib Gourmand restaurants (quality food at a good value) and 12 more restaurants suggested by the famous gastronomic guide, as well as 11 Golden Chef's Caps, 9 Top Notch and 8 Greek Cuisine Awards, Attica's fine dining scene verifies its great momentum.
6. What are your thoughts on safety in restaurants during COVID 19?
Implementing HACCP programmes for a number of years now, restaurants have created a safe food environment. Applying the additional social and physical distancing measures (distances between tables, masks, regular handwash, capacity limits per table) protection from COVID 19 is greatly enhanced.
7. Wine is a great love of yours. Which wines best reflect the spirit of Attica in your opinion?
The soul of Attica is Savatiano. And I'm very happy to see that during these last 20 years of the wine's forceful rebirth, winemakers have been expressively translating its freshness with charming aromas and fruity finesse. A good Savatiano, especially the one made from old vines, matures and evolves beautifully for 4-5 years, it loves aging in oak barrels, giving complex wines. Extremely interesting are the orange wines made from the emblematic variety of Attica, painting the glass with a sophisticated maturity. A hallmark of Attica and Greece is retsina. After decades of touristic discredit and degradation, the time has finally come for new-age retsinas. Made with quality Savatiano and flavoured with delicate resin, they are the rebirth of a traditional wine, whose authenticity is expressed in a modern way.
8. Which areas in Attica would you suggest to demanding culinary travellers?
A gastronomic journey in Attica starts from the centre of fascinating experiences, the so-called "belly of Athens", the Varvakeios Market. The place where merchants yell about their goods in a small pandemonium, selling all-fresh fish, meat and fine delicacies. Around that area, Athens' metropolitan cosmopolitanism is concentrated, featuring shops owned by foreigners who live in the capital and sell their goods. Evripidou is the street of the East and is full of shops with spices, sujuks and pastramis. A little further down the road, Monastiraki is always vibrant, with people rightfully flooding to savour the tempting kebab, at the cradle of Greek souvlaki. From there, the culinary tour expands to the beautiful restaurants and the numerous stimulating delicacies scattered in the city suburbs, in every corner of Attica and all around its islands.