Interview with Olympic medalist in rowing, Vice President of the Hellenic Olympic Winners Association and member of the Poros & Troezen Yacht Club,
Mr. Dimitris Mougios: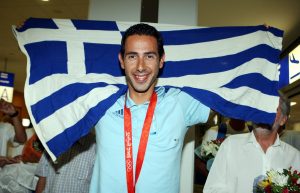 "Attica's geographic location and climate offer ideal conditions for sports and sporting events."
1. Mr. Mougios, you are champion and Olympic medalist in rowing, but also a man of sports in general. To you, which locations in Attica are inseparably connected to sporting ideals, and which routes would you suggest to visitors who wish to experience Attica's rich history in sports?
Attica is a stunning region in Greece that boasts a rich history in sports. Athens is one of the few cities in the world that has organised two Olympic Games (1896 and 2004). The capital city offers a vast number of sports monuments that are of immense interest. Apart from the Panathenaic Stadium, which hosted the First Modern Olympics, another very interesting site for visitors to see is the Olympic Stadium of Athens "Spyros Louis", whose promotion to the wider public is underway. The Olympic Stadium in combination with the brand new Olympic Museum, which is housed in the former Press Centre of Athens 2004 Olympics, offer a fascinating flashback in the history of the Olympic Games.
2. Attica hosts significant sporting events around the year – from Athens Marathon the Authentic to POROSEA multisport event in Poros – which attract visitors from all over the world. What other activities could visitors coming to attend or participate in sports events combine their visit with?
Attica is a blessed place. Its geographic location and climate offer ideal conditions for sports and sporting events. Attica boasts the biggest airport of the country, offering easy access to foreign or Greek visitors who wish to participate in a sporting event. From ancient years to this day, Attica has been constantly present in the history of Greece. The visitor who will come to Attica to participate in a sporting event may easily combine the game with a tour of historical interest, since this land is filled with antiquities and historical sites.
3. You were born in Poros, one of the most beautiful islands of Attica. Tell us a few words about this place. What are its special features that make it stand out?
Poros is indeed one of the most beautiful places in Attica. It is a lush green island, easily accessible by ferry or by car (since at some point the island almost touches the land). Due to its geography, Poros has a very big bay that is fully protected from the wind, thus it offers ideal conditions for water sports and leisure.
4. Which three experiences would you suggest a visitor should live in Attica?
The first thing I would suggest one should do in Attica, particularly during the summer months, is dedicate time to the stunning islands of the Saronic Gulf. All being so close to the capital city, they have clearly been influenced and have a romantic – neoclassical architecture, which makes them truly unique. The second thing I would recommend visitors is to go to the centre of Athens and marvel at the Acropolis Museum and the Parthenon; and third to sail across the Saronic Gulf and swim in one of the many small coves along the route. Finally, I would suggest they combine all the above with one of the many sporting events that take place throughout Attica.
5. When athletes prepares for a game, they are under a lot of psychological pressure. In your opinion, which places in Attica could act as… stress relievers?
Being an enthusiast of ancient history who believes that ancient temples have been built at sites with unique aura, a stress reliever for me would be a visit at the Temple of Poseidon, in the north of Poros. Another place that calms me down is the Lemon Tree Forest. It is a heavenly place with streams of water and a waterfall, full of lemon trees and the aromas of their flowers, right by the sea.
6. Which do you think are Attica's competitive advantages in attracting visitors all year round?
Attica has fantastic weather almost all year. This in combination with the rich history and the modern infrastructure it boasts, make it an unparalleled destination. It is truly rare for a region to combine mountain and sea, so close to a metropolis. In other words, Attica boasts an enchanting balance in all important factors that make a place popular. And it is our duty to highlight Attica even further as a thematic tourism destination, since its potentials are unlimited.
7. Attica with its islands, the Attica Riviera and its beaches along the east and west coasts, is surrounded by sea. As a rowing athlete, which options would you propose to a visitor who wishes to enjoy the sea and water sports?
Besides rowing, I also do other water sports such as sailing, SUP, kayaking and windsurfing. I assure you, there is no better place than the Saronic Gulf for someone who wants to try water sports. There are many yacht and water sports clubs across Attica and we ought to promote even more the sea culture, both to Attica's visitors and citizens. Options are countless, and one has the opportunity to choose whatever they like. Don't forget that water sports in Greece started here, at the Saronic Gulf, which is still at the forefront, since it boasts the greatest number of water sports clubs in Greece.
8. "Attica-Greece in a Snapshot" is the tourism slogan of the Region of Attica. Which are your personal favourite "snapshots" in Attica?
Watching the sunset from the harbour of Poros, the sun hiding behind the "Sleeping Beauty", the mountain across the sea; diving into the emerald waters at the "Love Bay"; winter training on the rowing boat at beautiful Vidi in Troezen, the sea being still and peaceful.