Interview with the distinguished Greek chef, Ms Dina Nikolaou: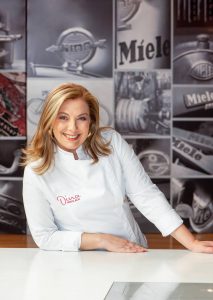 "To me, Attica is the ideal year-round destination"
1. 'Attica-Greece in a Snapshot' is the tourism slogan of the Region of Attica. What are your favourite culinary "snapshots" in Attica?
I adore the "colour" and authenticity of the tavernas in downtown Athens – Varvakeio, Koukaki, Monastiraki and Plaka. These are places where you can find gastronomic monuments that reveal Greeks' timeless approach to food. I also love the Attica Riviera, where I can look out on the sea and eat my fish. We take this for granted because it's always there for us, but it's different for visitors. In Attica, just a half hour from the city centre, you feel like you are somewhere else completely, and that is part of its magic. And there are also the islands, like Hydra with its unique charm, or Spetses that is famous for its haute cuisine, and these are intrinsic pieces of Attica's gastronomic puzzle.
2. In your opinion, are cuisine and gastronomy meeting points between peoples, and how is this reflected in Attica's current gastronomy scene? How could it be become more "open" to the foreign public?
To me, Attica is the ideal year-round destination. It draws tourists 12 months a year because it combines amazing locations, culture and gastronomy. It's the point where the East meets the West. It has Balkan elements and, mainly, it has unsurpassed Greek hospitality. Whenever I host friends from France, I bring them to Attica and take note of what captivates them. They love the atmosphere in the Athenian tavernas – the combination of folk entertainment and traditional cuisine, the authenticity they exude. This is exactly what we need to highlight, along with the nutritional value of our products. Openness is the "key", and modern technology can be of great help. A platform, with an app, where tourists have access to all the information they need. In other words, a gastronomy guide that maps out the food scene and provides accurate and reliable reviews of restaurants in Greece, and in Attica in particular. It is great, for example, that one of the two global gastronomy guides – Gault & Millau – has already mapped out and rated the restaurants in the Regions of Attica and Crete. It is important for visitors to have access to a guide like this.
3. Are international distinctions and the gastronomy events that take place in Attica helping to make the region a gastronomic destination?
Every form of distinction and promotion are extremely important, because we may be aware of our "arsenal" against competing countries, but what's important is for others to find out, too. This is why we have to enhance the image we project. At gastronomy fairs that I attend in France, visitors are very impressed with the Greek products I show. Because there are many Greek products that don't have the same recognition as more well-known products, such as feta. Tourism is one way for visitors to discover our rich gastronomic culture, and international promotion is a means for bolstering our exports. And this is why we have to enhance the image of our products.
4. How does Attica's cuisine reflect the current healthy-diet trend, and how important a role do raw materials play in this?
In recent years, the international healthy-diet trend has actually been reflected in Attica's cuisine. Our comparative advantage is the quality of our raw materials, and this is something we need to communicate abroad. As a country, we don't produce quantity, but we are certainly a country that produces high-quality products. The nutritional value of our products is our major advantage. Chefs and restaurant owners alike are very much aware of this, designing menus in line with this trend. Now, in fact, during the pandemic, when more and more people are turning to organic products as a way to strengthen their immune systems, restaurant menus are adapting accordingly.
5. What gastronomic routes on the map of Attica would you recommend to a visitor who wants to experience authentic flavours?
Food is a holistic experience. It's not just about flavour; it is also about the way you are welcomed, the service, the aesthetics, the ambience. Everyone has realised this by now, and Attica's restaurant scene has embraced and assimilated it. Major efforts are being made on all levels. For me, some of the tavernas in the city centre have a special authenticity, which we need to safeguard on one hand and promote on the other. I would propose a visit to the restaurants located along the beach front, for fish and seafood with a sea view, and I would recommend a visit to Hydra or Spetses, where culinary experiences are combined with uniquely beautiful and picturesque landscapes.
6. If we asked you to create an Attica-flavoured menu, what would it be?
I associate Attica with aromas and images – lemony and in full bloom. So an Attica-flavoured menu would certainly include a dessert with Aegina pistachios and a rich crème with milk, with honey from Kythera and lemon blossoms from Poros. For the main course, I would choose goat meat with Troezen olive oil, which I would pair with figs and Savatiano wine.
7. What Attica products would you offer to a visitor, and why?
Attica has fantastic products, exceptional wines, such as the Savatiano variety and retsina, artisans who make delicious cheeses in local dairies, Aegina pistachio nuts, figs and herbs, high-quality animal products, fish, many PDO products, olive oil, "amygdalota" (almond cookies) from the islands, and much more.