Interview with the journalist, digital content creator and blogger, Mrs. D. Karolini: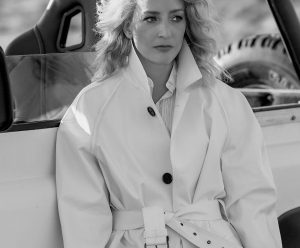 "Salty island drops, powdered mountain snow, the green of the forests…
this is Attica."
Doya Karolini has worked as editor-in-chief for some of the greatest lifestyle publications in Greece. She's been copywriter and photographer, as well as creative consultant and director for world-famous brands. She stubbornly loves the vast digital world and considers it home. Just like the sea. Based in Athens, she travels a lot in Greece and abroad, constantly drifting among inspiration, concept, photography and words.
1. In the last few years, Athens and the entire Attica region have evolved into popular short break destinations. In your opinion, why is Attica worth visiting all around the year?
On the entire planet, there is nothing like this: a metropolis with "heavy" history and steeped in timeless culture, which is at the same time surrounded by crystal waters, readily plays with your taste buds, and never sleeps.
2. As you know, in a few minutes from the centre of Athens, one can reach mountainous or seaside locations, which by no means look like suburbs of a European capital. As a person who loves road trips, which is your favourite route in Attica and why?
I love the route from the centre of Athens to Cape Sounion. Especially summertime, in sunrise or sunset. Always alone, to savour every second of the drive.
3. Which is your favourite location or spot in Attica – to photograph and visit, in general?
The Stavros Niarchos Foundation Cultural Centre (SNFCC), a true architectural jewel by Renzo Piano. Also, the beaches Legrena, Althea (also known as "Skalakia") and KAPE.
4. Having the port of Piraeus and the awarded marinas outside Athens as their starting points, Attica's foreign visitors increasingly choose to sail and cruise to the Saronic islands. What are your thoughts on island hopping in Attica?
People who live in Athens are extremely fortunate. They have easy access via sea to some of the most beautiful islands of the country, in just a few hours from the city. The same goes for Attica's visitors. Right now you can jump on a sailboat and "range" over parts of the map (many of which are officially "untrodden") for 1-3 days, feeling as if you've been away for a long vacation.
5. Attica boasts a number of 5-star hotels, awarded restaurants and customised services with comfort and luxury. What is your opinion on exclusive travel in Attica?
In my opinion, the country's "heavy" industry is undoubtedly tourism. Therefore, any services in this field should have long been in full growth and flourish. And I'm glad that this is the case in Attica – for the most part, although there is always room for improvement. Besides, there are not many places in the world, where one can choose from a variety of exclusive travel services / luxury expeditions of high standards, like Attica. And this is even more important if you think that the greatest and ultimate luxury is time. Exceptional and extraordinary services, experiences and moments "that money can't buy".
6. Spetses is one of the Saronic islands that you visit often, either for the annual Spetses Classic Yacht Regatta SCYR or for a relaxing short break. What do you like most about this island?
The enchanting past of the island and its sea. The emerald waters. The Spetsiots and their temperament. The island's gastronomy (I love eating at Orloff's, Tarsanas' and NTA's). Its visitors – they are different to those of other islands. More elegant, more carefree, with different mentality. The dearly loved Poseidonion Grand Hotel, which is the navel of Spetses – it feels as if Gatsby will show up from around the corner anytime. Antonis and Manolis Vordonis. I can't imagine the island without them.
7. In your interviews you have often expressed your love for Greek cuisine. Which product of Attica land and which dish of Attica cuisine do you prefer?
Honey and cheeses (graviera, ladotyri, anthotyro, mytato, fratsia) from Kythera. Aegina pistachios. Vravrona figs. There is always a place in my kitchen for these products. Also, I can't imagine my summers without the taste of fish "a la Spetsiota" or the Athenian salad. Old fashioned? I never said I wasn't old-fashioned myself. These are classic and precious flavours. They are part of our identity.
8. Being a photographer, what do you think of the Region of Attica's tourism slogan "Attica – Greece in a Snapshot"?
I can't think of anything more fitting, given the "crunchy" experiences and images Attica offers so generously to all its visitors or inhabitants, "cancelling" time. It is the map of Greece on a smaller scale – featuring salty island drops, powdered mountain snow, the green of the forests, the grey of a metropolis. All in one treasured thumbnail. It brings to mind the few but so overwhelming minutes of a free dive. This same feeling of freedom, adventure, uniqueness.