Interview with the Academic Director of the Benaki Museum in Athens, Dr George Manginis: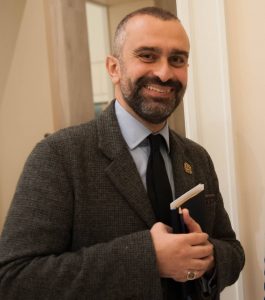 "First and foremost, a museum should keep its contact with its audience as frequent and as varied as possible"
1. Dr Manginis, what makes the Benaki Museum so special?
The Benaki Museum is unique in Greece in housing multicultural collections in a series of architecturally significant buildings. These collections encompass works of art and historical testimonies from Greece and from around the world and from as far back as prehistory and as recent as the 21st century. The Museum's uniqueness is also reflected in its focus on education and research, in its dedication to innovation and in its constant and close contact with its audience.
2. Which of the Benaki Museum collections would you set apart, which exhibits do you think move visitors from abroad and why?
The most important among the Benaki Museum collections are the impressive works of ancient Greek goldsmithing, the Late Antique collection (AD 3rd-8th c.), the Byzantine and post-Byzantine icons, the unique-worldwide collection of early modern Greek art that bridges antiquity with the present and the testimonies of recent Greek history that help us understand the country as it is today (all of them at the Museum of Greek Culture); I would also highlight the display on 20th century Greek culture at The Ghika Gallery, placing Greece within a European historical and cultural context, and the pleasantly different collection of Islamic art in its dedicated Museum, featuring splendid artefacts from countries as far apart as Spain and India.
3. What are the vital components keeping a museum alive today? How do parameters such as accessibility, varied focus areas, associated events and new technologies help in that direction?
First and foremost, a museum should keep its contact – any kind of contact – with its audience – any kind of audience – as frequent and as varied as possible; this is a main constituent of relevance and survival. During this time of pandemic closures, the Benaki Museum shares both its collections and its educational and cultural reserve through web-based guided tours in six languages, through 360˚ visits on its website, as well as through videos, podcasts and web-events. When we reopen, our audience will be welcomed most warmly but, for now, we reach out to it wherever it may be.
4. What is the future of the Benaki Museum in the digital age?
Over the last decades, the Information Technology and Documentation departments of the Benaki Museum have worked consistently towards giving it the first place among Greek museums in the digital realm. This head start in both disseminating its cultural resources and promoting research through digital media has made the Benaki Museum internationally popular and has allowed it to experiment with new technologies, for example augmented reality, while staying faithful to its educational mandate, which is always based on ground-breaking research.
5. In recent years, more and more visitors from abroad visit Attica for its museums. How could this trend be further enhanced?
For a visitor who plans to dedicate some time in getting to know better a region like Attica, reliable and up-to-date information is essential, especially if this information can be arranged according to criteria meeting their needs (accessibility, interests, cost et al.); then, the information has to agree with the reality experienced during the visit – in short, the sources of information have to be accurate and updated. At the Benaki Museum, our effort to meet these challenges is constant and it happens through information campaigns in both Greek and English and through continuous evaluation processes.
6. Which activities / events focus on families and how popular are they with visitors?
Beyond offering regular educational programmes for families, the Benaki Museum offers web-based activities – several featuring English versions – which families can do even from home, as well as an entire museum building dedicated to childhood, the Toy Museum on Paleo Faliro. There is no entrance fee for children and teenagers in any Benaki Museum building and the Museum of Greek Culture offers free entry to all once a week for six hours! Audience participation is remarkable and makes us all very proud.
7. Which are your favourite cultural routes in Attica?
My absolute favourite route is a walk from the entrance to the Acropolis towards Agios Demetrios Loumbardiaris (a path landscaped by the architect Dimitris Pikionis, whose archive is kept at the Benaki Museum), past the ancient deme of Koile, and onto Ano Petralona, Thission and the Benaki Museum of Islamic Art. From there, I walk past the Kerameikos ancient site and head to the Benaki Museum / Pireos 138 for one or more temporary exhibitions.
8. How are visitors protected in museums at the time of COVID-19? Which measures have you taken?
The measures for the protection of public health follow official guidelines and include temperature-taking for all who enter our museum buildings, controlled visitor flow, a minimum 2m distance between individuals, universal mask wearing and hand antiseptic dispensing in several places.