Interview with London's youngest Michelin star chef, Mr. Asimakis Chaniotis: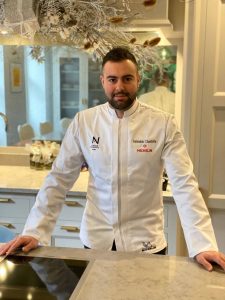 "Attica's visitors should definitely take Savatiano wine, thyme honey, tarhana, olives and Aegina pistachios back home…"
Born and raised in Athens, Asimakis Chaniotis was very interested in art from a young age, which inspired him in his great passion, cooking. The year 2018 was a milestone for the chef, who was awarded a Michelin star for his work as Chef de cuisine of L'Autre Pied Restaurant, one of the best restaurants in London. He was only 28 years old and became the first Michelin awarded Greek chef outside Greece and the youngest in UK's capital city with this distinction. Passionate about quality ingredients, Asimakis Chaniotis seeks to incorporate the Greek element in his recipes. And he impresses with his creations!
1. Mr. Chaniotis, you were born and raised in Athens, a city with rich and vivid history, culture and art. To what degree are your roots and experiences reflected in the dishes you create?
The way every person and every chef act, is based on their experiences. The same goes for me. My childhood experiences and the memories I have from my mother, as well as the restaurants my father took me to, are certainly reflected in my dishes and have played a key role in the way I evolved.
2. Besides being a perfectionist and hard worker, you are also passionate about top-quality ingredients. As a supporter of the "farm to table" movement, tell us a few words about Attica's produce. Which local products would you advise foreign visitors to take with them?
Foreign visitors should definitely take the flavours and aromas of Attica back home: wine from the historical Savatiano variety, thyme honey that "tastes" like Attica's countryside, tarhana for its high nutritional value, olives for their rich flavour and health benefits, and Aegina pistachios, the PDO superfood with the addictive taste.
3. At the National Geographic Traveller Food Festival in London, in July 2019, on behalf of the Region of Attica you prepared a modern take on brunch, based entirely on characteristic produce from Attica's land. What was the audience's response and what does, in your opinion, the present and future of gastronomic tourism in Greece look like?
The audience's response was positive and their comments were extremely favourable. Our goal was achieved, since we showcased the endless choices that Attica's food scene has to offer, using quality local produce, such as Kythera olive oil rusks, tomatoes, capers, feta cheese, olive oil, Aegina fistiki (pistachio) and Savatiano wine. The experience was very pleasant for us, too, and we had a great time cooking for Attica.
4. As a chef who studies the secrets of good wine, tell us a few words about Attica's vineyards and the local leading variety, Savatiano.
Savatiano is a moderately vigorous but highly productive plant. The variety's high resistance to drought and high temperatures has made it the headliner of Attica's vineyards, ever since antiquity. Vineyards in Attica are among the hottest and driest in Greece. Savatiano can make single-varietal wines but is also blended with other varieties, such as Assyrtiko and Roditis. It features notes of pear, citrus fruit, nectarine, green apple and flowers. When the wine sits in barrels, it is enhanced with more elaborate flavours that make it even more intriguing.
5. How often do you visit Greece and which is your favourite place in Attica?
I travel to Greece at least 2-3 times a year. My favourite place in Attica is, I would say, Sounio, where I first worked as a cook and spent plenty of time fishing and hunting with my chef friends in 2009-2011.
6. Fine dining featuring Greek cuisine notes and Michelin star flavours, which celebrate Greek tradition in their own way. How challenging is the undertaking and what kind of experiences does the outcome create for the customer who tastes your dishes?
Basically, what I do is described as French cuisine with Greek elements and produce from my country. It has been well-received and embraced. No undertaking is easy until it succeeds, therefore it is certainly stressful.
7. If we asked you to create a dish that "tasted" like Attica, what would it be?
Hmm, this is hard to answer. Probably something simple, such as kayana eggs, one of my favourite Greek dishes.
8. From a street artist in Athens… a Michelin star awarded chef in London. What does the future hold for Asimakis Chaniotis?
I wish I knew how to answer that one. I have definitely been through a lot from my adolescence until now, and I could only say what Asimakis is hoping for. Right now, and as I grow older, I think I would like to go back to Greece and open my own restaurant, but unfortunately I believe that Greece is not ready yet for more fine dining restaurants, from a financial and mentality point of view.