Interview with the awarded Greek chef patissier-chocolatier, Mr.Dimitris Chronopoulos: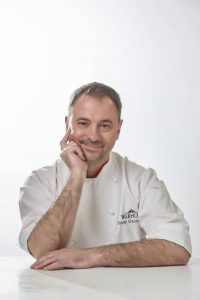 "What enchants me in Attica is that almost every corner of the region has something unique to offer…"
Dimitris Chronopoulos is a Greek chef patissier-chocolatier that has been widely acclaimed both in Greece and abroad, for the quality and creativity of his work. He has worked as Pastry Chef and Pastry Chef Consultant in various high-end restaurants, pastry labs and hotels around Greece and abroad, including Michelin-starred restaurants. He has won the "Best Pastry Chef in Greece 2005–06" award and since 2007 he has been active in the wider pastry sector through his personal company as a consultant, advising on the organisation and operation of pastry labs. He also organises professional pastry seminars and workshops in Greece and abroad, and promotes raw materials or products both through research and the creation of tailor-made recipes.
Website: https://www.dchronopoulos.com/
Facebook: https://www.facebook.com/dimitrischronopoulospastrychef/
Instagram: https://www.instagram.com/dimitrischronopoulos/
LinkedIn: https://www.linkedin.com/in/dimitris-chronopoulos-16aa2131/
1. Mr. Chronopoulos, for a number of years you have worked with awarded Greek restaurants, such as Spondi, Vardis and Varoulko, while you also oversee the dessert menu in major Greek restaurants, as a consultant. What is your opinion on the current gastronomic scene in Greece?
I believe that the level in Greece is considerably high. There are exceptional professionals both in the pastry and the culinary sector, who serve gastronomy with passion and consistency.
2. Where do you draw inspiration from for your sweet creations?
For me, confectionery is art, therefore I draw inspiration from everything around me that could be stimulating, such as exceptional raw materials, images, information and experiences I collect from my travels in Greece and abroad, as well as ideas I exchange with the people I work with.
3. You pay great attention to top-quality raw materials and treating them properly. Do you believe there is quality local produce in Attica, and if so, which of these products do you use for your creations?
In Attica we have exceptional raw materials, such as Aegina's pistachios, Kythera's honey, Kalloni's raisins, dairy products, fruit, herbs and a lot more. Not only do they play a key practical role in the traditional and modern confectionery of this land, but at the same time they offer us the flavours and aromas of Greece.
4. Today, residents and visitors of Attica can savour a wide range of pastry flavours, from the traditional "amygdaloto" at a pastry lab in a Saronic island, and the "galaktoboureko" in a neighbourhood pastry shop, to one of your creations in a fine dining restaurant in Athens. What do you think of the co-existence between tradition and globalisation in Attica's pastry?
The present is closely connected to the past, and therefore contemporary confectionery is a product of our culture, our customs and traditions. The fact that – due to globalisation – we are increasingly influenced from other countries, I think is part of our overall evolution as society and culture.
5. Which traditional local dessert of Attica would you suggest a foreign visitor should try? And which creation of yours would you offer them?
Difficult question, because there are truly so many traditional local desserts in Attica one should try, that is hard to pick one. Amygdalota? Spoon sweets? Galatopita? The list is very long. As for my creations, I would probably offer them a variation of the Semolina Halva, with raisins, figs and a velvety chocolate cream.
6. You are a trueborn Athenian. Is there a place in Attica that you particularly love and why?
What enchants me in Attica is that almost every corner of the region has something unique to offer. From Athens historical centre, the endless coastline and the beautiful nature on the surrounding mountains, to the picturesque narrow streets in the nearby islands, Attica fulfills all requirements, even the most demanding ones.
7. Talent, training, creativity, hard work, inspiration, raw materials, persistence. After almost 30 years in the confectionery field, what – in your opinion – is the proportion of the above ingredients in the success recipe?
In confectionery, following a recipe to the letter can lead to the desired outcome; however in life things are certainly different. There is no recipe for success, although all these elements you mentioned, along with a little bit of luck, certainly bring us closer to fulfilling our dreams and conquering what each one of us considers success.
8. If we asked you to create a dessert that has the "flavour" of Attica, what would it be?
It would be an Airy Vanilla-Olive Oil Cream, with Caramelised Aegina Pistachios, Baby Rocket and Fresh Raspberries.
Photo credit: Pavlos Tsokounoglou