Interview with the awarded Greek photographer, Mrs. Marina Vernicos: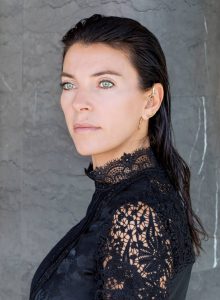 "The eternal, imperishable light and the energy reflected by the Acropolis monument move me afresh, every time I look at it…"
Marina Vernicos was born in Athens and from a very young age she has been doing two things she absolutely loves: travelling and photography. She studied Communications and Photography at Emerson College of Boston and Business Administration at Harvard Extension School, and now showcases her work at solo and group exhibitions in distinguished galleries and museums around the world. She has been nominated Photographer of the Year 2018 for National Geographic and has published six photo books.
Being a restless spirit, multi-tasking, socially and environmentally conscious, Marina Vernicos has founded CREAID, a non-profit organisation with a targeted humanitarian mandate that launches projects and organises annual exhibitions and auctions featuring works of art, thus assisting the local community, mainly focusing on children.
Having selected some of her most characteristic imagery, Marina Vernicos created her own clothing and accessories brand "Marina Vernicos Collection". Part of the proceeds is donated to the "We Dive we Clean" volunteer divers who clean the seabed of Greek waters.
1. Mrs. Vernicos, you have lived and studied abroad and have travelled to more than 130 countries all around the world. And yet you always come back to your base, Greece, where you live permanently with your family. What is it that you love the most in this land?
For me Greece is the most beautiful country in the world, and having travelled to 133 countries so far, I can say with certainty that I wouldn't want to live anywhere else but in Greece. The truth is that the more I travel and get to know new places, the more I realise the individuality and uniqueness of Greece. We are blessed to be living in a country that combines and encompasses so much and so diverse beauty. I particularly love and draw inspiration from our islands, the Greek light and our seas, my all-time favourite destination being Sifnos, my place of origin.
2. One of the photo books you have published is entitled "My Acropolis". Talk to us about the emotions that the sight of this unique monument evokes.
"Μy Acropolis" began in 2002, when I moved to a house with a view to the Acropolis. Since that moment and for ten years I photographed the same view from the same window, all 4 seasons of the year, different times of the day. The eternal, imperishable light and the energy reflected by the monument had a magical effect on me from the first moment and still move me afresh, every time I look at it. What I can say with certainty is that you can never get used to the sight of the Acropolis, and although I have the fortune to be able to enjoy it every day, it overwhelms me with pride, awe and emotion every single time.
3. Favourite place in Attica for a day out with the family?
A walk around the Acropolis and the Ancient Agora with the whole family is always a wonderful opportunity to combine relaxation with a tour at some of the greatest archaeological and historical monuments of our country, which demonstrate the aesthetics and evolution of our culture.
4. Vernicos Yachts, your family's business, provides maritime tourism, cruising, sailing and yachting services in Greece. What would you say to someone who is thinking of discovering Attica's coastline and islands on a boat?
I would heartily recommend island hopping in Attica. Attica offers unique experiences to those who decide to discover it by sea and the choices in sailing and cruising are numerous. The Saronic Gulf with its sapphire crystal seawaters embraces some of the most beautiful islands, such as genuinely enchanting Aegina, heavenly lush Agistri, Poros, Spetses and Hydra, which uniquely maintain the atmosphere of a past era and combine it with a modern cosmopolitan ambiance. Also a cruise along Attica's Riviera, the indented coastline of Attica, offers delightful moments with its extraordinary diversity: emerald beaches, pebble shores, little bays, fascinating caves to explore. I positively believe that the best way to get to know Attica's coasts and islands is on a boat. You get to live the experience to the maximum.
5. You are a sea-lover and excellent swimmer. You have participated in the Spetses Mini Marathon several times, even achieving great performances. Tell us a few words about this experience.
Indeed, the sea is my life. I have the need to be near it and be able to see it, smell it, feel it. In the summer I swim at least 1-2 hours every day. Therefore for me it was only natural to participate in the Spetses Mini Marathon, which this year celebrates its 10th anniversary. I am very proud that this sporting event institution takes place in Greece. It has become a milestone in sports tourism, it has taken on a global dimension and at the same time it has breathed new life into Spetses island, supporting it financially, socially and culturally. I have participated twice in the 3km and 5km open water swimming races. Also, in addition to my participation in the races, I always make sure I put my photography into practice, since the Spetses Mini Marathon is an excellent circumstance for impressive aerial –among others- shots of the sporting event.
6. Drone photography in Attica. Which place would you choose and why?
The last few years I have been working on aerial photography, which I think offers photographers unique possibilities and the chance to capture landscapes from a totally different and artistically fascinating angle. I find it hard to choose only one place. I would say definitely the Sacred Rock of the Acropolis as well as the Attica Riviera with its ecstatically beautiful coasts. I should also mention that during the quarantine I created a daily visual diary, recording with my camera and the use of a drone, images from the unprecedentedly empty city of Athens. These shots will be used as evidence of an unpleasant and at the same time extremely interesting experience.
7. In the last few years, Athens and the entire Attica region have evolved into popular short break destinations. In your opinion, why is Attica worth visiting all around the year?
Both Athens and the whole region of Attica with its islands can satisfy every travel preference and expectation, any time of year, giving the opportunity to visitors to combine the most memorable sightseeing with getaways to places of stunning beauty. World-heritage monuments and modern cultural centres, beaches with crystal blue waters along the cosmopolitan Attica Riviera, unforgettable gastronomic delights, a multitude of shopping and entertainment options, as well as alternative tourism experiences, such as cycling, hiking, camping, sport activities. No matter what you look for in an all year round short-break destination, you will definitely find it in Attica.
8. Being a photographer, what do you think of Attica's tourism slogan "Attica – Greece in a Snapshot"?
I consider the slogan ideal for capturing and expressing precisely the uniqueness and diversity of Attica's landscapes. It encompasses in the most masterful way the individuality of Attica as a collection of Greek images and authentic experiences.
9. What would be in your… "frame" of absolute happiness?
My family, the sea, travelling and Sifnos. This is all I need to be happy.