Interview with the President of the "Acropolis Chef's Club of Attica", Mr. K. Mouzakis: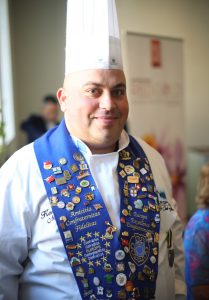 "The whole Attica region is a culinary map…"
Konstantinos Mouzakis is President & Founding Member of the Chef's Club of Attica – Acropolis and Vice President of the CEUCO European Oenogastronomic Brotherhoods Council for Greece. Alongside his many official titles and distinctions, he has also won the "Chef Europe 2015" award in Perpignan France. He specialises in the Mediterranean and Greek Traditional cuisine, in the Greek Breakfast and in baking and pastry arts. With consistent actions in all over the world he constantly promotes Greek gastronomy, culture and traditions abroad.
1. Culture and gastronomy are two powerful tourism pillars in Greece and in Attica. What are your thoughts about the link between them and how can foreign visitors be initiated into the culture and traditions of Attica through its flavours?
In order for foreign visitors to be initiated into the culture and traditions of Attica through its flavours, we should maintain and promote the historic, cultural and quality features of local gastronomy, encouraging economic development and awareness of Attica's population through concrete, integrated tourism proposals. In addition, we should highlight our existing reputation and create a powerful local identity based on the unique gastronomy, culture, traditions and manpower of benefited destinations. At the same time, local gastronomy and local produce (farming, livestock, fishing) should be linked with local small-scale food processing businesses, local culture, cultural events, tourist activities and local planning. Constant improvement of quality and services is needed, according to demand and new market trends, as well as communicating experience and expertise on wine-gastronomic tourism to all sector professionals through training. Awareness and education of local population, so that we all return to the delicious and nutritious culinary habits of the past; let's re-discover our local identity through active participation.
2. Attica's gastronomic scene has been continuously evolving in the last few years, emphasizing on quality ingredients and with respect to the region's culinary traditions. In what way does this evolution affect the gastronomic experience of the visitor?
Taste is one of the five recognised senses, and for visitors to feel the evolution in Attica's gastronomic scene, all their senses (in turn or even simultaneously) should be stimulated, i.e. first they hear about the dish (hearing), then they see the food (vision), they smell it (smell), they touch it (touch) and taste it (taste). There is also a somewhat romantic notion in taste experience, which refers to the controversial sixth sense (intuition), namely the pleasure the visitor feels from the taste experience. Don't forget the domination of the internet nowadays, which has many positive as well as negative effects in the final decision for a visitor's taste experience, which is why caution is needed on many levels.
3. How important is food & wine pairing and which flavours of Attica would you "couple" with which wine?
The notion of wine tasting has become increasingly popular in recent years, yet it has ambiguous connotations. This is due to the nature of wine itself, which may initially seem simple, however it is characterised by a beautiful complexity of grapes, aromas, flavours etc. On the other hand, there is the way in which wine tasting is conducted. Many people believe that wine tasting is a relatively modern discovery whose main goal is to impress. However, this is far from true. Wine tasting is not a recent discovery at all; it dates from ancient years, when Greek wine stewards tasted the wines they offered at meals. Also, wine tasting does not aim at impressing convives. On the contrary, it is a very specific and methodical process, with scientific background. By definition, wine tasting is the sensory examination and evaluation of the quality of wine, pairing it with food. Main goal for the wine taster is knowledge. Through this knowledge, wine obtains substance and distinctive character, and – most importantly – it ultimately gives enhanced pleasure.
A characteristic example is the Brut Sparkling White Wine – Botanic by Nikolou Winery, made with Savatiano variety. It wonderfully accompanies a dish of seafood or even better one of Attica's traditional dishes, like lamb fricassee.
4. On an imaginary "culinary map" of Attica, where would you… drop a pin and why?
This is hard to answer, but if I had to name just a few places in Attica, I would say Athens historic centre, Peiraiki and Kastella in Piraeus, Pachi and the Saronic islands, featuring beautiful Kythera. Also East Attica, the centre of quality wine and the Mesogeia region in particular, as well as the beautiful spots around Mount Parnitha and Kalyvia. Having said that, the whole Attica region in itself is a culinary map, with numerous places that have evolved into unique gastronomic destinations, offering distinctive local cuisines.
5. Given that today's travellers wish to "taste" the destination, seeking authenticity and quality, which do you think are the competitive advantages of Attica in modern gastronomic tourism?
Attica has many competitive advantages, the main being its mild weather, lower prices and, as surveys indicate, 65% of tourists come here for the combination of sea – capital city – gastronomy. Another important reason is that visitors feel there is still authenticity in Attica, with quality food accompanied by exceptional wine, beautiful moments, music, entertainment, dance. Ultimately, the combination of Culture – Tradition – History with Gastronomy is everyday life in Attica, which makes it so distinctive, standing out from other destinations.
6. Which are the features of "Attica's Breakfast" and why do you think foreign visitors should try it at their hotels?
"Attica's Breakfast" aims at capitalising on the country's cultural and gastronomic wealth and connecting it with Greek hospitality in hotels and other accommodations. At the same time, on one hand it seeks to upgrade the quality of offered services in smaller tourist accommodations and on the other hand to highlight the unique products of Attica land. Naturally, if we manage to "spread the word" on the wonderful Greek products through our visitors, we will have taken a great step towards a significant breakthrough – the recognition of Greek production abroad, this time with actions. To reach the point where foreign visitors seek Attica's Breakfast, a major promotion campaign is needed, focusing on the genuinely local and unique character of the products, so that foreign visitors decided to try them (Greek butter is just as good as any known foreign brand or we may even serve sheep prosciutto for breakfast instead of bacon etc.). Attica's Breakfast features particular elements, such as: Bread & baked goods, Butter, Honey, Marmalades, Spoon sweets, Fruit compotes, Cookies, Biscuits, Desserts, Creams, Cheeses, Olives, Olive oil, Pies, Pastries, Soups, Eggs, Omelette, Cured meats, Juices, Dairy products, Yoghurt, Teas, Coffee, in other words a complete and delicious breakfast menu.
7. As private yacht chef, what would you say to someone who is thinking of discovering Attica… by sea?
The Saronic Gulf has a lot to offer in a cruise, featuring all these beautiful islands like Salamina, Aegina, Agistri, Poros, Hydra, Spetses, Gaidouronissi, Fleves, Kyra, Lagousses and the Diapories Islands, as well as the enchanting island of Kythera. Gastronomy on board has a long tradition in Greece, and can in itself be a distinctive form of luxury promotion for Attica. The boat's kitchen and the owners' demands are of great importance. Every space offers different possibilities and, most of the time, there is no specific meal schedule. The boats I have worked on vary in size, from 35 to 160 metres and I must say cooking on a small boat is not ideal.
An idea for a slogan is "Savour your destination on board in the Saronic Gulf" which would promote Attica, the Saronic islands and local gastronomy.
8. Based on your dynamic presence abroad, how receptive is the foreign audience to Greek cuisine and mainly to Attica's gastronomy and flavours, and which is its future in the world's culinary map?
With a long tradition that numbers approximately five centuries, Greek cuisine is an indispensable part of Greek culture. The ingredients used in Greek cooking are natural, based on livestock farming, fishing, agricultural produce and wine of the Mediterranean region. Greek gastronomic habits are often considered an example to be followed, while the reputation of Greek cuisine abroad grows increasingly, even though a recent survey indicated that Italian cuisine, namely pasta and pizza, is the top cuisine among 24 other countries worldwide, followed by Chinese and Japanese. Greek cuisine is at the 12th position among 34 countries around the world, and it takes a lot of effort to raise Greek Gastronomy to a better position in the world's culinary scene. Greece's Gastronomy and Wine are on the threshold of a new era. Culture, traditions, history, gastronomy, wine, local produce (fish, livestock, farming) are the Brand with which we should promote real Greece. Let's not forget that there are many visitors who travel long distances in order to taste the real splendour of authentic Greek cuisine in Attica. These travellers are well informed and educated, and want to savour a quality local meal from starters to main course and side dishes, from drinks to desserts. An important step to this direction is the launch of a new collaboration between the Region of Attica and the Chefs Club of Attica –Acropolis, so that the Taste of Attica is further elevated and recognised in the world's gastronomic map.
9. Which dishes would you recommend to a foreign visitor to try in Attica and which local produce of Attica's land would you advise them to take with them?
Foreign visitors should always try to taste unique local flavours accompanied by special wine varieties from Attica's vineyard, such as: mutton chops accompanied by a retsina, or a seafood dish e.g. "tarhanotto" with mussels and shellfish accompanied by a glass of Savatiano, or even "fassolada" (bean soup) accompanied by a tank red wine. Let's not forget Assyrtiko variety, which we can savour with the famous "pastitsio", vegetarians may try a "briam" with a glass of Roditis, and finally Attica's star dish, the famous grilled sardines accompanied by a glass of Malagouzia.
Attica's visitors should definitely try the products that grow in Attica land and take some with them: local products of Protected Designation of Origin (PDO) such as Aegina Fistiki (pistachio), Feta cheese, Troezen extra virgin olive oil and Vravrona figs, as well as Raisins, Kythera honey, cheeses and sausages, Poros "Lemon Mizithra", Troezen oranges and lemons and Savatiano wine.