Interview with Mr. Jens Thraenhart, expert in the Travel and Hospitality Industry, 2nd Vice Chair of the UNWTO Affiliate Members board and Executive Director / CEO of the Mekong Tourism Coordinating Office: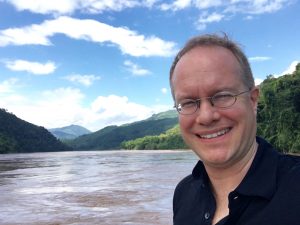 "Attica is a unique blend of fresh food, warm weather, friendly people and ancient culture."
1. Mr. Thraenhart, when did you first travel to Attica? What was the purpose of your trip?
My first time to Greece was with my parents as a child, but the last few times I have in vivid memory was for my Cornell classmate's wedding in 2004. We stayed on in Attica for the Olympic Games, and visited various islands. Then I was back in Attica for the International Sports Conference "Sport Accord" in 2008, and a couple months later for some tourism consulting work.
2. What are your strongest memories from that trip? What places / attractions did you visit?
In 2008, I spent most of the time in Athens, and was able to explore the local life away from tourist areas due to being with friends. From the small fresh seafood restaurants or having a souvlaki or gyros, to nightlife in Piraeus, the Acropolis museum, a day trip to Hydra, and the changing of guards at Syntagma square. The strongest memory that to this day lingers in my mind, is a unique blend of fresh food, warm weather, friendly people, and ancient culture.
3. You are European, but you lived in the US and Asia for quite some time. How would you characterise Attica as the crossroad of East and West?
Without a doubt, Attica is a beautiful amalgam of Eastern and Western culture, traditions, gastronomy etc. Let's not forget that ancient Greek culture has influenced lives all over the world. Having lived in Toronto, the large Greek community is a good example, with excellent Greek food and vivid traditions. In Asia, Greek food is a little harder to find, however is slowly gaining more popularity. If it is Beijing or Bangkok, some good Greek restaurants have been able to bring Attica to Asia via culinary diplomacy.
4. Work plays a vital role in your daily life. How would you combine Business with Pleasure in Attica?
In my experience, when I was in Attica for business, work blends naturally with leisure by either going out for a glass of wine or some fresh simple food with colleagues, or friends taking me to parties or to the beach for the weekend. Due to the openness of the people in Attica, it was easy to feel at home very quickly.
5. In your career, you served as a strategic tourism advisor to Governments. What elements would you use to promote Attica to the World? What, in your opinion, makes Attica unique?
I think what makes Attica unique is its ancient culture with iconic monuments such as the Acropolis and the Parthenon, its access to beautiful islands all with their own unique character and audience, and of course its food. In fact, I believe that via food, Attica can be effectively promoted internationally, giving people a touch of the Mediterranean. Every 2 years, the world is reminded of Greece with the Summer and Winter Olympic Games, however in these days I would be surprised if people, especially younger generations, are aware of the roots of the Olympics, as well as the stories of the Greek Gods. I think via clever storytelling, especially Generation Y and X can be inspired as they are looking to understand the world, many times rooted in Greek heritage.
6. If you were travelling again to Attica now what would you like to experience? Which destinations would you include in your itinerary?
Almost 15 years after my last trip to Attica, I would certainly want to experience the real Greek food – the fresh seafood, an authentic Greek salad, and a real souvlaki. I would want to go to a hotel rooftop in Syntagma square in the evening and have a nice glass of Attica's wine and enjoy the view of the Acropolis. And finally, I would want to stroll the little streets and neighbourhoods, go to the markets, and just get emerged in the daily life of the people.
7. "Attica-Greece in a Snapshot" is the tourism slogan of the Region of Attica. What are your favourite "snapshots" of Attica?
View of the Acropolis at night – the traditional tavernas of Lavrio – seafood in Piraeus.