Interview with the President of Attica Wine and Food Experience (AWAFE), Ms Maria Alifragi: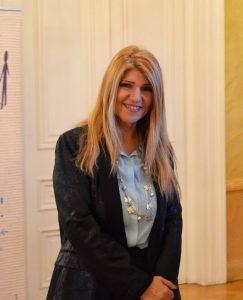 "Attica offers unique moments, aromas and flavours for all tastes and budgets"
1. Ms Alifragi, tell us a few words about the product club "Attica Wine and Food Experience (AWAFE)", about its goals, its actions and the members it encompasses.
Our association Attica Wine and Food Experience features wine makers of Attica's vineyard, as well as gastronomy, tourism, culture, media and advertising professionals with a common vision: the advancement and promotion of wine & gastronomy tourism in Attica, driven by the experience and knowledge of our members.
2. How can visitors be initiated in Attica's culture, civilisation and traditions through gastronomy and wine tourism?
Attica's local flavours and wines reflect and bear witness to the history, culture and rich heritage of this land. Simply by tasting the produce of Attica's land and the traditional recipes that are passed down from generation to generation, and savouring the wine of Attica's vineyard, visitors get to know its age-long history through the narrative offered by Attica's wine makers themselves, living a complete experience, which is now the main requirement in experiential travel.
AWAFE plans and suggests actions that combine tastings of Attica's wines, food tastings of Greek delicacies and pairings with the respective wine variety, seminars by respected wine connoisseurs-partners of our association, as well as cultural events. Thereby we highlight Attica's products and inform visitors about our quality and tradition, in a pleasant and delightful way. Due to the diversity of our product club's members, we always propose new ideas for various activities that can be supported by our members or partners, and despite the adverse times we are going through, we prepare in order to welcome Greek and foreign visitors when this is all over, with a strong team and good wine!
3. What types of wineries do we come across in Attica and what do they feature for visitors to see? Tell us a few words about modern wine makers, their awards and the developments in winemaking and winegrowing.
Attica's wineries and members of AWAFE are small- and medium-scale wine makers, when it comes to quantity, their main characteristic being the production of quality branded wines. A visit to the winery is a unique experience. Not only does it give you the opportunity to come closer to nature while touring around the stunning vineyards, but it also allows you to get to know the wine makers, discuss with them and taste the wines of your choice, at the specially designed wine-tasting premises of the winery. Museums within the wineries, as well as buildings with extraordinary historical value make the visit to the wineries all the more interesting.
Our wine makers stand out not only for their experience and professionalism in the production and promotion of wine, but also for their readiness for cooperation and their team spirit in every collective action, aiming to showcase their internationally awarded products, highlighting at the same time our land's cultural heritage.
Attica's wineries and AWAFE's members are distinguished for their top quality wines, made with indigenous vines of Attica's vineyard, measuring up and even outmatching the quality of other countries' products. Allow me to name our wine makers individually, because they truly deserve all the attention: Allagianis winery, Aoton winery, Domaine Evinos, Gikas winery, Chateaux Kaniaris, Oenotria land Kosta Lazaridi, Nikolou winery, Kellari Papachristou, Pyrgos Vasilissis, Strofilia, Domaine Vassiliou, Stamatis winery.
4. Recently, the Region of Attica signed a Collaboration Agreement with "Attica Wine and Food Experience", aiming at implementing common actions for the promotion of Attica's culture, gastronomy and wine tourism. Tell us a few words about this initiative…
Our association was founded in 2018 and since day one there has been mutual collaborative spirit between the Region of Attica and AWAFE. We have already welcomed a wine and gastronomy tourism fam & press trip, and we have been hosted in two major tourism exhibitions.
Recently, Attica Wine and Food Experience signed a collaboration agreement with the Region of Attica, hoping to jointly organise and implement even more actions to support our mission. To begin with, the actions in which we anticipate working together regard wine and food tastings at the visitable wineries of Attica, each with its own individual identity.
Our website (http://www.awafe.gr) features a number of wine routes that combine visits at archaeological sites and other locations of great interest in Attica, as well as comprehensive descriptions and information on the wineries one can visit.
Other actions we wish to organise with the support of the Region of Attica include, for instance, WINE & CULTURE – wine tastings featuring a cultural event, possibly with the participation of Attica's Municipalities that can incorporate such events in their cultural programmes.
A new important action I'd like to mention is entitled WINE AND PHILOSOPHY, in cooperation with our member VSN HUB & MARKETING LEAD, which has the know-how and the right team to see the project through.
It goes without saying, that we should continue hosting travel agents and journalists of the international thematic tourism industry, so that travel and media professionals have the opportunity to get to know us and experience our offering. Organising hybrid events and forums is also in our agenda, since we all realise that technology is an indispensable part of our lives and it's here to stay. We have more projects in mind, which we will be happy to discuss and implement with the Region of Attica in the future.
5. In what ways can the brand name "Attica" enter the world's gastronomy and wine map, in your opinion?
I believe that strategic marketing and advertising can have a positive impact, given that until now we have never seen any organised or targeted efforts on behalf of the state. Wine tourism is very low and we are hardly known abroad in this field. However, the market is evolving and tourism models are changing, therefore I believe this is the right moment to show everyone that beyond the sun and the sea, professionals like us have definitely a lot more to offer to each and every visitor. The actions I mentioned above, if organised with consistency and repeatedly, will be a big step forward, and we travel agents will be able to recommend these programmes to our partners abroad with greater enthusiasm and passion.
6. No more than 30 kilometres from the Acropolis, in a unique natural environment, the region of Mesogeia welcomes its visitors with the aromas of the vine and the grape juice. What experiences do Attica's vineyards and modern wineries have in store for visitors and how do these activities enhance the overall experience?
Mesogeia is indeed the home base of many of our wine makers; however our members extend beyond east Attica, all the way to Kapandriti, Megara and Ilion. Each winery has its own distinctive identity. Some are traditional, family wineries starring the producers themselves, welcoming their guests and narrating the tradition and evolution of Attica's vineyard. In these wineries, the hosts will tell you all about the new modern face of "Savatiano", the main indigenous PGI variety of Attica that gives us retsina, and explain how it manages to impress as the leading character in white wine blends. Other AWAFE wineries are more modern, with state-of-the-art showrooms and shops, organic cultivations, historical premises and even wine museums.
7. "Attica: Greece in a Snapshot" is the Region of Attica tourism slogan. Which culinary "snapshots" and wine routes would you suggest to Attica's visitors?
I love the slogan! Without a doubt, Attica offers unique moments, aromas and flavours for all tastes and budgets. Our routes merge the beauty of the entire country in every single "snapshot" along the way, offering each time an extraordinary experience.
Our suggestions vary according to the wishes and preferences of Attica's visitor. For example, I would recommend a route toward the enchanting Cape Sounio, stopping at one of the wineries in Anavyssos or the wider southeast Attica. A daytrip to east Attica, visiting the wineries in Koropi and Paiania or Marathon and Kapandriti. West, I would suggest Megara combined with Eleusis, a land that is associated with Aeschylus, goddess Demeter and the Eleusinian Mysteries.
As for flavours, I recommend Savatiano with goat meat, traditional pies, cheeses, fresh fish, platters with Greek delicacies served in the excellent wine bars in downtown Athens, sparkling wine with retsina, Vravrona with lunch and spectacular sea view in Porto Rafti. AWAFE's website announces every new route proposed by its knowledgeable professionals and very soon it will feature the suggestions of the Gastronomy and Culture team expert, Mr. Timos Petridis. Stay tuned!
Photo: Kostas Voliotis