Interview with the President of the Hellenic Association of Professional Congress Organizers (HAPCO),
Ms. Irene Toli: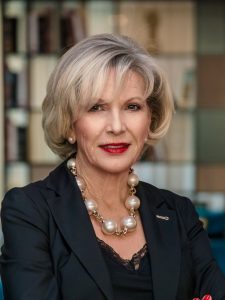 "Attica is the ideal collection of destinations, combining business trips with leisure."
1. Congress tourism is considered one of the most promising forms of tourism and it represents an important market internationally. What do you consider Attica's advantages as a congress destination?
First of all, accessibility, as Attica is the "crossroads of the world", located between Europe and Asia. Attica's airport hosts 64 airlines from 54 countries, covering 166 global destinations. Athens International Airport is just 30 minutes from downtown Athens. Distances are short and it is easy to get from the mountain to the sea. In terms of infrastructure, Attica has lots of hotels and other accommodation, congress venues, concert halls, exhibition premises and other spaces capable of meeting all needs and budgets. At the same time, the climate is mild all year round, and Attica is sunny and pleasant, ideal for "Bleisure" (business+pleasure) activities, with an incredibly diverse natural environment, which can satisfy any preference. Naturally, culture and history lead the way, as the concepts are deeply rooted in Attica. Athens is the city with the longest history in Europe, and it laid the foundation for western civilisation. At the same time, it has many World Heritage monuments and wonderful museums, while it is renowned, like the rest of Greece, for its hospitality and people, making visitors' experiences unforgettable. The mosaic of Attica's advantages is completed by the wealth of gastronomic options, the local products, and the exceptional wine varieties.
Furthermore, Attica is the headquarters of congress industry professionals who can contribute to the implementation of an excellent event.
2. Tell us about the congress infrastructure and the advantages of congress venues in Attica.
Attica has numerous types of accommodation, a large number of beds, and great variety in prices for conference attendees to choose from. Distances are short and the metro offers excellent connections to central Athens. Most congress infrastructure is located within congress hotels, and this allows organisers to obtain better prices, making Attica a competitive destination in comparison to other European metropolitan regions. Another great advantage during the pandemic is the fact that we are considered a safe destination, as sector professionals follow the hygiene protocols scrupulously.
3. Congress tourism usually concerns visitors of a higher educational and financial calibre, who prefer high standard accommodation. They are prepared to spend a significant amount of money, but they demand high-quality services and products. Does Attica's infrastructure when it comes to accommodation meet these high specifications, and how could it be further strengthened?
I would like to indicatively mention that over 50 new hotels have opened in Attica in the past 5 years, including boutique hotels, and design & luxury hotels in the city centre. The creation of new hotels, whether on the mainland – including the Attica Riviera and Piraeus – or on the islands, in combination with the existing hotel infrastructure in the region, is proof that Attica is a destination that offers high-quality services. The hotel development of Athens, specifically, is the most up-and-coming in all of Europe, thus increasing its competitiveness.
4. Accessibility to a congress venue and transport at the destination are factors that impact congress tourism. To what extent can Attica, with its airport and means of transportation (e.g. the metro) meet the expectations of visitors arriving to attend a congress?
When Attica's airport was constructed 20 years ago, it fully met the requirements of the city. However, an increasing number of people want to turn Athens into a hub, proving on the one hand its growth, and on the other hand its great demand. As a result, the expansions being planned and implemented have a time-horizon of at least 10 years. Athens metro provides transportation to all major venues and fully covers the connection of exhibition centres and congress hotels with regional hotels, the airport, and the port.
5. Could cultural heritage act as an incentive for selecting Attica as a location for congresses and, if so, why?
If not Attica, the cradle of civilisation and the "Symposium", then what region could claim to do so? Aristotle and Plato walked in the Academy, where they laid the foundations of philosophy. Athens is where Western Civilisation started to develop.
6. What activities on the mainland and the islands of the Region could congress attendees and their companions combine with the congress during their stay in Attica?
Currently, Attica is connected with 11 islands (accessible in less than 1 1/2 hour). There are many activities that are immediately available and are related to the sea and the natural landscape, cultural events, sports activities, and, of course, gastronomy. Attica is the ideal collection of destinations, combining business trips with leisure, and all international congresses provide the potential for pre- & post-stay social activities combined with any given congress.
Greece has 2,500 islands, inhabited and uninhabited, of which just 110 are well-known tourist destinations. What does this mean, practically speaking? When a congress attendee comes to Greece, one lifetime is not enough for them to choose another post- or pre-stay destination and get to know Greece!
7. Gastronomy is undoubtedly a means of getting to know the culture of a land. To what extent can Attica's modern gastronomy options satisfy the demands of a congress attendee? What gastronomic routes would you recommend?
Mediterranean cuisine and Attica's produce, which is always fresh because of the sunshine and nutrient-rich soil, have made Greece famous! Mediterranean cuisine is the most popular healthy cuisine in the world, and the congress community is now placing a lot of emphasis on this. As regards this, Attica can cover any type of preference, since it combines traditional flavours, modern gastronomy, and a wide variety of options.
8. In your opinion, how can congress tourism in Attica be strengthened, and what is the Hellenic Association of Professional Congress Organizers doing in that direction?
In order to strengthen Congress Tourism, our Association believes that it is necessary to create a Metropolitan Congress Centre, and to promote the congress product and the MICE product in a targeted fashion. During the pandemic, we must activate and open congresses with "reasonable" protocols, following the examples of other states, while, in general, attracting investment and further developing congress culture and synergies with tourism bodies will bring even more visitors to Attica.
9. "Attica: Greece in a Snapshot" is the slogan of the Region of Attica. What are your favourite "snapshots" in Attica?
Attica has countless different landscapes that interchange constantly, since it combines the mountains and the sea. In my opinion, it is the most hospitable Riviera in the world.