Interview with NS Travel & Tours Associate Managing Director, Mr. Tony Chotechuang Soorangura: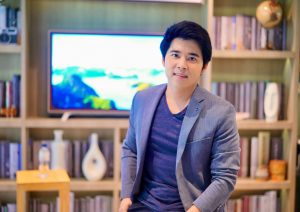 "The uniqueness of Athens and the wider Attica region, with their history, culture and attractions, is what Asians want to explore."
1. Mr. Chote, your family are running one of the most historic outbound travel agencies in Thailand. Why would you advise your customers to travel to Attica?
NS Travel & Tours has been leading Thailand's tourism since 1979, so we have quite an experience in various developments in Thailand tourism. Over the last several years, under the scheme that the international tourism has been booming worldwide, the number of Thai outbound travellers also largely increased and reached 11 millions in 2019. Having said that, Thais travel to overseas much more frequently, not only short-haul but also long-haul. The digital world also grants them to be able to access various information, photos, reviews, blogs, vlogs and these tempt them to further their travel level. As such, frequent travellers tend to fade away from big and bustling cities to new exotic experiences.
This is why Greece, particularly Attica, can serve this demand as an exotic destination. Athens and the wider Attica region are widely known for their history, ancient culture and distinguished attractions. This uniqueness is what Asians want to explore.
2. As a travel professional but also as a traveller what remained in your memory from your trip to Attica?
In my line of work, I do really travel a lot across continents. It's the best benefit of this career I guess. I've got the chance to see so many differences in food, culture, history, people, architecture, nature and so forth. Honestly, out of all the places I've visited, Attica is one of my top ten. My first trip to Attica was over 13 years back. I landed at Athens and soon after that, as I drove to the city, the Acropolis caught my eye. In my childhood I was fascinated by Greek gods, Greek mythology and history. Seeing the Acropolis reminded me of my childhood fantasy. It's thrilling just to have such remarkable architecture sitting in the middle of the city.
3. Let's imagine for a second that you move from Bangkok and you decide to live in Attica. Where would you like to be, in the heart of the city or by the seaside? How would you spend your days?
By the seaside, of course. If I move out from bustling Bangkok, the only reason would be to find a peaceful life. I would choose a beautiful place along the Attica Riviera or in one of Attica's islands. I must say, I'm not a beach person who likes getting toasted on the beach every sunny day. After all, I'm an Asian and most Asians avoid the sun. Therefore, to me, I just need a good view of the blue sea that I can see through my windows every morning.
4. Tell us a few words about Attica's food scene. What are your favourite Greek flavours and aromas?
Asians are very picky when it comes to eating. We love to eat. I do too. I love trying different dishes, particularly local specialties. In Attica, my favourites – and most Asians' favourites, too – would be fresh seafood and pistachio. Oftentimes my groups bring back kilos of pistachio as souvenir.
5. In your opinion, what are Attica's competitive advantages in attracting visitors all year round?
I think it must start with Athens. The main attraction pole would be the exotic offerings such as the culture, the ruins, the history and definitely the Acropolis, which as I mentioned earlier people cannot find these anywhere else. Plus these are really Instagramable. Then the beautiful nature – mountain and sea – just a few minutes away from the city centre. And of course the islands, each very special and different, to match all preferences.
6. Rich cultural background, warm hospitality, ease of communication with most Greeks speaking English, modern infrastructure and top-quality services. Which do you thing are Attica's strongest assets that Asian visitors value the most?
I think Attica's strongest asset lies on the rich cultural and historical background. It's at the top of the list in Asians' minds when they think of Greece. Another message I always convey to my customers is Greek people. Greeks are very friendly and communicative.
7. Which are the experiences in Attica that you would suggest to a traveller from Asia?
I'd recommend Athens' Central Market for Asian travellers. They will love it. We love such markets, where we can find a variety of things especially fruits or souvenirs. It's a good place to experience how locals live, too. The market is a way of life and it tells us a lot more than just a place.
8. Share with us five buzzwords for Attica that come to your mind.
Culture, Ancient, Exotic, Peninsula, Gods
9. "Attica-Greece in a Snapshot" is the tourism slogan of the Region of Attica. What are your favourite "snapshots" of Attica?
My favourite is the city of Athens, a stunning blend of modern and ancient architecture, plus my beloved Acropolis right in the middle of the city. It's a true landmark like Eiffel tower in Paris. Cape Sounio, Marathon and savouring delicious seafood by the sea complete the list of my favourite snapshots of Attica.