Interview with the President and CEO of the National Centre of Audiovisual Media and Communication (ΕΚΟΜΕ), Mr. Panos Kouanis: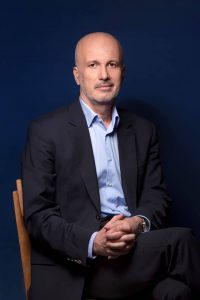 "Attica is an ideal blend of all aspects of modern life, without shaking off its classical heritage"
1. Mr. Kouanis, in the last few years Greece and Attica have marked significant increase in the number of foreign audiovisual productions they attract. Tell us a few words about this uptrend…
Indeed, within the last three years (from April 2018 until April 2021) ΕΚΟΜΕ has supported a total of 125 productions, 60 of which were international. The total investments made in the country reached 127 million euro. Evidently, this is the result of EKOME's hard work, supported by the Greek Ministry of Digital Governance and Minister Kyriakos Pierrakakis in particular, our common, national goal being what we call "supporting audiovisual production"; not only through the assistance we provide to domestic productions but also via attracting international audiovisual productions that constitute genuine investments both in material and non material capital. Today, Greece has managed to number among the most sought after destinations for large foreign companies, and this is just the beginning.
2. What are the incentives offered to foreign audiovisual production companies, to encourage them to choose Greece and Attica for shooting?
ΕΚΟΜΕ combines two funding incentives, creating an exceptionally competitive package in the field of audiovisual productions: the cash rebate, which was recently increased to 40%, and the tax relief, which amounts to 30%. These incentives are capable of attracting production companies that are truly interested in Greece as an investment destination. Furthermore, with the recent law, an additional funding resource for audiovisual productions has emerged, through the 1.5% of turnover in Greece from platforms such as Netflix, AppleTV, Disney+ and ΗΒΟmax. At the same time, combined with the operation of Film Offices in 13 Regions and 2 major Municipalities in Greece, we are creating the necessary infrastructure for creators to implement their business and artistic plans, as smoothly as possible, through the services provided by a Film Office. The Region of Attica has already initiated the procedures that will result in the launching of its Film Office, in cooperation with ΕΚΟΜΕ. This, in turn, will result in even greater promotion of the region, through attracting, hosting and assisting all types of filming.
3. In summer and autumn of 2020, despite the pandemic crisis, major foreign productions were filmed in Attica with safety and lots of positive feedback by the production teams. How was this achieved and which locations in Attica hosted these shootings?
From late May 2020, there was remarkable productions activity in Greece. This was made possible because during the first lockdown period, EKOME chose to maintain the funding programme open and fully functional, allowing production companies to submit their applications for the cash rebate as per usual. When the lockdown ended and travel re-opened, productions that had been approved could begin filming. In addition, we were fortunate to host productions that had initially been scheduled for other destinations, but eventually chose Greece due to the high safety standards and the successful management of the first pandemic wave.
As for the Region of Attica, it is worth mentioning that Spetses Island hosted the shooting of the film "The Lost Daughter" directed by Maggie Gyllenhaal. "Man of God", directed by Yelena Popovic, was filmed in Athens, Lavrio and Aegina. The movie "Say Cheese" by François Uzan was filmed in Athens, at Charakas beach, along the Attica Riviera and in Aegina Island. Schinias beach hosted the shooting of the film "Μediterraneo", directed by Marcel Bareno. And of course shootings took place all around Greece, too, in more than 100 locations.
4. Which, in your opinion, are the competitive advantages of Attica in attracting international audiovisual productions?
Attica is unique! It combines sea, mountains, vast stretches of land, history, ancient and modern culture, entertainment, gastronomy, art, as well as vigorous production activity, commerce, investments. It is an ideal blend of all aspects of modern life, without shaking off its classical heritage. The filmmaker may discover locations with historical references and visit monuments, wonderful beaches, nearby islands and archaeological sites, all at the same time, in a region that marries the urban landscape with the countryside; in a land with a tradition in winemaking, gastronomy, fashion and arts, which is literally washed by the unique Greek light all year round. In other words, Attica is an ideal destination for the attraction of audiovisual productions. A characteristic example of how Attica can meet diverse needs, beyond those of a Greek production, is the series Tehran by AppleTV, which was fully filmed in Attica, while the story supposedly takes place in Tehran.
5. Which are the main pillars of EKOME's campaign "Greece is a safe studio" and what does the future of audiovisual productions Greece look like?
EKOME's objective is to illustrate to the audience that Greece offers competitive investment and tax incentives, ideal locations for shooting, experienced professionals and, of course, that it is one of the safest destinations worldwide. EKOME is always present in international markets in order to promote this renewed narrative, and results indicate that we are gaining ground both in credibility and prominence. Besides, the interest that has been expressed for filming in Greece after the second half of 2021, as well as the number of audiovisual projects that are about to be launched, create an image of an industry that is expected to bloom in the years to come. What we tell everyone is that Greece has all necessary infrastructure ("Greece is a natural studio") and is the land where one can realise their creative ideas ("Υour idea in action!").
6. What is your opinion on the Region of Attica's slogan "Attica. Greece in a Snapshot"? Can you name some of your favourite… snapshots/locations in Attica?
Everyone that has been to Attica, both residents and visitors, has their own favourite Snapshot. The beauty of the entire Attica Basin from Attica Park (Attiko Alsos) at dusk, a visit at Vouliagmeni Lake, a roof garden overlooking the Acropolis, these are things that always touch me. As I was born and raised in Attica, my heart is filled with snapshots, from my childhood to this day…
7. Based on what criteria do you recommend locations in Greece to foreign audiovisual productions?
The criteria are based on the requirements set by producers, according to the script and the specifications of the shooting, combined with the infrastructure they need and the services offered. Of course, having travelled all around Greece, we have the experience and knowledge to be able to help professionals turn their interest toward a specific destination in Greece. We focus on the script and its needs, the demands of the director and the producers, also trying to highlight destinations that are lesser known.
8. Can you name some of the foreign productions that have been planned to take place in Attica, when circumstances permit?
It has already been agreed to shoot (in Attica, for the most part) the film featuring the life of Giannis Antetokounmpo (Greek Freak) produced by Disney+, as well as the French production film Cyclades, starring Isabelle Huppert, in some of the Cyclades Islands. Negotiations have been concluded and applications are expected to be submitted for the third part of the film My Big Fat Greek Wedding, directed by Nia Vardalos and produced by Tom Hanks-Rita Wilson, that will be shot in Attica and the Peloponnese; the new film by Rian Johnson starring Daniel Kraig (shooting in June in Porto Cheli), the new film by David Cronenberg starring Mat Mikkelsen (shooting in Attica) as well as episodes of the 3rd season of the TV action series Jack Ryan, directed by Tom Clancy (shooting in Attica and the Cyclades Islands). Obviously these are just some of the dozens applications submitted to ΕΚΟΜΕ, which fills us with optimism for the future of audiovisual production in Greece.
Photo: Marilena Anastassiadou