Interview with the President of Hydra Hotels Association, Ms Maria Pieroutsakou-Kladaki: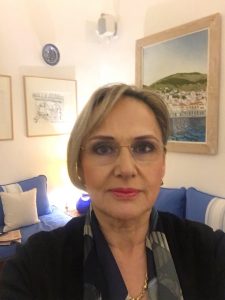 "A stone's throw away from the capital, you're in a different world, a different universe".
1. Hydra is an island that stands out and is renowned for its picturesque qualities. Tell us about the unique architecture and the elements that keep its image and aura unchanged through time.
Hydra is a unique ecosystem, with the crescent-shaped port, the severe mansions, the captain's houses, the alleys, the equidae, and the lack of vehicles.
All this creates a different environment that is more than an image: it is an experience; you are truly living in the 18th century! Historic mansions, such as those of Pavlos and Lazaros Kountouriotis, the School of Fine Arts, the National Merchant Marine Academy of Hydra, which is a museum in itself, the unique houses of the captains who became rich in the Napoleonic Wars, stone and sea everywhere; all this makes Hydra's Historic Town an idyllic place. Yes, Hydra remains unchanged through time!
2. Hydra is rich in history and traditions, it was one of the most important cultural centres of Greece, where distinguished figures of the Arts and Letters from Greece and abroad gathered. In your opinion, which factors contributed to this and how does it still succeed in attracting fine arts lovers? How could this be further strengthened?
The environment of Hydra was like a magnet to artists and visionary authors such as Henry Miller, Giorgos Seferis, Patrick Leigh Fermor, Allen Ginsberg, Marc Chagall and others. It was the birthplace of great artists, such as Nikos Hadjikyriakos-Ghikas, Pericles Vyzantios, Pavlos Pantelakis, and Panayiotis Tetsis.
It all started with Hadjikyriakos-Ghikas, who hosted painter John Craxton, Henry Miller (The Colossus of Maroussi), and Fermor. Authors and painters met here and created a small community that attracted more artists. The Australian George Johnston lived here for 10 years with his family, and later brought Leonard Cohen. In the 1960s they created a very intense core of artists. The ecosystem I mentioned has a unique picturesque quality that attracts painters and writers, because it is a homogeneous, authentic environment, with no aesthetic discord. The tradition continues to this day, with artists such as Brice Marden, Bill Pownals, Tom Powell, Kottis, Veroukas, Christos Karas, and others. Collector Dakis Ioannou has created the internationally known Slaughterhouse exhibition centre at the old abattoir. He organises events visited by journalists and gallery owners from around the world. The Director of IAMY (Historical Archive – Museum of Hydra) is the very busy Dina Adamopoulou, who organises important painting exhibitions and musical events. Painter Alexis Veroukas, who spends part of the year on the island, has organised important events and exhibitions, as has Pauline Simmons, who has organised the International Young Artists Competition. I think the island's "soul" and the free spirit it exudes is what attracted these artists. For example, the "rhythm" on the island of Spetses, as a holiday destination, is set by the Athenian bourgeoisie. In Hydra, the artists set the tone.
3. A destination's accessibility is a defining factor in attracting tourists. What are the advantages of Hydra in that respect (close to Athens, frequent connections, etc.) and how important are access by boat and the one-day cruises organised to the island?
Truly, just a stone's throw from the capital, you're in a different world, a different universe. There are frequent itineraries during the high tourism season. This year there will be a second company providing services to the island, Speed Catamaran. Access is of pivotal importance, so we have developed alternative ways to get to the island. The road access from the Peloponnese (the road to Corinth-Epidaurus) and the crossing from Hydra to Metochi create new possibilities.
Furthermore, contact with the Peloponnese opens up new potential for excursions to Mycenae and Epidaurus. In fact, as an Association we promote combination excursions to other islands of the Saronic Gulf, such as Poros and Spetses. To summarise, if you travel from Athens to Hydra, in two hours you change worlds, universes; and in travelling from Hydra to the Peloponnese, you continue your journey through Nature and History. Lastly, day cruises are the best way to discover the island.
4. You have been at the helm of the Hydra Hotels Association (www.hydrahotels.gr) for many years. Tell us about the accommodation options on the island. What are the services offered by the traditional and classic hotel units, and how are they different?
There are many high quality accommodation options. Thankfully, there are no large units here, like the ones we encounter in mass tourism destinations. Almost all of Hydra's hotels are housed in traditional historical mansions with a unique character. Even the more modern buildings follow the traditional atmosphere. This brings individual visitors to Hydra, instead of large groups. There are no mass scale arrivals and that protects us in several ways. We always maintain personal contact with our guests and they enjoy a deeper holiday experience.
5. The picturesque character of the island is further strengthened by the fact that in Hydra there are no cars. How do visitors see the absence of cars on the island and what are the transportation alternatives on the island.
A car-free island! That is something unique! Visitors see it as a liberation and that acts as a catalyst for the relaxation and quality of life the island offers. All transportation is on foot, boats and other vessels, or using the picturesque equidae (there are a small number of necessary rubbish collection lorries that belong to the Municipality, but they drive carefully and only at specific times).
6. Apart from the indisputable beauty of the landscape and the sea, the island has an extensive network of trails to Mt Eros, which offers a panoramic view of the Argo-Saronic Gulf and many activities for nature lovers. Tell us about them.
The trails have attracted new, significant, and increasing client?le, of various ages and with an increased awareness of environmental issues. Very important work has been done to signpost the trails and that work is continuing. Many trails lead to monasteries. The Greek delight and fresh water that the monks offer in hospitality is the best reward after the uphill hike.
Hikers enjoy untouched natural environments, and they have the birdsong and sounds of nature as company. An English nobleman who loved Hydra, used to tell me that on the mountains he could "hear" a type of partridge that they also have in Scotland…
7. What activities can sea lovers enjoy in Hydra? Scuba diving tourism and sailing are gaining more and more fans each year. In your opinion, why can Hydra meet their expectations?
Naturally, there is swimming in the island's crystal clear waters. There are many options, mainly on idyllic pebbled or rocky beaches. There are no large sandy beaches, but there are bays and inlets with pine trees all the way to the water's edge, which are worth a visit! There is a small scuba diving centre in Hydra, but it could be expanded and organised better. People who love sailing, love Hydra, and twice a year we have sail boat races, with the vessels on the water creating a beautiful image.
8. Sports events and festivals such as the 'Miaoulia' are the most important incentive for visitors. In your opinion, which are the most important such events on Hydra?
Unfortunately, most of the events were cancelled due to covid. Hydra's Trail, mountain running with many trails of varying difficulties, is the oldest and most well-established sports activity. There is also a new event, Swim and run, which combines running and swimming. Furthermore, Hydra has an important water polo team that competes in the First Division, as well as a football team. Normally, our summers are full of wonderful cultural and sports events, and we hope to enjoy them again soon.
9. The sound utilisation of environmental resources, respect of the natural landscape, and the cultural authenticity of local communities are the pillars of sustainable growth for a region. In your opinion, how has Hydra responded in recent years to the sustainable tourism growth model?
Sustainability. That's the buzzword. An important project for the island is desalination. After that, there are plans for biological treatment, and the first steps have been taken. The lack of private vehicles is very important to the quality of the air and environment. Sustainable growth is a tricky equation. While Hydra is required to provide visitors with the latest in comfort and technology, it must also respect the restrictions and commitments imposed so as to preserve the aesthetic and character of the Historic Town, which is protected by the Archaeological Law.
Our Association works with the Municipality, the Region, and all relevant bodies, in order to promote and sustainably manage this unique destination.
10. Local gastronomy is a wonderful way for visitors to get to know a destination's culture. What traditional tastes and products (e.g. herbs from the mountains of Hydra, local desserts made with almonds and rosewater) would you recommend to visitors to the island? 
Nowadays, the role of gastronomy is recognised everywhere. The Hydra calamari is important! It is a unique taste that stands out, it is only caught by local fishermen, and it is a gourmet delicacy all of its own. Kritami (Crithmum) from the mountains of Hydra, which we add to salads with capers, fried courgette balls with spearmint and mint, are tastes and recipes promoted by the traditional and gourmet restaurants of the island. Our almond desserts are famous and everyone buys some to take with them when they leave. Hydra also produces small batches of honey and mountain greens, while you can find incredible mushrooms on the mountains in the winter. Naturally, quantities aren't large enough for export, but local restaurants use them on a seasonal basis. There are also our aromatic lemons, which are everywhere! Every front yard, corner, and square in Hydra is filled with lemon trees! Visitors are delighted when we offer them natural, ice cold lemonade! In Greece we haven't given lemons the attention they deserve and there are opportunities being wasted. In Sicily, for example, lemons are stars! They use them in tarts, mousses, cakes, creams, liqueurs, and all kinds of juices. There is incredible promotion with a special logo, etc., which is an example we should follow.
11. In your opinion, how safe should a visitor to Attica, in general, and Hydra, specifically, feel during covid-19? Can services such as catering within hotel units and booking tickets online (for museums, activities, etc.) help reinforce the feeling of safety?
The safety protocols, followed to the letter by the members of our Association and local professionals, proved the high level of safety offered by hotels and restaurants, last summer. It is impressive that we operated without a single covid case last summer! (We identified 2-3 international visitors, and as soon as they set foot on the island all relevant procedures were put into motion). Reservations are increasingly made online everywhere. In Hydra there is no mass tourism and therefore museum attendance does not cause problems. When there are groups, they are always small in size, arrangements are made over the telephone, and the protocols are thoroughly observed.
As we await the commencement of the new season, we are all vigilant and at the ready to do everything that is required, and even more, in order to ensure a safe and unforgettable holiday experience of our visitors.