Interview with the world famous Greek soprano, Ms Sonia Theodoridou: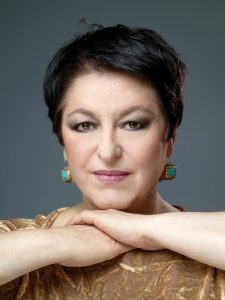 "The Attica land is a Blessed land. It is the light, the beauty it has been generously gifted with, and its people who with their friendliness and pride win foreign visitors over"
An artistic nature, an endless talent and a mesmerising voice. Ever since she was a little girl, Sonia Theodoridou knew that she would be an actress and singer. When at the age of 6 she heard Maria Callas on the radio, she stated with disarming naivety – and determination – to her mother: "this is what I will be". Her studies on music and singing begin in Athens and continue on scholarship at the International Music Academy Cologne. Before she even completed her studies, she was invited to sing at the monumental opera by C. Gluck "Iphigénie en Tauride", marking her first big success. She then finds herself in London, studying next to the renowned teacher Vera Rózsa. From that point on, her career skyrockets, and the now famous soprano "conquers" with her voice a vast and very demanding audience in the greatest music scenes of the world. She has performed in Europe's most important opera houses playing major roles, she has given numerous concerts and vocal recitals, receiving glowing reviews. Sonia Theodoridou, one of the most significant opera – among others – singers of our time, talks about Attica…
1. Ms Theodoridou, you have lived abroad for 37 whole years, singing at the greatest theatres and the most important opera houses of Europe and the entire world. What brought you back to Greece and what do you miss the most from Attica when you are abroad?
Long absence from Greece and great love for my homeland; for the most part, these two reasons made me come back, although I have kept my apartment in Berlin. Born in Veria, northern Greece, Attica is for me a blessed land, in many respects – the beauty of the landscapes, the unique spots that are full of warmth, the exquisite products. I don't know where to start; the raisins, the Aegina pistachio, the cabbage rolls… Athens is a wonderful blend of East and West. Walking a few streets away from Syntagma Square, towards Monastiraki, your senses are filled with colours and aromas that come from far away.
2. You live in Kolonaki, one of the most beautiful districts in Athens city centre. What do you like the most about your neighbourhood and which destinations in Attica do you prefer for getaways outside Athens?
I chose Kolonaki for its unique beauty and elegance and for the fact that it is located in the heart of Athens city centre. This means I can walk to nearby neighbourhoods – Exarchia, Syntagma, Pagrati and other districts. I also have the opportunity to exercise, since the National Gardens are very close to my neighbourhood. Kolonaki also has several vegetarian restaurants that serve organic food.
When I feel like getting away from the city centre, more often than not I will go to Sounio, which I love dearly, to visit for the nth time the Temple of Poseidon. I am particularly attracted by archaeological sites. My weekly outing includes the great walk to Thission, followed by a coffee at a nearby café gazing at the Acropolis, which is present in every glance. I can sit for hours listening to music and dream away, take in the view and be overwhelmed with a feeling of completeness when I'm bathed in the light of my country.
Kifissia and Palaio Psychiko are very much in my heart, with their beautiful bistros, the vast green spaces and the gourmet restaurants.
3. You have said that the origins of opera lie in ancient Greek tragedy. Tell us a few words about this notion and the ways in which foreign visitors of Attica can experience this continuity.
Around 1600 in Florence an attempt was made to revive Ancient Greek Drama. This revival led, over time, to the evolution of Opera, as we know it today.
The plots of Opera plays were inspired by ancient Greek mythology. Therefore one can easily conclude that this music theatre genre is closely associated with Greece. Many ancient theatres and sites that adorn the Attica land have hosted plenty of such plays. So when the foreign traveller visits and sets foot in Sounio, the Pnyx and elsewhere, they positively know that they stand on the same spots where the great main characters of Ancient Drama used to stand. It is with great pride that I say I have performed in many opera plays, mainly of the Baroque period, whose plots took place in ancient Greece.
4. Stavros Niarchos Foundation Cultural Centre, Megaron the Athens Concert Hall, Odeon of Herodes Atticus, Greek National Opera… cultural and lyric theatre venues – in many of which you have performed – that adorn Attica and host a multitude of Greek and foreign productions every year. To what extent can the modern cultural scene of Attica act as an attraction pole for foreign visitors?
I believe it is great that there are so many cultural institutions in Attica, and this is something that certainly counts for all European and world citizens who visit Attica. Classical Music wins an increasingly greater audience, as well as a more substantial education in schools.
We own an immense treasure of folk and traditional music that still dominates the daily life of Greek people and enchants visitors of our country with its wonderful melodies. These melodies are sometimes close to foreign travellers' own musical culture and sometimes not. In any case, Attica's visitors are thrilled and often passionate about Greek music. I myself have met many people who decided to learn a traditional Greek instrument when they returned home.
Having classical education and culture in their everyday life, European visitors who visit our country will definitely seek the respective spaces and venues, where they will enjoy music of the highest level, equal to that of their countries. Therefore, they are certainly enchanted by the beauty of the Stavros Niarchos Foundation Cultural Centre, the magnificence of the Odeon of Herodes Atticus and Megaron the Athens Concert Hall, which is famous for its acoustics.
Greece has great world famous singers with wonderful voices, glorious figures who generously spread their talent all over the world and have been distinguished for their worthiness; ambassadors of our small, and yet grand in culture, country.
5. In this unprecedented situation experienced by the entire humanity due to Covid-19, what is your opinion on the safety of the audience in Attica's cultural events such as opera, theatre etc?
On the 12th of September I performed in a concert with Sakis Rouvas, the Melodoi Choir and the Orchestra Mobile, conducted by Theodoros Orfanidis, which was an amazing event held in Odeon of Herodes Atticus. All safety measures and all specifications given by the Greek Ministry of Health and the responsible commission were carefully followed. Both we as musicians and production and the audience complied.
Thus I concluded that it is a matter of personal responsibility to protect ourselves and our fellow citizens, so that we can enjoy cultural events that are essential for our well-being. It is necessary that cultural life continues, since it seems we need to adjust accordingly and learn how to live with Covid-19. Once again, I emphasise on the need to protect ourselves and the people around us.
6. With your husband, conductor Theodoros Orfanidis, you founded the Orchestra Mobile, whose purpose is to spotlight Greek music around the world. Through you, the songs by Manos Hadjidakis and the art songs by the renowned Greek poet Constantine Cavafy have "travelled" all over the planet. Tell us a few words about this venture and the response by the international audience when you introduce Greek culture through your work.
This year the Orchestra Mobile turned 10 years old. In July 2010, I had the idea to build an orchestra that would promote Greek Art Music. I lived abroad and realised that the foreign audience was totally unfamiliar with great Greek composers. The music by Hadjidakis, Theodorakis, Markopoulos, Kouyoumtzis and other major Greek composers was not heard outside Greece, and even in Greece this music was not played widely. After over 150 concerts and with a network that numbers approximately 650 musicians, I can now say that we are more than happy with the decision to create this orchestra.
It gives me great pleasure to see excited audiences around the world, people who knew nothing about the magnificent Greek Music or had heard very little of it. What is more, many fellow musicians followed the example of Mobile and a number of orchestras were founded – featuring mainly Greek conductors – in Greece and abroad.
7. You cook frequently and love traditional Greek cuisine. Which product of Attica land and which dish of Attica cuisine do you prefer?
My family is of Pontian Greek and Thracian-Constantinopolitan origins and lived in Veria, hence the important role food played – and still does – in our lives and tradition. So how can I resist in the Venetian "pastitsio" of Kythera (baked pasta with ground meat and béchamel sauce), or in the "Gigantes" (giant beans) baked in the oven with Kythera farmhouse sausage? The dishes you can find here, such as the "ladera" (vegetable dishes cooked in olive oil), the exquisite Roasted Lamb with Aegina pistachio crust and many more, are so delicious. Countless delicacies and numerous temptations… not to mention the desserts.
8. Which Greek song or melody takes you on a "mind travel" to Attica?
This is hard to answer – how can I pick just one melody or song? I would probably say a song by Cavafy that I sing and is called Morning Sea, music written by Athanasios Simoglou, as well as Gioconda's Smile by Manos Hadjidakis.
9. Being the founder of "Kallisto" Cultural Centre in Attica, where you teach music to babies and children following a holistic approach, which activities would you recommend to a family who visits Attica? What, would you say, they shouldn't miss?
First of all, visit the Acropolis and the Acropolis Museum, and take a tour around Plaka where they can savour dishes from the Greek cuisine and find many souvenirs. Also, a visit at the Stavros Niarchos Foundation Cultural Centre and the Attica Park will thrill the whole family. They should also visit the Zappeion Mansion and the Tomb of the Unknown Soldier in Syntagma Square. Watching the Evzones, the impressive Presidential Guards outside the Parliament, and their characteristic march in the Changing of the Guards is a memorable experience. The National Observatory of Athens is an excellent choice, and the Goulandris Natural History Museum will thrill even the most demanding visitor.
10. In your opinion, which are the competitive advantages of Attica for the attraction of visitors of all ages and travel preferences, all year round? For which reasons would you suggest your friends abroad to visit Attica?
The Attica land is a Blessed land. It is the light, the beauty it has been generously gifted with, and its people who with their friendliness and pride win foreign visitors over. The openness in communication makes everyone become friends in no time. The extraordinarily vibrant nightlife and its cultural richness make Attica a unique place. I know of no other country in the world, and I have travelled almost everywhere, that resembles Athens in the slightest. The Acropolis Rock alone is the ultimate symbol of the cradle of democracy and freethinking. I have many foreign friends whom I host frequently, and I can say that their farewell from Attica is more and more difficult each time.