Interview with the president of the Gault & Millau Hellas restaurant guide,
Mr. Stylianos Grigoriadis: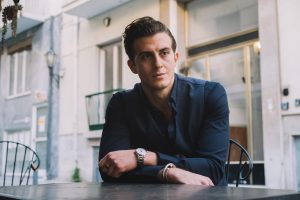 "The numerous options in restaurants, tavernas, wine bars and ethnic cuisines are one of Attica's greatest advantages."
1. Mr Grigoriadis, you represent in Greece one of the most renowned restaurant guides in the world, Gault & Millau, which was born in France back in 1965. How do you evaluate Attica's food scene when it comes to fine dining, fine drinking and food pairing?
The international institution Gault & Millau numbers 50 years of presence and growth in gastronomy. Aim of the institution is to promote the culinary culture of each country in which it is established. With the arrival of Gault & Millau in Greece, I believe the first step was made to claim the position we deserve in the international gastronomic map. Starting the restaurant evaluation mainly from Attica, I realise there has been great progress when it comes to fine dining, fine drinking as well as food pairing with exceptional local wines and spirits. Recipes and dishes have been upgraded, the staff becomes increasingly specialised, while professional restaurateurs have embraced local produce.
2. How many restaurants in Attica have been awarded with the famous Gault & Millau toques and what is it that makes them stand out?
The restaurant evaluation is conducted with objective and international standards, and as a result all awarded restaurants are enlisted in the international network of the Gault & Millau institution. This means that these restaurants are distinguished for their high-quality services, personnel and raw materials, which make them stand out. Attica boasts 176 restaurants, 88 of which have been awarded with 1 Toque, 20 with 2 Toques and 2 with 3 Toques. All restaurants are featured on the website https://gr.gaultmillau.com/ and on the guide's app, which is already being used by all countries of the network.
3. In addition to the restaurant evaluation, Gault & Millau Hellas also offers the H.A.P. (Hellenic Authentic Products) certification to businesses that use Greek products. What is your opinion on Attica's local products and which of them would you choose to offer to a visitor?
Gault & Millau integrates in its international network and accredits (with the H.A.P. Hellenic Authentic Products certification) small hotels and boutique hotels that use Greek products. This way, a clear advantage is given to these businesses, while at the same time local producers, Greek rural development and Greek economy are promoted. Attica boasts a number of local products that are worth our attention and appreciation. Aegina fistiki (pistachio), Savvatiano wine from the Mesogeia region, honey, herbs-medicinal plants, olive oil, feta cheese, figs… these are only few of the products I would choose to offer to a visitor.
4. How can the Gault & Millau Hellas guide contribute to the internationalisation of Greece's and Attica's gastronomy?
Through gastronomy and traditional cuisine, one can perceive a great part of a country's history. At a global level, statistics indicate that the first reason to travel is gastronomy and culinary tourism. In the pages of Gault & Millau, foreign visitors find a valid and trustworthy information source, in a way that they can discover restaurants and various spaces of great culinary interest, all in one place and ranked based on the international evaluation standards of Gault & Millau. Thus, when they return home, they take with them the best culinary memories and impressions and share the information in their country.
5. "Attica-Greece in a Snapshot" is the tourism slogan of the Region of Attica. What are your favourite culinary "snapshots" in Attica?
It's hard to choose, since there are numerous favourite "snapshots" of mine. However, the ones I consider "must" are definitely the small tavernas at the foot of the Acropolis, the fish and seafood at the picturesque Mikrolimano in Piraeus with the sea in the background or wine tasting at the vineyards of Mesogeia.
6. Which do you think are Attica's competitive advantages, when it comes to its food and restaurant scene?
Without a doubt, the numerous options in restaurants, tavernas, wine bars and ethnic cuisines are one of Attica's greatest advantages. Both foreign visitors and locals can find anything they feel like eating, combining great food with stunning surroundings, too. Fresh fish by the sea, top-quality grilled meat and barbeque at nearby groves and mountains, street food in the city centre, exceptional wine at the local vineyards.
7. How much do you think Attica's gastronomy has changed in the last few years and how do you see its culinary future?
I don't think Attica's gastronomy has changed… it just made progress. Those involved in the restaurant industry were trained and passed their knowledge to their staff, too; they sought out the best produce; they upgraded their facilities and re-defined classic Greek recipes, breathing fresher air and modern aesthetics into them, without compromising their authenticity. Based on these signs, I think Attica's gastronomic future is going to be brilliant.
8. Home cooking, traditional tavernas, street food, wine bars, award-winning restaurants are just some of the gastronomic options Attica offers its visitors. What routes on the culinary map of Attica would you recommend to a foreign traveller who seeks authentic culinary experiences?
Should someone wish to take a culinary tour across Attica, I would suggest they start from the city centre and savour our own street food… the real souvlaki. For lunch I would recommend they head to the seaside. Restaurants all along the coastal route, from the fish market to Cape Sounio, offer exceptional fish and seafood flavours. Dinner at one of the awarded restaurants that offer modern Greek cuisine would be the perfect ending to the day. And of course, I couldn't possibly leave the small Saronic islands out of this culinary tour, or the vineyards in Markopoulo and Mesogeia, which offer extraordinary gastronomic experiences.
Photo: Paris Tavitian/LIFO