Interview with the awarded British author, Ms Victoria Hislop: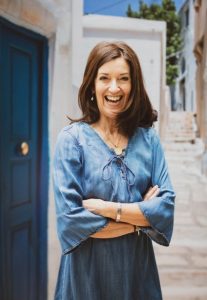 "There is nothing complacent about Attica – it is always evolving, there is always something new, as well as the ancient to hold on to"
Victoria Hislop was born in London, studied English at Oxford, and worked in publishing, PR and as a journalist before becoming a novelist. From the time of her first visit to Greece – the country that proved to be her constant source of inspiration – to this day, she has written a number of internationally acclaimed novels with a "scent" of Greece. The Island (2005) has sold over six million copies worldwide and has been translated into 40 languages. It is an international bestseller and has been ranked among the 100 books that defined the decade. Victoria Hislop was the Newcomer of the Year at the British Book Awards 2007, while her novel The Thread was shortlisted for a British Book Award, as was Cartes Postales from Greece. Her 2019 novel Those Who Are Loved was a Sunday Times Number One bestseller in both hardback and paperback, and her latest novel One August Night, a sequel to The Island, has spent many weeks in the British bestseller charts since publication in October 2020. Victoria Hislop was granted honorary Greek citizenship in July 2020, for promoting Modern Greek history and culture.
1. Ms Hislop, the great love you have for Greece is reflected in your books. How did this love start and what fascinates you most about this country?
It all began on my first visit when I was seventeen. I went with my mother and sister to Athens for a week and afterwards to Paros for a second week. It was love at first sight with both places! It was back in 1977 – and Athens was very hot and dusty – no metro – and as far as I remember not very much written in English. So we got lost a lot but we had a wonderful time. And Paros was a paradise – I remember that first swim in the Aegean – it was really incredible, warm, blue and clear.
What fascinates me is how Greece goes through turbulent periods of history and survives, its people apparently stronger than ever. If you compare the relatively peaceful 20th century of the UK, Greece seems to face constant challenge – occupation, civil war, dictatorships, earthquakes – so many major events.
2. How do you choose the themes for your books?
The themes I choose are generally periods of difficulty, challenge or even tragedy. And I look at the consequences of them all – and how people survived them. Each novel I have written sprang from a particular moment of inspiration which drew me into the subject matter: a visit to Spinalonga (The Island), a moment in Thessaloniki when I saw the monument to the Jews who perished in the Holocaust (The Thread), a distant sighting of Makronisos which drew me to find out about the civil war (Those Who are Loved).
3. What are you working on now and what are your plans for the future?
At the moment I am still promoting my new book, the sequel to The Island. It's called One August Night and I have done many online events in the UK and soon it will come out in Greece – when the bookshops open again. Also, I am advising on the adaptation of my book "Cartes Postales from Greece" which is being made for ERT, in Greece.
4. Tell us a few words about your decision to rent an apartment in Attica, about your neighbourhood and your interaction with locals, your day-to-day life here…
I rent an apartment in Kato Patissia. It overlooks a leafy square with two cafes and during normal (pre and post-Covid) times the square buzzes with activity morning and night. Kids play football, elderly people chat on the benches, and at night teenagers hang out there. I go to the supermarket on the corner and always make a beeline for one of my favourite people: Georgia –we always have a nice chat and I take her a book when I have a new one out. And there is the best hairdresser in Athens two minutes walk from my place – Maria is a genius with a hair dryer and while I am sitting there, I catch up on the gossip as she always has a pile of OK and Hello magazines. And we chat. She is a really sweet woman as well as being brilliant at her job.
5. You have travelled all around the world and have seen different cultures. What is it that makes Attica special, in your opinion… its culture and history a source of inspiration for your books?
It's true, I have travelled (I used to be a travel writer…) but Attica is better than anywhere. It has "culture" in every sense of the word – from ancient to modern, and what I think of as the "living culture", the here and now. When I am in Athens for example, I am always aware of the historical monuments – they are all around – but equally exciting are all the new places that constantly pop up – to eat and drink – many of them with a very modern and original aesthetic. There is nothing complacent about Attica – it is always evolving, there is always something new – as well as the ancient to hold on to.
6. How would you describe this place to someone who is yet… "uninitiated" into its beauty?
This is a beauty that is not just for the eyes. It has smells and tastes and sounds too – and touch. The feeling of warmth on your skin from early in the year and late into the evening is something I treasure. I think I could close my eyes and know that I was in Attica.
7. What do you think of the Region of Attica's slogan "Attica – Greece in a Snapshot"? Which are your favourite snapshots-images of Attica?
It has to be the Temple at Sounion – somehow its proximity to the sea makes this the most beautiful place in the region! There is both ancient history and the power of nature here.
8. Which, in your opinion, are the competitive advantages of modern Attica in attracting visitors of all ages and travel preferences, all around the year?
It has both the sea and the mountains, city and villages – and I think this makes it an ideal place for the visitor. There are few places so rich with historical monuments where you can go and lie on the beach and swim in the sea after a morning visiting the most famous sites and museums in the world! What a perfect combination. It's rare to find a capital city so close to the sea!
9. City or countryside? Mountain or sea? Attica's mainland or an island in the Saronic Gulf? Can you map your favourite destinations in Attica?
I love Parnitha, I love the beach at Voula, I love Spetses. All such different environments. But if I had just two days in Attica, I would spend them strolling round the streets of Athens or sitting in a café watching the world go by.
10. Which colours, scents and flavours does the word "Attica" bring to mind?
The scent of strong coffee early in the morning, the azure of the sea, the tastes of sharp feta with a sweet tomato and some peppery olive oil – and a glass of chilled Assyrtiko of course.
Photo: Bill Waters