Interview with the distinguished chef Yiannis Baxevanis: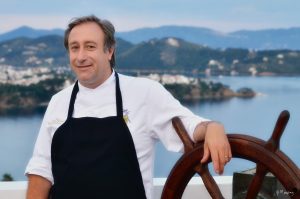 "Souvlaki in Monastiraki is the best sandwich in the world!"
1. Mr. Baxevanis, you are rightly considered one of the most important revitalisers of Greek cuisine, with a long career in Greece and abroad. From your experience, how do you think Greek cuisine is viewed abroad today? Do you believe that Greek gastronomy has the place it deserves on the global culinary map, and how could it become even more open?
Over the past few years, Greek cuisine has gradually started taking its rightful place on the world gastronomy map. For instance, in New York, which I have visited many times, Greek flavours have become a trend. Many great Greek restaurants opened with menus based on fish. These restaurants came to satisfy the modern trend towards healthy eating, and they gave New Yorkers an answer to their need to eat healthier by including seafood, fish and greens into their diet. This created a fashion in Manhattan, where Greek restaurants are now very popular. Greek cuisine is also looked upon very favourably in Australia, with many innovative chefs creating dishes with a taste of Greece, while in London and Paris, Greek flavours are becoming more and more popular through the efforts of chefs like Mavromatis, Nikolaou, and others. At the same time, the attitude towards Greek cuisine in Dubai has changed completely. When I first went to Dubai 15 years ago, they didn't even want to hear about Greek cuisine! Now, in the hotel units, next to the Italian and French restaurants, the Arabs are adding a Greek restaurant! This shows how much the position of Greek gastronomy is changing, naturally through the contribution of many new chefs with innovative ideas. A few years ago, a great effort was made to promote Greek gastronomy, the "kerasma" ("treat") initiative, which was met with a great response. Of course, we must take into account the relative sizes: Greece is a small country. It doesn't have the funds France has, for example, to promote its gastronomy. However, as Greeks, we need to promote our cuisine because it is related to the export business. The better known Greek cuisine becomes, the more we will export the products we produce.
2. What do you think Attica's competitive advantages are in terms of its food scene?
Attica, being a metropolitan area, is a pioneer of new ideas. This is where influences from abroad make their first stop, before spreading to the rest of the country. However, these influences should not be adopted thoughtlessly, but critically and in moderation. At the same time, the diversity of its gastronomic routes is due to the fact that, over the past decades, people gathered in Attica from every corner of Greece, the islands and the mainland, bringing with them their culinary traditions. Greeks from Crete, Pontus and Asia Minor brought with them a culinary culture that mixed with others, evolved, and led to the modern culinary wealth of Attica. And we need to preserve and promote this culture in order to create authentic tastes for visitors to enjoy.
3. How much do you think Attica's gastronomy has changed in recent years, and how do you see its culinary future?
In recent years, things have been changing very fast; we've even come to reconsider what is traditional! From the souvlaki wrap, by way of globalisation, we arrived at ceviche and tartare! It is extremely important to have moderation in everything, and education so that we don't all become identical. In Italy, for example, every city has its own fine pasta, for which it is famous. You can't have the quality of Japanese cuisine everywhere! It's nice to go somewhere and eat different things. It's nice to have a "taste identity". Souvlaki in Monastiraki is the best sandwich in the world! In Attica, you can find top-quality products. There are quality raw ingredients at the organic markets, there's a wide variety of products everywhere in the region for us to choose what suits us best.
4. Home cooking, street food, and award-winning restaurants are just some of the gastronomic options Attica offers its visitors. What routes on the culinary map of Attica would you recommend to a foreign traveller?
They should visit Monastiraki for souvlaki with tzatziki, tomato, and paprika, and Evripidou Street for a journey through the aromas of the spice stalls. They should try the Varvakeios Municipal Market of Athens and one of the cellar tavernas for a quick meze and a little wine, seated beside the old wooden barrels, and Pasalimani for a gourmet restaurant for more refined tastes. In any case, places with personality, where visitors feel respected.
5. Which areas of Attica would you characterise as new culinary "poles of attraction" for visitors to Attica, both from Greece and abroad?
The area around the Acropolis, on Adrianou Street, is a must. For example, it has beautiful, picturesque shops, vine-covered tavernas, and high-quality dishes. The coastal zone to the south, the Attica Riviera from Faliro to Voula and Varkiza, as well as Tourkolimano, with their wonderful restaurants, also attract a lot of business.
6. What characteristic delicacies of Attica (mainland and island) would you recommend a visitor try during their stay in Attica?
I would recommend that they try shrimps at Mikrolimano, octopus with mavrodaphne wine, Athenian white grouper, grilled crispy-skin pork, Aegina pistachios, high-quality Attica retsina, and creamy galaktoboureko (custard pie) at a traditional creamery.
7. How is the modern trend towards healthy eating reflected in the cuisine of Attica, and how important is the role of raw ingredients?
The need to eat healthy is widespread in modern societies. Of course, we have to be careful of misinformation and the "fine print" behind advertisements, because they often sell products full of preservatives as healthy options. A cheese substitute, for example, may be presented as healthier for you, but if you look at the preservatives it contains, it's easy to tell it is less healthy than regular cheese. So you have to look into everything thoroughly. In Attica, we have the advantage of having excellent produce available. Good meat, delicious vegetables and fruit at organic markets, and, in general, pure products.
8. How important are international distinctions and the culinary events organised in Attica for establishing it as a culinary destination?
Distinctions, events and festivals are important, and year after year, interest in them keeps increasing. It's a way for us to show the outside world the diversity and quality of our food. I remember organising "Cretan Street Cooking" a few years ago. We started out with 20 hotels in Agios Nikolaos participating in the venture, and by the third year we had 60. These events are necessary, but you have to avoid imitation. Besides, we have such a rich culinary tradition that we don't need to chase after what others are doing!
9. "Attica-Greece in a Snapshot" is the tourism slogan of the Region of Attica. What are your favourite culinary "snapshots" in Attica?
The tavernas on the steps of Monastiraki or Abyssinia Square, Cape Sounion, which combines good food with stunning views, and the small tavernas of Lavrio.