Interview with the actor, Mr. George Pyrpasopoulos: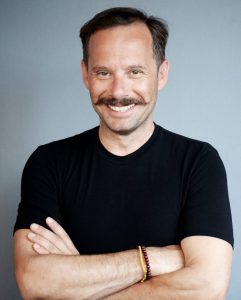 "Attica is heaven when it comes to outdoor activities"
1. Which secrets of your Attica would you share with a foreign visitor in order to make them love this place?
Definitely a climb on one of the basin's mountains, such as Penteli, Parnitha or Hymettus in order to enjoy a panoramic view through the pine-covered green paths. Visitors should also watch the sunset from a rocky coastal headland of Attica, from Kavouri to Sounio. A walk that is combined with food and drink in some narrow street at the Commercial Triangle and around.
2. For what reasons can Attica attract visitors who are interested in modern Greek art and culture and what options can Attica offer to them?
After the "Documenta" period, many international artists decided to move to Athens and create in the field of visual arts. Exhibitions of Greek and foreign artists can be found everywhere, from small galleries to the Museum of Contemporary Art and in the context of local activities of Greek cultural foundations. The music scene offers everything from opera to experimental bands that join together different kinds of music from all over the world, along with electronic music festivals and also concerts by resounding names in the international music scene. In addition, the theatrical scene features ancient drama with supertitles, modern Greek and foreign repertoire of theatrical plays along with a variety of experimental theatrical groups. The same diversity is featured by the modern dance scene. The food scene – apart from traditional Greek and modern cuisine – now hosts authentic flavours from all over the world. The important thing is that vegans and vegetarians now have excellent options in all kinds of cuisine. Finally, the open-air cinemas offer an unforgettable experience, occasionally under the light of the full moon in the Attica sky.
3. Many visitors of a destination seek to combine historical landmarks with more alternative cultural suggestions. What are the advantages of Attica in this regard?
Certainly the plethora and variety of options, combined with short distances, easy access and satisfactory transport network. In addition, Athens city centre and the coastline give space to pedestrians and cyclists.
4. As a nature and outdoor activities enthusiast, do you believe that Attica as a collection of destinations (beaches, mountains, islands such as Aegina, Poros, Kythera, etc.) is suitable for nature lovers? Through which activities could they get to know and enjoy the natural landscape of Attica?
Attica is a heaven when it comes to outdoor activities. In less than 30 minutes, it offers ideal conditions for mountain hiking, rock climbing, mountain biking, trail running, scuba diving, windsurfing, kitesurfing, stand-up paddleboarding, sailing, swimming and aerial paragliding.
5. Which are your favourite routes for cycling or hiking in Attica and why?
Parnitha being the highlight, I pick the hiking routes all the way to Mpafi refuge, either from Fyli or Varympompi, and the climbing routes to the Flabouri refuge. Because this mountain is truly stunning.
6. In your opinion, which are the most… stress-relief spots of Attica?
The coastline and the paths on the 3 mountains that embrace Attica.
7. "Attica: Greece in a Snapshot" is the slogan of the Region of Attica. Which are your favourite snapshots of Attica?
A dive into the Patroklos islet waters, a glass of "raki" combined with Cretan delicacies at "Rakaki" in Kaisariani and the "Oasis" open-air cinema in Pangrati.
Photo: Despoina Spirou