Interview with chef, Mr. Kleomenis Zournatzis: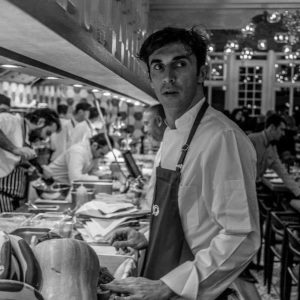 "The food variety of Attica is my favourite flavour!"
1. In your opinion, what are the competitive advantages of Attica's food scene?
Attica is the womb of urban Greek cuisine! This multiculturalism and access to products from all over Greece has shaped a core of creativity and a "boiler" that acts as a melting pot of many local cuisines, Greek and international. As a result, a unique type of Mediterranean cuisine has been formed that is hard to find in another European capital.
2. How much has Attica's gastronomy changed in the last few years and how do you imagine the future of its gastronomic scene?
Especially in the last 10 years, the gastronomy of Attica has gone up many levels! The engagement of young people with tourism and gastronomy, and the high level of studies in Greece and abroad have created influential professionals and restaurants that leave an imprint on the universal gastronomic map.
3. How are traditional and modern cuisine combined in Attica today? Can you give us an example of a modernised traditional dish that would introduce Attica's visitors to Greek cuisine and Attica's local products?
The traditional cuisine of Athens in its urban form, which was born in the houses of burghers and restaurants, easily absorbed the traditional cuisines of the people that moved to the capital city. This gave a higher quality to raw materials, combining traditional recipes and ingredients with imported habits. Evidence to this is the Athenian white grouper recipe: boiled fish with vegetables and mayonnaise, which today has re-found its place in most Athenian restaurants.
4. Homemade cuisine, street food and awarded restaurants are among the numerous gastronomic choices Attica offers to its visitors. Which routes on the gastronomic map of Attica would you recommend to a foreign traveller?
The gastronomic routes one can follow in Attica are plenty. Definitely the city centre, including the Varvakeios Central Market and the surrounding markets with the spices, cheeses and sausages and the typical Greek tavernas, is an exceptional food walk. In Mesogeia and around Mount Parnitha one can savour the livestock and agricultural products of the region. Moving towards the sea, either to Piraeus or the rest of the coastline, one can taste the gastronomic wealth of the sea. Especially in some neighbourhoods, the traveller can get a taste of local cuisines that came to Attica with the settlement of people from the countryside. In recent years, many ethnic cuisine options have been developed, such as the African cuisine in Kypseli or Asian cuisine in the city centre.
5. Which areas of Athens would you characterise as the new culinary poles of attraction for Attica's visitors, both Greek and foreign?
The city centre leads the way in new ideas and good execution of traditional recipes. Other culinary poles of attraction are Piraeus several neighbourhoods around Athens city centre, such as Pagrati, due to the young people that live there, as well as Kerameikos and Votanikos, because of their open spaces.
6. Which typical delicacies of Attica would you recommend to foreign visitors to try during their stay in Attica?
At random, I would suggest they went to Piraeus to try fish, visit the area of Kalivia for meat and taste casserole dishes in a traditional taverna.
7. How is the international modern trend for healthy diet featured in Attica's gastronomy and what are the current options offered to visitors who wish to enjoy a meal adapted to their specific nutritional needs?
Choices for a healthy diet in Attica are now available everywhere. Food with fewer calories, gluten-free dishes, food without meat, vegetarian or vegan and many other options are available in most parts of Athens' centre, as well as in the suburbs.
8. Which are your own favourite flavours? Which areas of Attica do you choose when you go out for food and why?
The food variety of Attica is my favourite flavour! In other words, one day I may go to Athens central market for tripe soup, another day I may eat souvlaki in Neos Kosmos, go to Vlachika for kokoretsi or to Kallithea to eat Pontiac manti. The fact that there are so many flavours available in Attica in the last few years… well this is my favourite flavour.
9. What should foreign visitors take back home from Attica in order to bring the Greek flavours and aromas they tasted here into their home kitchen?
A bottle of good olive oil and definitely some sea salt – these two are the "protagonists" of Greek cuisine. Also, don't forget that in Attica one can find products from all over Greece, such as fish roe from Messologhi, sardines from Kalloni in Lesvos, "Arseniko" cheese from Naxos and "Assyrtiko" wine from Santorini.