Interview with Paralympian and Accessibility Consultant, Mr. Makis Kalaras: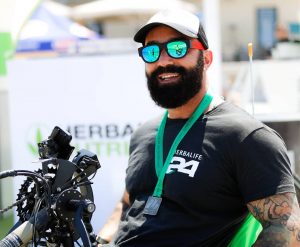 "Attica achieves miracles in sporting events."
1. "Attica-Greece in a Snapshot" is the tourism slogan of the Region of Attica. What are your favourite "snapshots" in Attica?
A stroll around Plaka, Ermou and Monastiraki, against the backdrop of the lit Acropolis, the neoclassical buildings downtown, the summer breeze at Agia Irini square, the broad streets and the wide sidewalks of Glyfada that remind me of other countries, and the images of Piraeus, by the sea, that bring out something from the past.
2. All year round, Attica hosts major sporting events (Athens Marathon the Authentic et al.). Do you believe that these events attract athletes and visitors, and how could they be further strengthened?
All of Attica's athletic events and major sports games are a magnet for thousands of visitors. They attract not only athletes, but their escorts, friends, families and spectators. At the same time, sporting events are a very good opportunity for holidays – many people combine a match with a short, relaxing holiday afterwards. In terms of event organisation, measured against comparable events abroad, I can say that we stand head-and-shoulders above the rest. Sporting events in Attica are ten times better than those abroad! We may not have such highly developed volunteerism, but we truly accomplish miracles. Since the 2004 Athens Olympic Games, Athens Marathon the Authentic and all other major events, we have made tremendous efforts to fall short of nothing. And if we make mistakes, we're quick to fix it, to resolve it so everyone is satisfied. This obviously has to do with Greek hospitality, and it's also a matter of pride. For example, if a visitor or athlete with a disability encounters a problem, someone will always be there to help them. To say, "Hey pal, do you need help? Can I give you a hand?" This is not the case abroad – you can't find the assistance that is so openly offered here. Abroad, if there isn't a respective law or regulation, no one will be willing to help. Here, even in cases where the infrastructure doesn't help, disabled persons can go everywhere, because they will find people to help them. But abroad, if there is no access, no one will help you.
3. What, in your opinion, are Attica's advantages in terms of accessibility for persons with mobility difficulties? Do you think modern hotel infrastructure, services at Athens International Airport, infrastructure at cultural venues are adapted to the needs of visitors with disabilities?
Attica's airport, which is the first impression for visitors coming from abroad, and the metro infrastructure are accessible and disability-friendly. However, we need an accessibility chain, and this is not difficult to achieve; it takes training. For example, in a hotel where infrastructure has not been designed correctly for disabled persons, any shortcomings could easily be overcome with the help of staff. If staff are well trained, they can provide assistance by filling gaps. Accessibility for persons with disabilities is a complex issue; it's difficult to foresee every eventuality. Of course, it is important to have basic planning. Very often, for example, we see a huge WC for no reason, while there is no provision for opening the rubbish bin except with your foot!
4. Do you have in mind any modern buildings/museums/attractions in Attica that are good models to follow in terms of infrastructure and services for persons with disabilities?
I would highlight the Stavros Niarchos Foundation Cultural Centre, which has excellent infrastructure. It is a modern building that has been designed very carefully, and that's why it meets the challenge of accessibility. Once, during a seminar, I wanted to demonstrate what it means when there is inadequate PWD planning in a building. I was at the Stavros Niarchos Foundation Cultural Centre, and it was really difficult to find anything even slightly "wrong"! The Eugenides Foundation's New Digital Planetarium also stands out for being very accessible to persons with disabilities.
5. What positive steps do you think have been taken in Attica to enhance infrastructure for people with mobility difficulties? To what extent do you believe that special ramps to facilitate accessibility at beaches, pedestrian areas and other similar infrastructure projects have contributed to making Attica more accessible to people with mobility difficulties?
What disabled persons want in 2021 is to be autonomous. Major steps have been taken in recent years, but there is still a lot of work to be done. Since I was hit and started using a wheelchair in 1994, the accessibility landscape for persons with disabilities has changed spectacularly for the better. And this is not just a matter of infrastructure; it's also a matter of education. We are now more aware, there is much better information, seminars are held on this issue, we go to schools, we talk to children, and this is bringing results that we see in our daily lives. Regarding infrastructure projects, they are necessary, of course, and need to continue. In recent years, for example, the installation of special seatrack ramps and ancillary infrastructure on many beaches in Attica and its islands contributed to autonomous and safe access to the sea for persons with disabilities.
6. Are there are specialised associations that provide information/special services for disabled travellers – where a visitor to Attica can search for information such as accessibility of venues, etc.?
There are some websites that are aimed at travellers with disabilities, but most of them don't provide complete information. The visitor can't get a thorough picture. In an era when technology is a useful vehicle and at the touch of a button you can easily get all the information you need on your mobile phone, it would be great if there was a comprehensive guide with accessibility information, not just for travellers, but also for citizens of Attica. From access to public services and buildings to sights, archaeological sites or cultural spaces in general. And all of these efforts must be promoted as widely as possible so that the information reaches the interested parties.
7. Where would your ideal short holiday (5+ days) in Attica take you?
For a break from work and obligations, I would choose one of the islands of Attica, which have the advantage of being close, with direct access – either by road or by sea – from Athens. You don't have to travel for hours and you don't feel isolated, because you can easily reach the mainland by boat or water taxi. I would personally choose Spetses, which I have visited several times in the past due to the Spetsathlon event, in which I have participated. The island has a special aura. It has two accessible beaches for people with disabilities, and it also has excellent food.
8. What cultural and gastronomic routes would you chart for foreign visitors to Attica?
I would take them on a guided tour of the Acropolis and Plaka. To the south, I would take them to Glyfada and to the coastal front, and certainly to one of the Saronic islands. In terms of gastronomy, Attica has it all – traditional Greek flavours, contemporary cuisine and international flavours. There are excellent restaurants for fish and seafood, from Piraeus to Maroussi, and for contemporary cuisine or international flavours I would choose neighbourhoods in the city centre, such as Kolonaki.