Interview with tennis champion, Ms Maria Sakkari: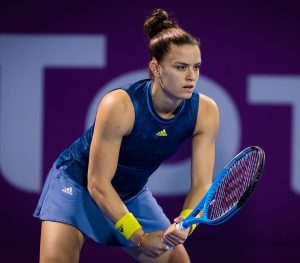 "No athlete has visited Attica and not been delighted"
1. "Attica-Greece in a Snapshot" is the Attica Region's slogan. What are your favourite "snapshots" in Attica?
Attica is my home, the place where I relax and recharge. The historical centre of Athens, neighbourhoods such as Plaka and, mainly, the view of the Acropolis are synonymous with Attica for me. In fact, the Acropolis is my video logo! There are other parts of Attica that I really love, on the seafront, the Attica Riviera; Vouliagmeni and Piraeus, because even though you are in an urban centre, you feel as though you are somewhere else.
2. To what degree do you believe that Attica's modern sports infrastructure keeps up with international standards, and what training spaces would you recommend international athletes visit?
Important steps have been made on all levels in recent years. There is, of course, the significant infrastructure from the Olympic Games, which take the whole of Attica to the next level. To further strengthen this positive image, continuous care and maintenance is required, and because the range of infrastructure is so great, a state and private initiative combination would be beneficial. In any case, there are definitely important efforts being made, there are many good training spaces in Attica, indoor and outdoor courts. There is, for example, a wonderful tennis club in Tatoi, which is one of the best in the world. There are also spaces in Flisvos and other locations in the southern suburbs. I believe that what is most important is for these spaces to be open to the public and for anyone who wants to work out to have access to them.
3. Attica holds important sports events throughout the year (the Authentic Marathon, the Davis Cup, EFOA events, etc.). Do you believe that these events attract athletes and visitors, and how could they be further strengthened?
Of course they attract people, but there is still a lot of room to further strengthen sports tourism. When we undertake something as a country, an event for example, we implement it to perfection, taking care of even the tiniest detail. We are very good at that and we need to communicate it. We need to take every single sport and organise international events, in order to attract even more visitors, reaping the benefits for sports and tourism! No athlete has visited Attica and not been delighted, and we need to take advantage of that.
4. Does Attica, in your opinion, concentrate a decent number of destinations for nature lovers and through which activities would you recommend they get to know its landscape?
We are fortunate enough to live in a region where within half an hour or less, you can get from the city centre to the sea or the mountain. That alone is priceless! In Attica, you can get to know beautiful Mt Parnitha on a bike or by taking a walk in the forest, in no time at all you can get to Salamina or Agistri and enjoy water skiing, you can sail to the islands or discover less glamorous and more isolated beaches in the eastern part of the region. The possibilities for nature lovers are endless!
5. What cultural routes could an athlete-visitor from abroad combine their trip to Attica with?
The Acropolis is an indisputable must for visitors. You cannot come to Attica and not visit the Acropolis and its Museum. Another unique experience is going to a concert at the Odeon of Herod Atticus. Words fail to describe the atmosphere there. I would recommend visitors visit the Greek National Opera at the Stavros Niarchos Foundation Cultural Centre, with its exceptional infrastructure, or take in a concert at the Megaron Concert Hall.
6. Attica is surrounded by the sea, with the islands of Attica, the Attica Riviera, and the beaches on its eastern and western coasts. What options would you recommend to visitors who want to enjoy the sea breeze and swimming in crystal clear water?
From Kavouri to Vouliagmeni to Sounio, it's beach, after beach, after beach. And besides the more organised and popular beaches, there are more isolated and primitive beaches, for those who don't like crowds. On the other side, there are the beautiful beaches near Schinias and Marathon, and if you can make it to the islands like Aegina, Hydra, Spetses, Kythira, or Poros, it feels like heaven.
7. Besides the beauty of nature, a destination is also connected to tastes in the visitors' minds. What routes on the gastronomical map of Attica would you recommend to a fellow athlete, so that they could get to know the culinary tradition of the land?
Greek tastes are a must! I would definitely recommend seafood, which all foreign visitors fall in love with! In Piraeus, for example, there are many fish and seafood restaurants by the water. In Attica, in general, there are a multitude of options. There are lots of mainstream restaurants that have international cuisine and you can find anything, from Italian to Asian cuisine. In any case, I would recommend Greek tastes — after all, we have exceptional chefs in Greece who have also received distinctions abroad. Since I am a lover of good food, I enjoy going to sophisticated Athens restaurants, and since I spend long periods of time outside Greece, every time I return I am always in search of Greek cuisine, fish, and my grandmother's cooking, of course.
8. When an athlete is preparing for a competition, they are under a lot of psychological pressure. In your opinion, which places in Attica could act as stress relievers?
A stroll by the sea is just what the doctor ordered for getting rid of stress, while I also enjoy walks in central Athens and in the forest of Mt Parnitha.