Interview with the President of the Hellenic Association of Travel & Tourist Agencies (HATTA),
Mr Nikolaos Kelaiditis: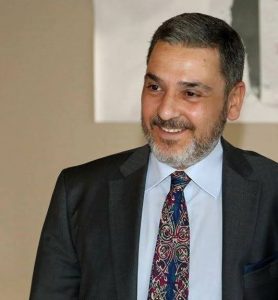 "Attica has the privilege of providing its visitors with a thumbnail of the overall Greek tourism product."
1. You have been active in the tourism sector for three decades. Tell us about the advantages of Attica as a collection of destinations for short break holidays.
I have been active in the tourism sector, and as President of HATTA I have been continuously observing the trends of Greece as a tourist destination, learning even more. There is a phrase among tourist agents, internationally: "The entrance to a county is its mirror", usually as a reference to its airports or ports. That is exactly the case with Attica. It is the main entrance for visitors to Greece, whether they choose to spend time in the Aegean Sea, the Ionian Sea, Crete, or mainland Greece. Short breaks in Attica are a lifelong dream for many travellers around the world, because it combines a lot of historical, cultural, religious, and gastronomic information, making the region a cradle for international tourism. I believe, nevertheless, that Attica — besides Athens — needs more promotion, in order to highlight the treasures it possesses to an international audience.
2. In which forms of tourism do you believe that Attica excels and which could be further strengthened?
Attica's monuments and the historical sites that one will encounter here are of unique importance, and are key points that attract travellers from Europe, Asia, America, Australia, India… Besides its history and culture, however, which is what many international travellers are looking for in a holiday, Attica's geography also combines many different options for a holiday package. Therefore, gastronomic and wine tourism, nature and outdoor activities tourism, yachting and sailing, religious tourism, they can all be found here. Then, of course, there is conference tourism, since Attica features major congress venues.
3. Which do you believe are the competitive advantages of Attica as a collection of tourism destinations (blue flags, marinas, beautiful islands, etc.) in relation to other European and Mediterranean regions?
Attica holds a significant portion of the Greek identity, condensed, in one region. It's not just the Acropolis or its important museums; as a metropolitan region it retains the privilege of being able to offer visitors a thumbnail of the overall Greek tourism product. The blue flags announced this year are excellent elements, statistically speaking. It is important that in Attica you can visit so many islands in one day. A tour around nearby destinations, like Elefsina, can offer a completely different experience to visitors. The trails in forests, hills, and mountains within Attica are also important poles of attraction.
4. Due to its mild climate, Attica's destinations attract visitors all year round. How could this be further enhanced?
Attica is a destination in which one can become acquainted with cultural, religious and historical monuments, take tours of architectural masterpieces, get to know the gastronomy of Greece and its wineries, visit its coastline and islands, and, of course, go shopping in one of its many shopping districts. All of this combined can compose different elements of a holiday package specially designed for Attica as a collection of tourism destinations. I believe this is the only practical way in which it can strengthen its position in international markets.
5. How decisive is the role of Attica's island destinations, its wealth of accommodation options, and the combination between accommodation and events/congresses/festivals being held in a location, etc.?
The islands strengthen the multidimensional character of Attica as a collection of tourism destinations. Visitors don't choose a destination only to stay in a beautiful hotel; they choose a destination that will offer them many different experiences. And Attica has that. For that reason it is an ideal destination for anyone choosing to organise, for example, a congress, because they can combine the scientific/ professional work with leisure and many types of activities.
Attica is selected as a collection of destinations for many reasons. The most important being that travellers want to immerse into the place they have been taught a lot about through history, mythology and science. The monuments they will come across in Athens and Attica overall are a dream come true for many of them. Beyond this, a holiday package can feature a lot more, from hiking the nearby mountain trails to sea activities. In recent years, short cruises, yachting, and city tour programmes have provided a plethora of options. This creates programmes addressed to an ever increasing number of traveller groups, both as regards their ages and as regards the themes of the programmes; people interested in outdoor activities or science, culture or luxury tourism.
6. What are HATTA's actions in order to support tourism in Attica?
HATTA and the tourist agencies that are members of the association have concluded that for a traveller to be happy, attention must be paid to each individual detail: from the moment they arrive at the airport, until the moment they depart. They must be transported in clean, luxury vehicles, itineraries must be enriched with interesting modern features that complete the classical tours in an exciting way, and so on.
7. How would you comment on the slogan of the Region of Attica, "Attica – Greece in a Snapshot"? What are your favourite "snapshots" in Attica?
A modern, quick paced slogan is a very sound choice. I was particularly taken with the script of the campaign video, because it presents Attica very attractively. The images that emerge from this video are exactly what travellers have in mind when they think of Greece.