Interview with the founder of "Alternative Athens", Ms Tina Kyriaki: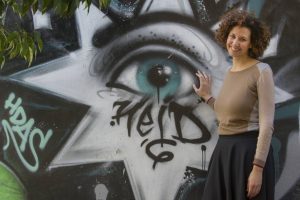 "Attica has numerous faces; it's like a vast theme park"
1. The modern traveller tends to seek more authentic experiences. What would you suggest to someone who is coming to Attica to feel like a… local?
There are many and different options that depend on the season. If, for example, it is summer, I would recommend that the visitor, in order to feel an authentic experience, begin with an enjoyable walk in the Stavros Niarchos Foundation Cultural Center. They can then continue with a visit to the lake of Vouliagmeni (Limni Vouliagmenis) for a coffee, following up with a visit to the Temple of Apollo Zoster, located at Astir beach. I would then suggest they stop for lunch by the sea in the area of Vouliagmeni, where they can feel like they are on a Greek island, and for dessert I would choose an ice cream with traditional Greek flavours which thrill all visitors. For night entertainment I would choose the coastline in the southern suburbs. I would make a stop at one of the seaside clubs that maintain their distinctive character, offering a unique experience to visitors – unlike the corresponding clubs in Spain, for example, which are much more commercialised. On the other hand, if it is winter, I would suggest a walk in the Tatoi Estate, where one can admire Greek nature; I would make a stop in the traditional tavernas of Parnitha and back to Athens for a coffee, where I would choose Koukaki that has innumerable hip options. At night, for an authentic Greek experience I would totally recommend a neighbourhood such us Kolonos, where the visitor could enjoy the traditional Greek music of "rempetika", in an unpretentious and friendly environment, in the company of the most famous "rebetes". Authenticity is Greece's greatest asset, since there are many places less known to discover. There is a huge exploration and authenticity chapter, which we need to pass on.
2. Based on your experience, could you tell us what it is that visitors who choose to discover the history and culture of Greek food, through the food tours you organise, are looking for?
When it comes to food tours, there are two categories of people who choose them. The first is those that are just curious in the context of the general trend for food tours. For them, such tours sound interesting and their motivation is curiosity as to what they will find and whether they will discover something different. The second category is more… sophisticated; they have understood that food tours are a very nice way to get to know and understand the culture of a place, they want to dig deeper under the surface, and find out what locals eat or in what places they shop.
3. What are your favourite culinary routes in Attica and which areas would you characterise as the new taste hubs for visitors?
I literally scour the whole of Attica for food. In Athens city centre you'll find places to eat that are hip, sophisticated, with a "twist"; but personally speaking, I prefer to discover hidden places in neighbourhoods. For example, in the area of Agios Dimitrios, there are really nice tavernas located right in the middle of the neighbourhood, offering exquisite quality and run by people who love what they do. The same goes for Pagrati and other areas; it's not just one place, but you need to look out for them. In Lavrio, Nea Makri or Keratea, there are beautiful fish tavernas located by the sea, with the unique advantage of being just half an hour away from the city centre, giving you the feeling that you are on an island. This is Attica's greatest advantage, that in minimum time and distance you can be on the mountains or at the sea! The western suburbs also have culinary gems, places that are authentic and have their own audience and fans. If foreign visitors are not guided, they will most probably stay in the city centre, which theoretically is more accessible, but if they take the extra step they will be compensated tastefully. In general, it is easier for the visitor to go to places that are accessed by the metro, but there are also neighbourhoods that can be reached by taxi, within just a few minutes from the city centre; and it is there that they will really find themselves in non-tourist places, among locals only.
4. How important is the quality of ingredients and the gastronomic innovation for today's visitor to Athens? In your opinion, have the culinary expectations of tourists been increased and how does Attica respond to them? What options does Attica offer?
The visitor knows and has already heard that Greek food is good, but that's about it. Even we often forget how good our ingredients and produce are. We are an agricultural country; therefore, our raw materials are exceptional and delicious. Our visitors testify to that, realising how different our country's flavours are; even the Greek salad or eggplant salad that they can find in our neighbouring countries have a different taste here. But this is not as widely known abroad as it should be. 80% of Greek olive oil is extra virgin oil, a percentage that is a lot bigger than that of Italy or Spain, and our wines and cheeses are exquisite. In recent years, there has been tremendous development in the marketing of Greek products, but this is primarily based on private initiatives. Support at an institutional level is needed, as well as strategic effort by the state, because the small Greek producer cannot compete with the foreign industry behemoths on their own. Of course, the Greek gastronomy experienced by visitors here is a great asset. It is of great importance that 33 million visitors come to our country and are satisfied with Greek flavours; but this effort must be further supported by the state. Private initiatives and state support should work together.
5. Attica is a place that is closely associated with Greek mythology. What do visitors think of the Greek mythology tours you organise? What is their feedback?
Attica can do wonders if it takes advantage of its mythology. Foreign visitors love Greek mythology tours. As a "product", though, it hadn't been launched until 2015. It hadn't been capitalised on sooner, despite the fact that it is utterly associated with Greece and Attica. It is a way to unfold the long history of the place, simply and intelligibly. For instance, to an American visitor this way is much closer to their understanding; they can perceive it better and enjoy it more. Respectively, for Northern Europeans it is very pleasant to hear about things they have already learned at school. In my opinion, what is missing and could attract visitors would be a mythology theme park, not necessarily in the sense of a "Mythology Disneyland" but in terms of representations, myth narratives etc. Greek mythology is a product consumed by foreigners… like hot cookies! Besides, mythology has a social content and it is interesting to unfold what lies behind the myth and explain the way those societies worked.
6. How safe do you think visitors feel in Attica's restaurants, sights and local markets during the COVID-19 pandemic?
They feel very safe in Attica, and the management of this health crisis by Greek people has made a very positive impression on them. Working with Europeans, everyone was telling us how careful we had been in our restaurants, in museums and in transportation. No one has showed concern and they were really satisfied with the protection measures they found here.
7. After all these countless trips you have made to such diverse places around the world, which do you think are the features that make Attica stand out?
Simplicity in a sense of unpretentiousness; authenticity and security that implies freedom; things you don't find in many countries. Attica has countless faces; it's like a vast theme park! From the mountains to the islands, from tradition to modern trends that prevail in the metropolises of the world, Attica has the advantage of offering constant alternatives. For example, visitors can find themselves in the neighbourhood of Plaka which takes you back in time, in Monastiraki which has a scent of the East, and then in Syntagma Square and Ermou street which have the atmosphere of a modern European capital.
8. The slogan of the Region of Attica is "Attica: Greece in a Snapshot". What are your favourite "snapshots" in Attica?
A quiet taverna with a sea view in Keratea that gives you the feeling of being on an island; Acropolis as it appears in front of you while you are driving on the Athens–Corinth national road, across the city's industrial zone; "Plateia Nerou" during a music concert; the view from the forest of Kaisariani, which reminds you that Attica is a basin surrounded by mountains; the terraces of the bars downtown Athens that reveal the alternative aspect and contrasts of Athens; having a coffee at the port of Hydra that makes you feel that you are in another place and time; the desserts in the old patisseries that bring back flavours forgotten in time; and the homemade food you can enjoy in small neighbourhood tavernas with everyday, unpretentious people. These are some of my favourite snapshots.
Photo: Clairy Moustafellou