Interview with fashion designer and stylist, Mr. Vasilis Zoulias: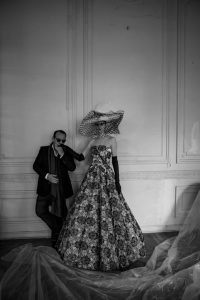 "Greek fashion is at a better level now than ever"
1. Mr. Zoulias, you've been in the fashion field for more than 35 years. In your opinion, at what level is Greek fashion today?
Greek fashion is at a better level now than ever. There are now many Greek designers who enjoy international recognition but also many remarkable and talented young designers in our country.
2. What do you have in mind when you create an outfit? Where do you draw your inspiration from?
Inspiration is something that comes from everywhere but for me it comes mainly from women. Situations with women, films with women and the female gender in general are the most important sources of inspiration.
3. Does an outfit indicate anything about a nation? Does it reveal its culture?
Of course it does. The way we dress for any occasion, and the clothes and accessories we choose reveal our way of life, and they are directly related to our culture.
4. For what reasons do you believe that a foreign visitor to Attica should seek and choose creations of Greek fashion designers? Does it have to do with the international fashion shows in Attica, the very good relationship between price and quality or the distinction of Greek designers?
For all these reasons yes, and even more. Mainly because the visitor wishes to return to their country having in their luggage something remarkable and special from the Greek market.
5. Could you please tell us what raw materials you use?
I choose the raw materials very carefully, making sure I utilise the best quality that exists both in the international and the Greek markets.
6. If Attica was a garment, what would it be?
If Attica was a garment, it would be one of Sophia Kokosalaki's wonderful pleated creations.
7. Which locations or sights of Attica would you choose for a fashion photo shoot?
Attica is full of sights and beautiful images. One of my favourite places for a photo shoot is the National Garden. There I happened to do my first photo shoot as a stylist in 1980, and it is a place where I have done hundreds of photo shoots since then.
8. How would you comment on the Region of Attica's slogan "Attica – Greece in a Snapshot"?
The slogan of Attica Region is modern and highly apt! Attica is a miniature of the country, featuring – apart from the urban centre – mountains, seas and islands, offering a combination of choices to its visitors.
9. For what reasons would you recommend to your friends abroad to visit Attica and why do you believe that Attica has won the title of a safe destination during the COVID pandemic?
The reason is one and very simple. It's such a waste not to visit Greece even once in one's lifetime! I believe our country is one of the world's most secure destinations because our current government, since the beginning of the pandemic, has shown that it is able to handle such an extreme situation.
Photo: Mara Desipris