Interview with the publisher of Yes I do magazine, Mrs. Myrto Kazi: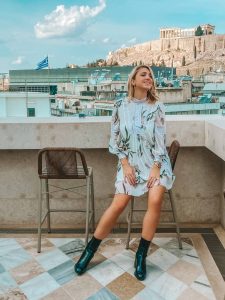 "Attica can compete with the most famous regions of the world"
1. What, in your opinion, are the competitive advantages of Attica in relation to the organisation of weddings and honeymoons?
Attica is a unique and, dare I say, "blessed" place. It offers dozens of options along the entire coastline but also more urban options in the city center or even more mountainous alternatives, covering the full range of wedding options. The level of services and infrastructure provided is extremely high and the wedding professionals operating in Attica can demonstrate excellent work, which is illustrated in the largest international wedding blogs.
2. Choosing Attica for the organisation of weddings and/or honeymoons has become more and more frequent, especially in recent years. How important is the infrastructure, the hospitality options and the safety of a destination in order for someone to choose to perform their wedding, make a honeymoon or revive their wedding vows?
In the eyes of Athenians, choosing Attica as a wedding destination may seem peculiar, because we all want to leave the city behind and be on an island or in our favourite mountainous part of Greece. However, if we see Attica through the eyes of a visitor, we are looking at a place full of history, with a dynamic atmosphere, a cosmopolitan geographical location full of colour diversity that pleasantly surprises every visitor. In that sense, Attica is a trump card in destination weddings and an excellent choice for both religious and civil weddings.
3. Where in Attica do intending spouses prefer to have their wedding or honeymoon and, in your opinion, what are the criteria taken into account when making this choice?
I feel that in an area like Attica, with such a large and wonderful coastline, the intending spouses will always have, as their first choice, areas of the southern suburbs that offer a cosmopolitan aura, summer mood and carefree vibes. On the other hand, the northern suburbs have always been at the forefront in terms of luxury, class and elegance, while the centre of Athens is an attraction for more alternative couples who do not necessarily want a "princely" wedding, but a wedding full of friends, good mood and urban landscape.
4. In your opinion, what are the competitive advantages of Attica regarding hotel infrastructure but also the companies related to the organisation of wedding trips, events and receptions, and to what extent have they adapted to modern requirements?
In terms of hotel infrastructure, Attica can compete and joust with the most famous destinations of the planet and may come out victorious in terms of premises, among couples' all-time classic choices around the world. Hotels and hotel units move at a pace towards the future, while always maintaining the aesthetics and atmosphere of history that literally flood every part of Attica.
5. What would your suggestion be for a foreign couple who want to have their wedding in Attica, in terms of location, accommodation and wedding reception?
In Yes I Do magazine we regularly present wonderful estates, hotels and wedding locations that I am sure cater to the tastes of every couple. If you ask me, maybe I would get married (to the same man again!) or at least renew my vows in a chapel on the beach and even do the wedding reception on the beach.
6. "Attica: Greece in a Snapshot" is the slogan of the Region of Attica. Which images/snapshots of Attica's landscape, do you think, are stamped indelibly in the memory of a couple who come here to get married?
Attica is a magical puzzle of images which, even if you just view once in your lifetime, you remember them forever. The Acropolis, the Temple of Poseidon in Sounio, the Marathon Dam, Mount Parnitha, the Temple of Artemis, and Attica's majestic coastline in combination with its unique climate, create the most ideal environment for a wedding!
7. What actions could contribute to the further establishment of Attica as a popular destination for the organisation/implementation of wedding trips and receptions?
In my opinion, it is important for Attica as an image, as a feeling and as an emotion to reach through international campaigns the couples who are going to get married. I also consider it necessary to create bodies that will substantially support the wedding professionals who work here.
8. How easy is it for a couple, whether living inside or outside Greece, to plan and organise their wedding in Attica?
It's the easiest thing! It's all set here. In Greece we know 3 things well: good food, tourism and weddings. Therefore, a couple will only need a Greek wedding planner who, in collaboration with the right professionals, will make their dream come true!
9. What are the wedding customs in Attica that fascinate foreign visitors?
In Attica, as well as in the whole of Greece, we are quite traditional; even when it comes to a modern wedding we still love observing certain customs. The favourite and most moving custom, in my opinion, is the delivery of the bride by her dad to the groom. It is a moment that always makes me cry. The bride is between two men she loves with all her heart – her dad and her husband. The moment of "delivery" may be against the feminist standards of our decade, but it bears something extremely sweet and moving. I also love the custom of rice, when the couple leave the church married, and the guests literally bathe them with rice often mixed with rose petals. It is a moment that is deeply moving but also has intensity and many smiles!
10. The Attica light, the dreamy landscapes and the unique sights are "co-stars" in the video "Renewal of vows in Attica" created by the Region of Attica, which features the trip of a couple and their family members to Attica in order to renew their wedding vows. Which locations on the map of Attica would you suggest to a couple for authentically romantic experiences, with Attica's landscapes as a background?
Oh! Now you made me think of renewing my vows with my husband! I would definitely choose Sounio. I feel that the light, the energy, the breathtaking landscape, all these contribute to a unique image that is worth adding to one's memory album.