Interview with journalist and presenter Nikos Manesis: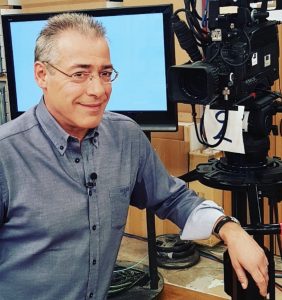 "Attica presents a very interesting triptych: a modern cultural product, classical civilisation, and a culture of hospitality that is unique in Europe"
1. 'Attica: Greece in a Snapshot' is the slogan of the Region of Attica. What images-moments is Attica intertwined with in your mind?
Hiking to the top of Ardittos Hill, at the foot of which the Panathenaic Stadium has been built, and looking out onto Zappeion, 'Fokianos' National Centre, Syntagma Square, the Temple of Olympian Zeus, the Acropolis, and Plaka. That is the Attica I see when I close my eyes.
2. Having travelled all over Greece, what do you think are the comparative advantages of Attica as a collection of tourism destinations?
Attica combines luxury and simplicity. From the five-star hotels all around the Temple of Poseidon at Sounion, to the tasteful rooms to let on Agistri island; an island with enchanting beaches, exceptional food, that would look equally at home in the Caribbean if it weren't in the Saronic Gulf.
3. The mountains, seas, islands, centre, and suburbs of Athens compose the complex puzzle that is Attica. Could you give us your favourite destinations in Attica?
Walking around Kamariza in Lavrio, where you can still visit many of the old abandoned mines, a dip at any of the beaches looking out on Makronisos, and definitely a good meal at the Athens central market.
4. The sound utilisation of environmental resources, respect of the natural landscape, and the cultural authenticity of local communities are the pillars of sustainable growth for a region. In your opinion, how has Attica responded in recent years to the sustainable tourism growth model?
Attica has become a global tourism destination, so we must be doing something right.  The shop owners in Psyri and Plaka, which are go-to tourist areas, now realise that a smile, good service, and quality are the three things that win visitors over. But is that enough? Athens, the islands, and all of Attica must remain clean, efforts need to continue to deal with the problem of traffic and to provide even more opportunities for visitors to access the sites of their choosing.
5. What cultural venues and which characteristic experiences would you recommend to a foreign visitor in Attica?
I would recommend they ride a double-decker bus and tour the historical city centre. They should definitely visit the Odeon of Herodes Atticus, the Acropolis, the Acropolis Museum, Filopappou Hill, the Temple of Olympian Zeus, the Panathenaic Stadium, and anyone who wants a break from historical destinations can take a walk in Pentelli with its hidden waterfalls and Davelis Cave, or they can hike on Parnitha with its beautiful deer or Hymettus with its exceptional view.
6. The Stavros Niarchos Foundation Cultural Centre, Megaron Athens Concert Hall, the Odeon of Herodes Atticus, the Greek National Opera, the Municipal Theatre of Piraeus, the Elefsina Old Oil Mill; they are all jewels in the crown of Attica that host a number of Greek and international productions every year. Do you believe that the contemporary cultural product of Attica is attractive to visitors?
Of course it is, and that is why Attica remains a top tourism destination.  Attica presents a very interesting triptych: a modern cultural product, classical civilisation, and a culture of hospitality that is unique in Europe.
7. Greek cuisine is very popular with Attica's foreign visitors. What gastronomic routes would you recommend to modern travellers, so that they can get a taste of Attica?
They definitely need to visit the tavernas on Theatrou Square, near the old City Hall, where they teach gastronomy classes. Visitors learn how to make Greek pies and when the food is ready, they have a great party! For people who like to wander, I recommend a tour of the area around Ermou Street, where in recent years dozens of incredible fast food restaurants have popped up. They can try a different approach to moussaka or pastitsio there, or enjoy a refreshing cocktail. Then there are the islands, like Agistri, that have restaurants with exceptional food.
8. What local products would you give to visitors as a gift?
The goddess Athena taught the Athenians how to cultivate the olive. I would give visitors olive oil, because they will have never tasted such a quality product.