Interview with musician and composer, Mr. Petros Klampanis: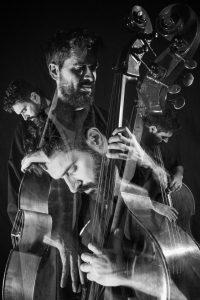 "A walk in the centre of Athens without a specific destination is the best way to get a taste of Attica"
1. "Attica: Greece in a Snapshot" is the slogan of the Region of Attica. What are your favourite music "snapshots" of Attica and what is the first song that comes to mind when you think about Attica?
There are plenty of songs that come to mind, depending on my mood or season. I might think of something like "Athens by night" sung by Rena Vlachopoulou, or "When the clouds come" by Manos Hadjidakis or "Beautiful City" by Mikis Theodorakis.
2. Which destinations and what experiences would you recommend to your foreign friends when they come to Attica?
Definitely a walk around Plaka, for starters, that would begin or end at the Acropolis Museum. Sounio is another destination I always suggest to friends visiting Attica. A stroll along Mikrolimano and around Kastella is also featured in the list. I believe that even a walk in Athens city centre without a specific destination, on a June night for example, is the best way to get a taste of Attica.
3. What is your opinion on the modern music scene of Attica and the music choices it offers to its visitors today?
I consider it extremely rich and diverse. There is a wide range of options: from traditional Greek music to pop and rock, from "laika" (urban folk music) to jazz.
4. What experiences would you recommend to Attica's music-loving visitors, who wish to get a true music taste of Attica?
Ideally, I would recommend attending a traditional fest and experiencing it with all their senses. Also, I would suggest a nice place to listen to live "rebetika" or "laika" urban Greek folk music, in Plaka or Monastiraki. To those who love jazz, I would suggest places like Afrikana, Kerameio, and the JazZoo in Halandri. Finally, a summer visit to Megaron – the Athens Concert Hall and its Garden or a visit to the SNFCC are a must.
5. Music performances/concerts/music events have been adapted to the new conditions, while music always remains a source of joy, relief and jubilation for the audience. How is public safety achieved in the cultural scene of Attica during the COVID-19 period?
Organisations such as the Stavros Niarchos Foundation Cultural Centre (SNFCC) have continued their activities by organising live streaming events. It is a good alternative in keeping the music scene alive and functional, but it does not compare to the experience of a live concert. Many of my fellow musicians – including me occasionally – have resorted to live streaming via the social media. I hope soon it will be safe to resume concerts with a live audience.
6. Which are your favourite venues for music events in Attica and why?
Megaron – the Athens Concert Hall and its Garden because it is an iconic venue in the city. The Onassis Stegi because it has been supporting jazz in our country for many years now. The SNFCC because it is a very impressive place that has upgraded the cultural life of the whole country. Smaller places as well, such as "Spiti" art bar in Kerameikos, the Athenaeum "Kelari" jazz bar and "JazZoo" in Halandri.
7. Which sights and individual destinations of Attica could fuel an artist's inspiration, in your opinion?
Without a doubt, the Ancient Agora and the entire area around the Acropolis along with the Acropolis itself, of course, which is the heart of the city. The port of Piraeus is a stunning area for me. Mount Hymettus, overlooking the whole city of Athens, fills me with inspiration and is a place I visit very often.
8. What would you give to a foreign visitor as a souvenir of their visit to Attica?
An LP with music they can relate to and can be related to their experience in Attica.