Interview with the President of the BoD of the Greek Mountaineering Club of Athens, Pan-Hellenic champion of Greece in Alpine Skiing, and Balkan Champion, Ms Sophie Gritsis: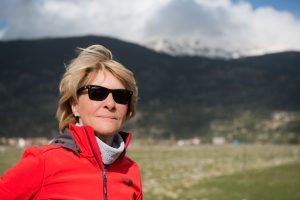 "The morphology of Attica's mountains offers a broad range of activities to all visitors".
1. Sports and sporting ideals from antiquity to the present are interwoven with Attica. To what degree do you believe — in your capacity as a trainer and as an athlete — that Attica's modern sports infrastructure keeps up with international standards, and what training spaces would you recommend international athletes visit?
The sports facilities of Attica, whether outdoor (e.g. the Authentic Marathon Route, the Olympic Rowing Centre Schinias, etc.) or indoor (Panathenaic Stadium, OAKA, and Olympic facilities in general), meet international standards, but continuous development is required. Sports evolve, society's needs increase, and people are searching for ways to escape. Attica is blessed with favourable weather conditions, its mountains — Parnitha, Hymmetus, Penteli — and seas, to the north, east, south, and west. The people of the city need to let off steam and we see an ever increasing number of people walk, run, cycle, swim, etc. International athletes visiting Attica can combine their training with our cultural and history. This is why sports infrastructure in Attica and Greece in general, needs to follow the example of corresponding facilities abroad, both as regards quantity and standards. So, Attica must follow the times and create more cycling lanes, pedestrian walkways, climbing facilities, and designated hiking and mountaineering trails on mountains and along the coast.
2. Does Attica, in your opinion, concentrate a decent number of destinations for nature lovers and through which activities would you recommend they get to know its landscape, depending on the season?
Yes, Attica is a destination for nature lovers. The National Park of Parnitha is characterised by dense vegetation and is a wildlife refuge, the Former Royal Estate at Tatoi, even the beaches of Attica attract those of us who are in search of a connection to nature. Cycling, mountaineering, trekking, mountain biking, canyoning, and horse riding are all activities available in Attica. However, it would be unfair not to mention the excitement of the via ferrata route in Arma and canyoning in the nearby canyon of Goura, as well as on the trails of Kythira. There are Attica mountaineering trail and climbing guides available for anyone interested in discovering them.
3. You have travelled and participated in sports events all over the world. How accessible, in your opinion, are the mountains of Attica for visitors? Tell us about their advantages.
It's true that the mountains of Attica are quite accessible to everyone. Nevertheless, there is always room for improvement as regards the facilities around them, such as adequate parking, marking trails, and issuing relevant tourist guides or relevant websites. The mountains of Attica are near settled areas and that provides motivation to visit them, as visitors can get to them in no time. Furthermore, the morphology of Attica's mountains offers a broad range of activities to all visitors.
4. Describe the sport climbing / adventure climbing routes and refuges in Attica. Are there corresponding routes on the region's island destinations (Kythira, Hydra, Aegina, etc.)?
Due to the fact that Attica has mountains with a unique morphology, there are many climbing crags offering several routes for sport climbing of all difficulties, from beginner to experienced. It takes a lot of effort to preserve these crags in order to keep them as safe as possible. As regards adventure climbing routes, they are somewhat fewer and you can't find routes with a significant altitudinal difference. It should be noted that there are two very well known refuges on Parnitha. In the heart of Parnitha is Mpafi Refuge. A refuge that is well organised and suitable for visitors of all ages, located in the middle of nature, with a gorgeous view, that offers the experience of an overnight stay in a refuge in accordance with the rules of mountaineering. On Parnitha you will also find Flambouri refuge, where visitors can look down on Athens, Aegina, Poros, Peloponnese, and, weather permitting, the Aegean Sea.
5. What mountaineering routes in Attica would you recommend to a family or someone who just started visiting mountains?
Parnitha and the routes around the refuge are ideal for family outings, as they are easy and you always have the safety of the refuge. Hymettus also offers beautiful and easy family-friendly routes, starting above Kaisariani, while the trails of Kythira island are also extremely interesting routes.
6. Can the mountains of Attica live up to the expectations of an experienced mountaineering athlete or meet their requirements for training?
Thankfully, the number of Attica citizens involved in mountaineering and climbing has increased in recent years. The mountains of Attica, due to their height and morphology, are not the ideal destination for an experienced and highly skilled mountaineer. Nevertheless, they are excellent for training and staying in shape.
7. When an athlete is preparing for a competition, they are under a lot of psychological pressure. In your opinion, which places in Attica could act as stress relievers?
That depends on the sport and the period during which they are preparing for their competition. As the competition date draws nearer, athletes focus on the competition conditions, increasing the intensity and reducing the volume of their training. Any type of training that is different to what the competition demands can act as a stress reliever! It should be noted, of course, that one should keep in mind the compatibility of the sports (purely aerobic sports — trails, swimming — in comparison to anaerobic-dynamic sports — climbing). Therefore, I would recommend the trails and climbing crags of Parnitha, Hymettus, and Penteli, the parks and all coastal routes, depending on the time each athlete has available in their training schedule.
8. Tell us about the role and work of the Greek Mountaineering Club (EOS) of Athens . If someone is interested in winter sports in Attica, who can they contact? Apart from outdoor spaces, is their indoor climbing available?
The Greek Mountaineering Club of Athens was founded in 1928, with its offices in the historical city centre of Athens. It is the oldest mountaineering and skiing club in Greece, with many years of experience, extensive know-how, and a recognised contribution to the sector. Its purpose is to promote mountaineering and climbing schools, and to provide sound ethics and know-how, so that our members climb following the rules and international standards. We provide hiking excursions and our main concern is to bring our members into contact with nature. We help young people participate in ski mountaineering, climbing, and skiing. Anyone interested in winter sports can contact mountaineering and skiing clubs, as well as private travel agencies that deal in outdoor activities. For the time being, however, EOS of Athens does not provide indoor climbing facilities. Nevertheless, it is something we are planning and working towards.
9. What important — perhaps, international — mountaineering events are organised in Attica, and how could they become even more open?
Both mountain running and climbing events are organised on a local level by Attica clubs. Attica does not have many climbing crags, like Kalymnos for example, and therefore it cannot support a large number of athletes at the same time. If we want to achieve openness, we need to support this sector overall, by organising meetings to exchange experiences, holding events with the participation of recognised athletes (Greek and international), and promoting mountain sports.
10. In your opinion, are Attica's mountains a safe destination during the Covid pandemic?
When safe distances are kept and visitors do not gather in large numbers in one specific place, then it is clearly a safe destination, and I would dare say it is an ideal destination for us to recover our strength and deal with these new conditions.
11. What would you recommend to Attica visitors who want to have an authentic mountaineering experience, while enjoying the beautiful landscapes of the region at the same time? What advice would you give them?
Visitors to Attica who wish to have an authentic mountaineering experience should address Clubs or recognised professional mountain guides, whom they can contact via the Hellenic Federation of Mountaineering & Climbing (www.eooa.gr) or the General Secretariat of Sports (www.gga.gov.gr). Becoming involved in mountaineering builds character, as you learn in practice how to organise, persist, act prudently, and make decisions. My main advice is that one must not forget that the mountaineering experience begins at home, where you organise your activity, and it ends when you return home.
12. 'Greece in a Snapshot' is the slogan of the Region of Attica. What are your favourite "snapshots" of Attica?
The view from Mpafi refuge, snowy Parnitha, and the watching the sunset from Penteli are incredible images.