Interview with the Artistic Director of DeplanV, Mrs. Vanessa Souravlia: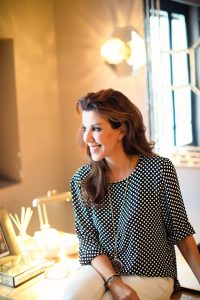 "Attica has an unparalleled gift… it combines everything!"
1. The light of the Attica sky, the dreamy landscapes and unique attractions "co-star" in the video "Vow renewal in Attica", created by the Region of Attica, which is about the trip of a married couple and their family to Attica, in order to renew their wedding vows. In your opinion, what are the natural assets of Attica for someone who wishes to have their wedding, honeymoon or vow renewal there?
There are unique places around the world… let alone in Greece. Attica, in particular, has an unparalleled gift… it combines everything! No matter the style you want for your dream wedding, this image you have can fit under Attica's sky. Undoubtedly, one of Attica's greatest assets is the sea. Besides that, in Attica one can find everything, from a classic type of venue to a farm or even a tower! Also, the fact that everything is easily accessible at any time is an additional important element.
2. In the last few years, Attica has evolved into an exceptionally popular wedding destination. Which factors, in your opinion, have played a major role in this, what actions have been taken and what can be done in the future in order to further enhance this trend?
With great pleasure we see that more and more couples wish to have their wedding planned here. A factor that has definitely played a key role in this is the wide price range available that makes people feel at ease. Athens International Airport is another important "plus" element in enhancing this trend. Advertising, too, without a doubt although it is a sector that should be reinforced. More targeted and well-planned advertising of Attica's many advantages on behalf of the state will enhance word-of-mouth advertising, which is equally important. Moreover, there is a lot more to be done in upgrading infrastructure. Lastly, I believe that in such extraordinary times, like the ones we are all experiencing, we ourselves should highlight the diversity of Attica's natural landscapes that attracts couples in the first place, by maintaining the high quality of our services.
3. From the "rainbow" of options offered in Attica, which are the most popular locations that foreign couples choose for their wedding, honeymoon or vow renewal? What are the criteria behind their decisions, in your opinion?
Everyone loves the magic of the sea… It's a fact that despite the great variety that indeed Attica offers and many couples appreciate, the Attica Riviera by far outmatches all locations! Right by the sea, the emotions that are at their peak due to the happy event are wedded to the atmosphere created by the natural landscape, which we always make sure we highlight. This is done through the event's design that is based on the style of each individual couple, which is the main criterion for the selection of the wedding location.
4. How important is the infrastructure, the accommodation options and the safety of a place in its selection as a wedding or honeymoon destination? In what way does modern-day Attica manage to deliver in this aspect?
Feeling safe as well as knowing that you will not be disappointed by your accommodation experience is one of the main concerns couples have, both for themselves and for their guests, to whom they wish to offer not only a beautiful evening but an overall unique experience. When it comes to safety, I believe they feel extremely secure here in Attica and never has such an issue occurred or a concern we had to deal with. As for hospitality, Attica offers a vast variety of options. Nonetheless, there are things that can and need to be done in order to be able to offer an even larger range of options – which is also related to infrastructure in general. This will make us even more competitive compared to other countries that are also high on the list of destinations preferred by couples. In Greece and in modern-day Attica we have taken steps to evolve in this vital sector, but there is always room for improvement.
5. Which, in your opinion, are Attica's competitive advantages with regard to hotel facilities and companies of the honeymoon planning, or event and reception organising industry? To what extent can Attica meet modern wedding travel requirements?
The fact that Attica offers such diversity both in style and price, in combination with easy access, is definitely what wins visitors over. That being said, we should all realise that the natural beauty in itself is not enough. Efforts have been made – for instance, hotels are being renovated, world-famous hotel chains are investing – yet there has to be substantial improvement. In order to be competitive in the market and fully benefit from this demand and trend, we must be able to deliver, not fairly but utterly, to each and every couple that chooses and trusts us. Given the great hardship brought about by the coronavirus pandemic, it definitely takes even greater effort from all of us. But as long as there is still demand, I think we ought to give it our best shot.
6. How easy is it for a couple, Greek or foreign, to plan and stage their wedding in Attica? What are the options offered not only for religious but for civil weddings, too?
As you know, our company mostly works either with foreign couples that have nothing to do with Greece or with Greek couples that live abroad. Therefore, this is something we are completely familiar with and it is indeed easy to do, if you trust true professionals to help you out. With the means available in our daily lives, everything is way easier and more pleasant. As for the types of wedding ceremonies, a religious wedding is very distinct and differentiated. In any case, we consult and help the couple with the paperwork they need, according to the type of ceremony they want and their background at the given time (e.g. it is not unusual for the brides and grooms to get baptised just before the wedding ceremony).
7. Which routes on the map of Attica would you recommend to a couple, so that they experience truly authentic and romantic moments with Attica's landscapes in the background?
Once again, I will refer to the Attica Riviera… Faliro, Glyfada, Voula, all the way to Sounio. Anywhere you go along the coastline is pure magic…
8. Which islands of Attica would you recommend for a cosmopolitan, romantic or a… relaxed type of wedding?
After so many events we have planned and all the breathtaking landscapes we have seen, it is extremely hard to pick one island, even when it comes to Attica's islands alone. Nevertheless, I would say Spetses for a cosmopolitan type of wedding, Hydra for a romantic one and Kythera for a relaxed wedding ceremony.
9. From what you have seen, which wedding customs in Attica fascinate foreign visitors the most?
Visitors are mostly fascinated by the truly traditional elements in a wedding, since most of them are familiar with the ceremony and wedding customs. It has been brought to my attention that everyone is extremely focused during the ceremony and interested in the meaning and symbolism of objects used and rituals followed in a Greek Orthodox wedding ceremony (the crowns, the wine, the sugared almonds, the dance of Isaiah etc).
10. The bridal creations and jewelry made by Greek designers have an increasingly wide appeal to foreign visitors. What is it that makes them stand out?
It's just like our landscapes that boast a timeless, unpretentious beauty; this unparalleled combination of classic and modern, simple yet not simplistic, always with elegance and respect.
Photo: Sotiris Tsakanikas