Interview with world wrestling champion, Ms. Maria Prevolaraki: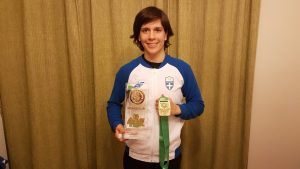 "Seeing the Panathenaic Stadium from above fills you with energy."
1. "Attica-Greece in a Snapshot" is the slogan of the Region of Attica. What are your favourite "snapshots" of Attica?
Attica has countless great places to visit. My favourites are the Panathenaic Stadium, because I often go running in the bleachers. Seeing the stadium from above fills you with energy. This image fills you with positivity. Also, there is Zappeion with the National Gardens, Filopappou Hill, Lycabettus Hill, and the pedestrian walkways below the Acropolis, which are places I love to go walking.
2. Having participated in many sports events internationally, to what degree do you believe that Attica's modern sports infrastructure keeps up with international standards, and what training venues would you recommend international athletes visit?
I believe that the overall sports infrastructure in Greece still needs a lot of work to catch up with modern facilities – standards of other countries. However, in Attica in particular, there are important national stadiums with modern infrastructure, where athletes from abroad can train comfortably. The Olympic Athletic Centre of Athens-OAKA and the Agios Kosmas National Youth Sports Centre stand out for me. Another noteworthy sports area in the heart of Athens is the National Gymnastics Association. It is important that access to these areas is free.
3. All year round, Attica hosts major sporting events. Do you believe that these events attract athletes and visitors, and how could they be further strengthened?
Clearly, athletic events attract athletes-visitors from foreign countries, and the best example is the Athens Authentic Marathon, which takes place every year and attracts thousands of visitors who want to share this unique experience, while also becoming acquainted with Greece. The climate in Attica is ideal for athletes to practise, especially during the winter months, when in some northern European countries it is intensely cold, and they look for warmer climates so that they can train outdoors without major problems. Consequently, Attica is the ideal destination for athletes from other countries seeking such solutions. However, constant infrastructure upgrades are required, so that athletes from abroad prefer our country for training, rather than Spain, Turkey, or Italy, which are their most popular choices.
4. What is your opinion on Attica as a collection of destinations for nature lovers, and through which activities would you recommend they get to know its landscape?
I believe that Attica, with Mt Hymettus and Mt Parnitha, as well as the islands, is ideal destination for nature lovers. Hiking the mountain trails surrounded by lush landscapes is a beautiful experience that frees you from the stress and intense pace of the city, and is good for your body, your mind and soul.
5. What cultural routes could an athlete-visitor from abroad combine their trip to Attica with?
I would definitely recommend a stop at the Panathenaic Stadium! For an athlete, it is a place they should absolutely visit, because it is the beginning of the history of the Olympic Games. Clearly the Acropolis, the historical centre with Plaka and Monastiraki, which will give them a clearer image of our culture, as well as the Stavros Niarchos Foundation Cultural Centre, which, in combination with the upgrading of the entire coastal front, is one of the top destinations for visitors to Attica.
6. Attica, with its islands (Poros, Hydra, Spetses, Kytherra, Aegina, Agistri, etc.) the Attica Riviera, and the beaches on its eastern and western coasts, is surrounded by the clear blue sea. What options would you recommend to visitors who want to enjoy the sea breeze and swimming in crystal clear water?
All the islands of Attica – they are all equally beautiful to me – and the Attica Riviera, from Voula to Sounio, have crystal clear waters for anyone who wants to enjoy swimming in the sea. For visitors from abroad, I believe that these coastal landscapes of Attica, which are just a stone's throw from the city, and especially when there is a view of the water, are magical, and all visitors enjoy them, because it is difficult to find beaches like these in any other country in Europe.
7. Besides the beauty of nature, a destination is also connected to tastes in the visitors' minds. What routes on the gastronomic map of Attica would you recommend to a fellow athlete, so that they could get to know the culinary tradition of the land?
As a first choice, I would take my visitor to a seafront fish taverna somewhere in Attica, so that they can taste our seafood and fish, which are unparalleled. I would also take them to Monastiraki, to taste traditional souvlaki, and to a traditional taverna in central Athens to try one of our "home cooking" dishes, such as "gemista" (stuffed vegetables) or moussaka!
8. When an athlete is preparing for a competition, they are under a lot of psychological pressure. In your opinion, which places in Attica could act as stress relievers?
A run in the Zappeion National Garden or at the Panathenaic Stadium is all it takes to clear your mind of anything troubling you. Mt Hymettus is also a beautiful place with many routes for running or walking. Finally, the sea is an excellent stress reliever, therefore anywhere you feel like walking along Attica's seafront, you will have the best stress reliever at your feet!