Interview with the President of the Spetses mini Marathon Organising Committee, Dr Marina Lida Koutarelli: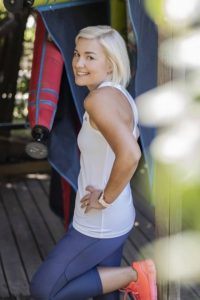 "Spetses is a gorgeous island with incomparable natural landscapes and rich history"
1. Ms Koutarelli, you organise Spetses mini Marathon & Spetsathlon. Talk to us about these successful sporting events.
In 2011, when we first organised Spetses mini Marathon – in partnership with the Municipality of Spetses – sports tourism wasn't widely known yet. From the very outset, our goal – which, 10 years later, I think we have achieved beyond all expectations – was to create an event that was open to everyone, promoting our country abroad and introducing amateurs to sports. Ten years later, over 100,000 people – including top Greek athletes and champions – have participated in our events. At the same time, we have succeeded in extending the tourism season and ensuring equal access for persons with disabilities to all of our races. Making these events successful requires continuity and consistency, great respect for the participants and direct communication with them via social media. We now have 43K followers on @spetses_marathon, the country's largest amateur athletics account, and even in 2020, when we had to cancel the Spetses mini Marathon, we were very moved to see so many people tag us in their training sessions!
2. What are the reasons that make these events worth experiencing for those "uninitiated"?
I think that what people love about sports are the emotions and images they give you. The motto we use to inspire people to start taking part in athletic events is "to win is to participate". This has been part of the events from the start, and we always try to applaud those who finish last, even more that those who come in first. The feeling of finishing the race, with 360 Spetsiot volunteers applauding and everyone cheering, is a sensation that only professional athletes, at major events, could experience. I'm very happy that we have succeeded in giving this same sensation to amateur athletes as well.
3. Talk to us about the island of Spetses.
Spetses is a gorgeous island with incomparable natural landscapes and rich history. From day one, the routes of our races were chosen to show off these aspects of the islands, and even though the 25K route, in particular, is extremely difficult for runners and cyclists, the natural landscape with the sea and the pines makes it worthwhile.
The Spetses mini Marathon and the Spetsathlon were immediately embraced by the local council, while extremely important are the 360 Spetsiot volunteers as well – who have our heartfelt gratitude for the uninterrupted support they provide all these years to us and to the athletes.
4. How significant are the benefits of international sporting events for local economies?
The dates we have set for our events are aimed at extending the tourism season on Spetses. In other words, just when the tourism season is starting to wind down, we manage to fill the island with thousands of visitors from all over the world, giving a very significant boost to the local economy. In addition, great benefit comes from the extensive media promotion of the island – almost daily in the Greek media throughout the year, as well as on social media – which is extremely important. Finally, a major asset, in my opinion, is that we have succeeded in introducing the younger generation and many inhabitants of Spetses to sports as well as volunteerism.
5. What is the first thing that comes to mind when you hear the word "Attica"?
Hearing the word Attica certainly brings to mind history, but also the natural beauty of the place.
6. What are your favourite locations in Attica and why?
My favourite locations in Attica are certainly the Acropolis and the cobblestone streets of Dionyssiou Areopagitou, where you can run and feel you are a part of history. The Kavouri coast, with the beautiful coves where I like to swim, and the forest to the north, next to my home, which is ideal for walking.
7. In the past, you've spoken of your love for Greek cuisine. What product of Attica and what dish of Attica cuisine stand out?
I've made it an annual tradition to get grape must from Marathon, which I use to make "moustalevria" (grape must pudding). Some of my favourite dishes are "ladera" (olive oil and tomato sauce vegetable dishes), especially "gemista" (stuffed vegetables).
8. What do you think of the Attica Region's tourism slogan, "Attica – Greece in a snapshot"?
I think it's absolutely true to the brand! The diversity of the natural landscape of Attica and its wealth of history and tradition certainly make it a thumbnail of the rest of the country. This is why I always suggest to friends from abroad – even those who want to go straight to some island – that they should first spend a few days in Attica.