Interview with the artistic director of the Athens & Epidaurus Festival, Ms. Katerina Evangelatou: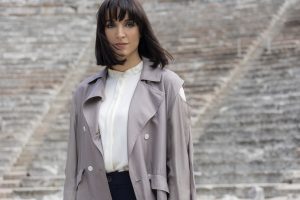 "The cultural wealth of Attica is inexhaustible."

1. "Attica – Greece in a Snapshot" is the slogan of the Region of Attica. What are your favourite cultural "snapshots" in Attica?
In my mind, Attica is completely interwoven with culture. However, if I had to single out specific cultural snapshots, I could not but mention some that are related to the Athens and Epidaurus Festival. The packed Odeon of Herodes Atticus on a summer night against the backdrop of a full moon and the sound of applause would certainly be one of my favourite snapshots, as would Peiraios 260, the former Tsaoussoglou factory, which is now the festival's second "leg". It is where, late at night, after the performance is over, when the spotlight has been switched off and the audience has left, all of the crew, technicians, sound engineers, and musicians gather around a large table in this huge industrial space and review the day that passed, and plan for the day that is coming.
2. In your view, is Attica's cultural heritage important for tourism, and what cultural routes would you suggest a visitor should take?
From the past to the present, Attica's cultural wealth is inexhaustible, and this is undoubtedly one of the reasons that bring millions of visitors to Greece. I would certainly recommend that they attend some of the events of the Athens and Epidaurus Festival, such as a concert at the Odeon of Herodes Atticus or a performance. I would also focus on the lesser-known cultural routes, and recommend a visit to the island of Aegina and the temple of Aphaea, Porto Germeno, and Mount Kythairon — filled with pine trees — where Castle Aigosthena stands, which recently underwent significant restoration. Visitors can enjoy a journey into the past combined with a hike up the lush green mountain, and finish it off with a swim in the crystal-clear waters of Porto Germeno.
3. Important museums and archaeological sites, cultural and art venues, such as the Stavros Niarchos Foundation Cultural Centre, Megaron the Athens Concert Hall, the Odeon of Herodes Atticus, Piraeus Municipal Theatre, the Old Olive Oil Press in Elefsina, etc., make up the modern cultural map of Attica. Do you think prospect visitors know the cultural breadth of Attica? In your opinion, how could Attica be strengthened and establish itself as a cultural destination?
Visitors nowadays are better informed than in the past. They have usually researched the places they will be visiting during their holidays. However, the cultural breadth of Attica is such that even we, permanent residents, are often unable to keep up with cultural developments and events. The pace has changed. So much is happening. It is really difficult to map everything out. This is why digital initiatives are so important, enabling visitors to get information on current cultural events with a click or a tap. They can find out what event is taking place, when, where, and how they can get there. At the Athens and Epidaurus Festival, we have seen in practice that access information and directions on how to arrive at a venue are a very important factor for visitors. In this context, at the Athens and Epidaurus Festival we work with companies that, for example, transport the audience from Syntagma Square, which is easy to reach, to the building at Peiraios 260, while we do the same for visitors to Epidaurus.
It is important to have a digital information hub, like your website, https://athensattica.com/, which collects all the information on what is going on in our region. Personally, I also love print; printed guides with information on cultural events in the region. We all realise that, during this period, due to Covid-19, it may not be possible to use print for safety reasons, but I want to believe that it will be used again in the future. An official magazine, a complete printed guide, designed with care and providing information on cultural events, monuments, gastronomy, etc., published weekly, would be extremely helpful for visitors to Attica.
4. The Athens & Epidaurus Festival has always attracted thousands of visitors. How does it remain relevant, winning over audiences? Tell us about this year's programme.
Great art speaks not only of its own time. It speaks of every era. The Athens and Epidaurus Festival, with the support of the state, is always on the front line with top Greek and international productions and co-productions, enabling artists to take risks, experiment, and explore without having to worry over the night's takings. This liberates them. With the support of the Ministry of Culture and individuals who love art, the Festival is the first cultural organisation in Greece to host productions of this scale. And we have the pleasure of hosting them at sites as monumental as the Odeon of Herodes Atticus or the Ancient Theatre of Epidaurus. This is an unprecedented experience for both visitors and the artists themselves. Even artists who have travelled all the continents and stood on the world's most important stages describe it as an astounding experience, unparalleled by anything they have experienced before. At the same time, there is also something extremely moving. There is this tradition in Greek families passed on from generation to generation, when older members pass on the baton for the Odeon of Herodes Atticus or Epidaurus to younger members. Very often, parents ask me when a performance will be held at these theatres, so that they can take their children for the first time, to introduce them to these unique experiences.
This year's Festival programme is complex, with over 80 Greek and international productions. It was "built" with great care and effort, especially due to the unique conditions imposed by the pandemic. We are very proud of the international productions and co-productions, such as Thomas Ostermeier's "ödipus", of the coming together of young artists from the fields of theatre, dance, and music with acclaimed artists, and of creating a high-quality programme that takes current trends into account. This year's festival is a "maypole" of freedom, expression, dialogue, and creativity. The artistic programme at the Little Theatre of Ancient Epidaurus focuses on research, assigning new projects to authors, while we are also very pleased to have moved into the publishing sector, where, in collaboration with Nefeli publishing, we created a number of new translations and original theatrical texts. At the same time, the festival touches on social issues, such as violence against women, while there are thematic cycles that address young people, such as "Layers of Street", which is dedicated to street dance culture.
5. How attractive for visitors is the contemporary theatrical scene of Attica, in general, and how much has it developed in recent years? In your opinion, are the demands and expectations of the Greek audience different from those of visitors from abroad coming to the theatre, and how could Greek theatre become even more open?
When foreign visitors come into contact with Greek theatre they are pleasantly surprised. Most of them are not familiar with what "Greek theatre" means. They don't know exactly what's in store for them. Despite the fact that we are the country where ancient theatre was born; despite the fact that amazing efforts are currently being made in the theatre sector. So, although initially cautious, foreign visitors are pleasantly surprised. In recent years, the Greek theatre scene has become considerably more open and "friendlier" to foreign audiences. At the Athens and Epidaurus Festival, all of the performances are subtitled, so that people from around the world can attend without a problem.
6. What is the role of educational actions/congresses on theatre, music, literature, etc., and international distinctions, in spreading knowledge about Attica's multifaceted cultural identity?
Any form of educational activity around culture can only have a positive impact. Seminars and workshops help expand, make aware, and cultivate an active and participatory audience, strengthen interaction, and — at an artist level — facilitate practising skills and having a creative exchange of ideas, while they move things in new directions. The Festival's Open Plan actions that took place last winter – workshops, master classes, shows, webinars, radio projects – moved precisely in this direction and were addressed towards professional artists and the broader public of all ages, cultivating valuable and creative contact. The "Long Weekends", for example, were a series of meetings between Greek creators and important foreign artists of the Stage and Dance, a window of dialogue, a channel of communication between the Greek artistic community and the international community.
7. New technologies are contributing decisively to the promotion of the modern cultural map of Attica. How do you believe technology can be utilised to attract international visitors and how important are our digital capabilities for cultural tourism (digital performances, cultural content online, etc.)?
Technology's contribution, especially during these extremely difficult years of the pandemic, has been decisive. It greatly helped the artists, who suddenly found themselves in limbo, and the public, so that they didn't lose touch with art. Last winter, for example, at the Athens and Epidaurus Festival, we created a programme of five radio plays in the framework of the Open Plan platform — a meeting between radio theatre, crime fiction, and jazz music. Over 60 exceptional Greek artists — directors, actors, musicians, and authors — participated in this initiative. Technology is undoubtedly important, and the digital possibilities opening up in the art sector are contributing to the promotion and enhancement of cultural tourism. However, technology plays a subsidiary role; nothing can replace or substitute for the actual experience of art.
Photo Credits: Ioanna Chatziandreou