Interview with the Secretary General of the Greek National Tourism Organisation (GNTO), Mr. Dimitris Fragakis: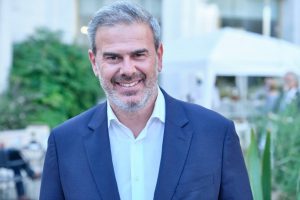 "Attica is a go-to destination 365 days a year"
1. Mr. Fragakis, what are the priorities of the implemented national tourism policy and what are your long-term objectives for the country as a tourist destination?
After many years, the GNTO has established a three-year strategic plan, upon which we methodically build the initiatives for the future promotion of our country abroad. Investing in the authenticity and distinctive identity of Greece, in our land and our people, is our principal mindset. The pandemic may have set us back, but it also acted as an accelerator, highlighting the urgent need to enrich our tourism product. The sun-sea-culture model remains a central pillar of our tourism, but it can't be the only one. Our country has unique beauties, experiences and activities that visitors can find all year round, in places of the country they may not have even imagined. Our goal is to invest in the elements that can be found only in Greece, collectively and almost everywhere. The unique experiences that each place has to offer, the distinctive stories each individual place has to tell. Based on this strategy, our campaign for 2021 will be communicated to prospective visitors in a simple and comprehensible manner, since we know what travellers want after what they have experienced, and that is Greece.
2. Over this 18-month period that you have been the GNTO Secretary General, how did you manage to reform the organisation, to keep up with new trends and developments?
I took over the leadership of the Organisation 18 months ago, at a time when our tourism was breaking one record after another. At that time, no one could have predicted the unprecedented crisis that was just around the corner, eventually causing so much damage to world tourism. Despite the fact that crisis management was and still is a top priority, we still proceed – as much as we can – with structural changes in the way the Organisation operates. The basic lines of these changes are the upgrade of our offices abroad and the launch of two new offices in Spain and Australia; the shift to digital media for tourism promotion and the change of our campaign abroad in this direction; the support of innovative actions abroad that reinforce our country's recognition, such as the 24 Hours of Le Mans sports car race; the re-launch, after many years, of a campaign that supports domestic tourism and the islands affected by the refugee crisis. We are also reforming the visitgreece.gr portal, we have completed and already launched an application for mobile devices that also incorporates Greek business enterprises, while we are also designing our new booth for our participation in international tourism exhibitions, when they re-start. The main change, however, is the flexibility and adaptability with which we deal with the consequences of the coronavirus crisis. I believe this will be a great asset, even in the post-COVID-19 period.
3. What are the next steps for the reinforcement of tourism in Attica and consequently in Greece?
We are aware that Attica has suffered significant damage due to the crisis we have been experiencing during the last months. A damage that may be disproportional in relation to other tourist areas in Greece, given that the Region of Attica is a 12-month destination. I believe that in order to have a real resumption of the tourist flow in Attica, we need three things: First, we need to strengthen the cooperation among all tourism entities in order to follow a common strategy that will be agreed by all. Secondly, we ought to aim at developing and promoting an enriched tourism product that will include experiences beyond our typical, already known product. Finally, to be more specific, we must focus on business tourism (conferences, mega-events, etc.) which can give significant boost to tourist traffic in the coming years, as well as on maritime tourism that can be further developed, given that it has both the asset of Attica's islands and the means to achieve further progress. Let's not forget, also, the health and wellness tourism, which can help reinforce tourism in Attica. I know that this is one of the priorities of Attica's Regional Governor, Mr. George Patoulis. The GNTO is already in discussions with many entities for the creation of a common strategy and of course for finding ways to promote destination Attica in the best and most effective way possible. Obviously, the Region of Attica plays a significant role in this collective effort.
4. How would you comment on the tourism slogan of the Region of Attica "Attica – Greece in a Snapshot"? What would you recommend a traveller visiting Attica should do?
Attica is a go-to destination 365 days a year. The region's advertising campaign "Attica – Greece in a snapshot" is extremely successful. As reflected in the spots of the campaign, the visitor can enjoy a mosaic of different experiences in Attica, immerse in landscapes of unique beauty and completely different aspects of nature, in a minimum of time and distance. Attica is not just Plaka and the Acropolis. It is a stunning Riviera, it is beaches a stone's throw away from the city centre that make you feel you are in an island; it is islands very close to the capital, it is suburban areas with unique wine and gastronomy, mountains to hike and explore, modern monuments and wonderful routes. All these combined can offer a tourism product that goes beyond a few-day city break, making Attica a destination for longer experiential travels. And there, I think, lies the great bet Attica can win.
5. Which are, in your opinion, the competitive advantages of Attica as a collection of tourist destinations (blue flags, marinas, infrastructure, sights, etc.) in relation to other European and Mediterranean regions?
I would say that Attica, compared to other European and Mediterranean regions, encompasses the history, the arts, the quality accommodation options, architecture and climate all in one place, in one land. It combines the coast and the mountain within a few kilometres. It matches the pace, the character and the choices of a European capital with the quality of life and of course with Greek hospitality. It's not easy to find a region that encloses all these elements, being at the same time the financial and administrative centre of the whole country. This is why Attica is so unique.
6. What is your opinion on current green growth, sustainability and accessibility in Attica?
The sustainability of tourism is a national objective of Greek tourism policy as a whole. In the near future, however, the situation in individual destinations will play a major role, since they will contribute to further upgrading our entire product. Issues such as waste management, water management and the protection of our natural environment and natural resources are at the forefront. Improving these fields and strengthening infrastructure in terms of accessibility etc, are essential in order to upgrade our product. Green growth and accessibility are without question among the prerequisites, and I would say that they are also high in the list of priorities, in order for our country to have a resilient and sustainable tourism model in the years to come. We cannot rest on our oars, given that competition from other destinations will be fierce. I know that the Region of Attica has a very ambitious programme for the coming years, which includes all these elements. With the appropriate funding, it will be put into practice, strengthening Attica's position on the tourist map even further.
7. What is the work you want to achieve before completing your term in office? How is the cooperation with the Region and the Municipalities of Attica so far?
For me, it will be a success if the image of our country remains at high levels during the crisis, despite the difficult circumstances, and – why not – is further strengthened in relation to our competition. I also believe that it will be a great success if we manage, after the pandemic, to consolidate a new image of Greece and its tourism product abroad, an image that is more authentic and enriched. However, we will not be able to achieve this without everyone's cooperation. I am convinced that everyone understands this need, which is why we maintain regular and productive cooperation with the Region of Attica – with Mr. George Patoulis, his Vice Governors, and the Tourism Department executives. I know that we share the same vision and the same concerns, and I believe that with hard work and dedication we will achieve the double goal before us: dynamically restart our tourism in 2021 and strengthen it even more in the coming years.