Interview with former Attica Region Vice Governor for Culture*, Ms Eleni Doundoulaki: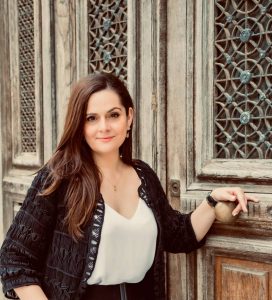 "Attica is where the foundations of Western Civilisation were set, it is here that democracy, classical philosophy and theatre, as we know it today, were born"
1. Ms Doundoulaki, besides theatrology you have also studied "Cultural Policy and Administration" abroad. What made you return to Greece?
When I came back to Greece in 2004, things were totally different from today. It was the year of Athens Olympic Games, profound optimism and exhilaration were everywhere, while Culture was in the spotlight (Cultural Olympiad 2000-2004, 2004 Olympic Games, Patras – Cultural Capital of Europe for 2006 etc.). At the same time, the notion of cultural administration was totally new in the public sphere, therefore the circumstances were particularly favourable for my return. All this aside, I have always loved my homeland – and still do – and I have always wanted to work here. Besides, Greece boasts a remarkable cultural heritage and truly dynamic modern creativity.
2. What is your opinion on the abundance of cultural events organised in Attica? How does this contribute to the attraction of foreign visitors?
As you well know, the vast majority of the country's art workforce lives and creates in Attica. It's only natural for a region of 4 million residents to offer a great variety of events. In Attica we have major Festivals, the historical Athens & Epidaurus Festival being undeniably at the top of the list, and overall the events that are organised here are of very high quality. At the same time, the activities of great cultural foundations and new state-of-the-art cultural spaces in the last few years have contributed to the attraction of foreign travellers, since they offer visitors the fascinating possibility to get to know our country and its culture not only via the museums but in a contemporary and dynamic way. In fact, I believe this is something that can and should be enhanced in the future.
3. Besides being a theatrologist, you are also Vice Governor for Culture in the Region of Attica. Which, do you think, is the common ground between the two, where theatre meets politics?
Politics and theatre have one thing in common: being in touch and communicating with people, and actually "in real time". Both in politics and theatre, the way this communication is achieved is of extremely great importance; how to get across messages in the most direct way possible. In this context, I would say that politics and theatre have an identical mission, particularly when messages produce a dynamic outcome: both in the sense that they strive to influence and form public opinion and in the way messages are communicated and individuals are selected to promote these messages. Theatre, like politics, is a public platform. If you think about it, it is no accident that the amphiteatre is an architectural structure that is common both in theatre and the Parliament.
4. What is your personal long-term vision for culture in Attica?
I will never stop saying that Culture should be positioned in the centre of planning, when it comes to the future of the country. The same goes for the Region of Attica. Structured on the axes of cultural heritage and contemporary creation, the notion of Culture is an immense factor of values that can serve as a catalyst for development and social cohesion. It can help increase investments, create new employment opportunities, support local economies, reinforce education and confront social exclusion on a local, regional and national level.
As for Attica, in particular, I believe we should further promote the elements of its cultural wealth that are lesser known to the wider public, and link them to its world-famous and emblematic monuments; which will also enhance Attica's tourism profile. As a matter of fact, this is what the Governor of Attica, George Patoulis, is aiming at. He believes in the power of Culture and supports it with concrete actions.
5. Which cultural spaces would you suggest a foreign visitor should definitely visit during their stay in Attica?
I would recommend certain Museums that are truly unique: the National Archaeological Museum, the Acropolis Museum, the Byzantine and Christian Museum, as well as the Museum of Cycladic Art. Foreign visitors, who more often than not have come here from a far away country of the world and can visit Greece just once in their lifetime, cannot possibly leave Attica before marveling at the exhibits of these museums.
6. Which are, in your opinion, Attica's competitive advantages for the attraction of visitors of all ages and travel preferences?
Culture… It may sound commonplace but it's the truth. Attica, a truly blessed land, a land that has been consistently inhabited for thousands of years, boasts a number of world heritage monuments. Attica boasts the cradle of Western Civilisation, classical Athens. This is where the foundations of Western Civilisation were set, it is here that democracy, classical philosophy and theatre, as we know it today, were born. Having said that, Attica may as well attract visitors for its sea and wonderful islands, it can host major sports events and conferences in many of its venues, the capital city is continuously transformed and develops new hubs that become attraction poles within its urban fabric. However Culture is always at the forefront!
7. What do you think of the Region of Attica's slogan "Attica – Greece in a Snapshot"? Which are your favourite snapshots-images of Attica?
Attica is indeed a "snapshot" of Greece! Visiting Attica, a foreign traveller may get a good taste of our country. As for me, my favourite images are the Odeon of Herodes Atticus full of people in a summer concert, the paved Dionysiou Areopagitou Street, the view of Hydra from the sea. As well as lesser known images, such as the Temple of Artemis in Vravrona, East Attica, the emerald waters at the Metopi islet in the Saronic Gulf and the landscape in Elefsina, where a unique archaeological site intertwines with an industrial environment creating an extraordinary sight.
8. What are the first three things you would recommend a visitor should do once they arrive in Attica?
Without a doubt, first they should visit the Acropolis. We, the people of Attica, take it for granted, but foreign visitors don't. For numerous people all around the world it is a life's dream to walk up the Sacred Rock and marvel at the Parthenon up close; its extraordinary architecture and everything it symbolises for universal Culture. The second thing I would suggest is to definitely taste local Greek cuisine. And the third is to go on a beautiful ride along the coastline, starting from Faliro all the way to Sounio to enjoy a magnificent sunset.
9. With its mainland, coastline and enchanting islands Attica is a colourful mosaic of destinations and experiences that cannot be explored in a single day. What would be included in your own itinerary if you had a 7-day… holiday in Attica?
Very good question! If I had a 7-day holiday in Attica I would definitely prefer it were early summer and I would dedicate three days in the mainland, one day at the coastline and three days on the Saronic islands! Above all, in every place this "journey" would take me, I think I would try to re-compose the puzzle of the past, the present and the future of Attica in my own personal perspective!
*Note: Ms Doundoulaki was interviewed while she was still serving as Vice Governor for Culture in the Region of Attica.
Photo: Maria Grammatikou