Interview with the talented Greek actress, Ms Elpida Stathatou: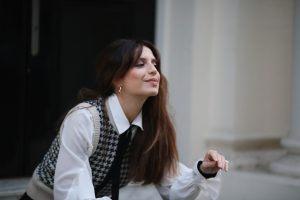 "Any time of year you visit Attica you will find something special to do. It is a place that introduces itself again and again, with every visit"
Elpida Stathatou grew up in Athens, where her talented nature unfolded from a young age. Dance was her first love; later on she studied psychology and finally she found the perfect way to express herself: theatre. Her studies in acting began in Athens and continued in London. She has taken part in short films, commercials and video clips and has worked with several theatre groups. A milestone in her career as an artist was the spellbinding monologue "Stegosaurus", with which she triumphed in London's theatre scene and participated in Edinburgh Festival – the greatest theatre festival in the world – in August 2017. The play received glowing reviews by the international media and "raised the curtain" of an artistic career with bright prospects for the young, talented, dynamic and socially sensitive actress.
1. Ms Stathatou, you grew up in Athens but over the last few years you have been living and working in London. What do you miss the most from Attica?
The first thought that comes to mind almost instantly is definitely Attica's climate and the vibrant atmosphere of the city. What I also miss a lot from Attica and Greece is the overall easiness in meeting with friends – all of which combined make me "feel embraced" when I'm in Athens. Personally, I also wish I could enjoy plays in Greek language, anytime I wanted.
2. Being the cultural metropolis of Greece, Attica boasts countless theatre productions every year, as well as cinema screenings and the greatest cultural festivals in the country, such as the Athens and Epidaurus Festival. To what extent can the modern cultural scene of Attica act as an attraction pole for Greek and foreign visitors?
Athens, especially abroad, is closely related in people's minds with arts and culture; as if it were their mother, in a sense. It is obvious for every foreign visitor that they will have numerous options in cultural events, during their stay in Attica. Therefore, of course I believe culture can be one of the most significant and self-evident attraction poles. Greece has a very strong artistic identity and it is only natural that it hosts extremely remarkable festivals and a multitude of events, shows and productions. Our main responsibility is to make all this known and accessible to the world.
3. Over the last few years, the new generation of Greek creators – directors like Yorgos Lanthimos and Vasilis Kekatos, and actors and actresses like you – achieves more and more international distinctions and exceptional reviews. To what extent does this success contribute to the promotion of Greece's new talents and modern culture to the international audience?
In the last few years, for better or for worse, many Greek artists have left Greece, either for financial or for personal reasons. This gave them a change of scenery, images and experiences and allowed them to create new waves of expression – the majority of which have proved to be very successful. At the same time, the world's theatre and cinema industry – after many struggles, of course – created and demanded more space for diversity; diversity of views, ideas and nationalities. This combination rightfully gave many people the opportunity to stand out and be recognised. In my opinion, Greece always had many, substantially talented artists. Recently, with the help of the world's access to technology, Greek artists can and do create for an increasingly greater audience and the self-evident notion – that they certainly deserve a place in the world's industry and can excel in it – is now a reality.
4. Attica with its mainland, coastline and stunning islands, is a colourful mosaic of destinations and experiences that cannot be discovered in a single day. What would you include in your schedule if you had a… 7-day holiday in Attica?
I would start from the centre of Athens, where I would definitely spend many days, just to immerse into its numerous monuments and museums – from the Acropolis Museum and the Benaki Museum to the National Archaeological Museum and many more. I would certainly devote many hours to Plaka roaming its alleys, strolling along Dionyssiou Areopagitou street and around Anafiotika neighbourhood, and enjoy wandering in the narrow streets of the city. I would also spend a day in my favourite National Gardens and then I would head to the southern suburbs. I would start from Flisvos, driving along the coastline, enjoying the beaches and sunsets, all the way to the majestic Temple of Poseidon in Sounio. Piraeus is another place I have always loved; I often go to Mikrolimano to eat with friends, gazing at the sea. Attica can offer everything, from majestic routes, ancient monuments and museums to beaches, days and nights out on rooftops for coffee or drinks, as well as gastronomic delights. Come to think of it, 7 days are definitely not enough…
5. In the last few years, more and more international cinema productions have been choosing Attica for filming. How do you explain this and what are the benefits for Attica that come with the attraction of foreign productions?
Greece has always boasted natural richness and beauty, but the ground was not as conducive as most international productions would wish. However, over the last few years, I'm happy to see that the country has taken a number of actions to offer more motives and has managed to be selected by more and more production companies. On one hand the permit procedure has been simplified, and on the other hand financial incentives are now offered, i.e. the cash rebate that amounts up to 35% on the eligible production expenses which today is among the highest in the world. Personally, I strongly believe in Attica's potential for further development, since it offers hidden and unexploited beauties in mountains, seas, big cities, villages and islands.
6. Which cultural sites would you strongly suggest a foreign traveller to visit during their stay in Attica?
I definitely suggest they start with the Acropolis and also visit the Acropolis Museum, which is truly one of the most stunning museums I have ever seen. Then walk to the Ancient Agora and make a stop at the Ancient Theatre of Dionysus, which I personally find simply perfect. I would also suggest they should definitely visit the National Archaeological Museum and the awe inspiring Odeon of Herodes Atticus. Cultural choices in Attica are truly endless. I couldn't omit the Temple of Poseidon in Sounio and – when it comes to the newly built cultural spaces – one of the most remarkable buildings in Athens, the Stavros Niarchos Foundation Cultural Centre.
7. Why you think a foreign theatre artist should visit Attica, in order to see – among others – plays that are staged here?
I personally believe that artists need constant inspiration and Attica is the ideal place to be inspired from, since wherever you turn your eyes, history and art touch you in a unique way. What is more, access to many and diverse theatres is very easy, given that in every corner of the city there is a play to see. In difficult periods of time, like the one we live in, inspiration and constant quest are the elements that will keep creation alive – and theatres in Athens have a lot to say.
8. In your opinion, which are the competitive advantages of Attica for the attraction of visitors of all ages and travel preferences, all year round? For which reasons would you suggest your friends in London to visit Attica?
The truth is that it is far from difficult to convince someone to visit Attica. What I often tell my friends and acquaintances is that visiting Attica will satisfy everything they wish for from a holiday, since this place genuinely offers everything anyone needs. The climate and weather are ideal for strolls and excursions all year round, and any time of year you visit Attica you will find something special to do. Attica is not a destination you visit once. Apart from the numerous choices it offers, I believe it is a place that introduces itself again and again, with every visit.