Interview with Chef Periklis Koskinas: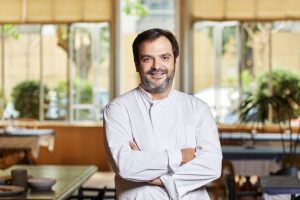 "In the coming years, Attica will continue to be one of the main gastronomic destinations for foodies around the world."
1. You are considered one of the most well-travelled Greek chefs, and justly so, as you started from the island of Corfu and have travelled the width and breadth of America and Europe. Based on your experience, how is Greek cuisine seen in countries such as distant Canada or Venezuela? Do you believe the way Greek gastronomy is seen abroad has changed in recent years?
Twenty years on, the way Greek cuisine is looked upon abroad has changed for the better, spectacularly. Greek cuisine is now definitely one of the most up-and-coming cuisines in the world. Three-star and more low-profile restaurants try to use elements from Greek cuisine, raw materials from Greece, and even techniques that are strongly reminiscent of Greece.
2. In your opinion, are cuisine and gastronomy meeting points among peoples, and how is this reflected in Attica's current gastronomy scene? How could it be made more "open" to the foreign public?
In recent years, Attica has significantly improved its gastronomic product and tourism product in general, offering excellent options. It is no longer known solely for dishes such as souvlaki and moussaka, but for a wider range of products and dishes, on par with the most famous on the global gastronomy scene. More and more restaurants in Attica and its islands are investing time, money, and human resources in Greek hospitality through food, presenting a more complete picture of the "Greek element".
This is the surest way to openness, and we need to continue to invest more substantially in this direction because it is firmly based on everything true and authentic. We must invest in Greek values, quality of materials, and Greek hospitality.
3. "Home-cooked" cuisine, tavernas, street food, award-winning restaurants. What gastronomical routes on the map of Attica would you recommend to a visitor who wants to experience authentic flavours?
The streets of downtown Athens for spices, the central market and the surrounding streets; Petralona for authentic flavours of "home-cooked" Greek food, Agia Irini square for souvlakia, and from Kifissia and Chalandri to Passalimani and Glyfada for a taste of the cuisine prepared by distinguished Greek chefs.
4. How much do you believe the gastronomy of Attica has changed in recent years, and how do you imagine its gastronomic future?
Attica as a whole has now become a gastronomic destination and, at the same time, it is a steady choice for short holidays among other European regions. I think that in the coming years it will continue to be one of the main gastronomic destinations for foodies around the world, and it will certainly establish itself more broadly as a gastronomic destination — a wish come true for all those employed in the gastronomy sector, tourism, and related professions.
5. How important are international distinctions and the gastronomy events hosted in Attica in helping establish it as a gastronomic destination?
The role of such events is extremely important because the spotlight of the global culinary scene is on Attica. It is drawing international interest, both in its purely culinary culture and in its other advantages, such as culture, history, the natural environment, the markets, etc.
This brings revenue to all sectors of production and this is our international passport, both for exporting products and services, and for exchanging people who work in catering from country to country.
6. How does Attica's cuisine reflect the current healthy-diet trend, and how important a role do raw materials play in this?
The core of the Greek diet is based precisely on this trend. Greek cuisine itself is a healthy diet. So, this now coincides with the fact that the whole world is oriented towards living a healthy lifestyle and having a healthy diet. We have a strong comparative advantage over other cuisines, given that our country's biodiversity translates into:
* 6,600 plant species
* 1,450 endemic species (only available here)
* 115 mammals, 12 of which are marine mammals
* 162 species of freshwater fish
* 476 species of seawater fish
* 30,000-50,000 invertebrates, which in some categories exceed 50% endemic species
* 400 edible plant species
These figures give us an understanding of how versatile we are in this respect and how much it can benefit us if we truly utilise it correctly, for the benefit of all those involved and in our very lives.
7. If we ask you to create a menu that "tastes of Attica", what products would you use to prepare it, and what wine from Attica would you pair it with?
Fish from the Saronic Gulf, tomatoes and greens from Marathon, and, naturally, Savatiano wine.
8. "Attica-Greece in a Snapshot" is the Attica Region's tourism slogan. What are your favourite culinary "snapshots in Attica?
Ouzo with a view of the sea on one of its islands or the Riviera, strolling through the alleys of Plaka with an ice cream cone, sandwiches outside the Odeon of Herodes Atticus after a performance, cocktails on a terrace overlooking the city.