Interview with the multi-award-winning Greek director, Mr. Theo Papadoulakis: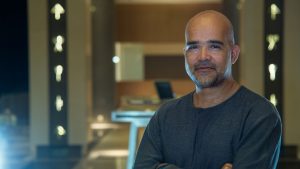 "In Attica there are locations for all types of films!"
1. Mr. Papadoulakis, you have directed the most successful TV drama series ever made in Greece, "The Island", based on the novel of the same name by Victoria Hislop, which was broadcast in more than 10 countries around the world. How do you feel about this success and the fact that you managed to make Greece "travel" all around the world?
I'm very happy that my work receives positive international reception. It is important that we promote our country abroad through our work. The experience I gained from the TV series "The Island", when it comes to fiction, has been applied to a great part of the advertising work I do for our country in general, as well as for individual regions and municipalities. This approach moves people and makes the audience smile and identify with the characters too, not only with the landscape.
2. You have directed the Region of Attica's latest tourism promotional videos "Intergenerational" and "Glaros" (The Seagull). Talk to us about this experience, the filming, the locations you chose and the messages the viewer receives, when they watch these videos.
The thing I will never forget is the tour we made across Attica's islands, on a boat. A necessary condition for us was to experience all these locations ourselves, as if we were the visitors, and indeed this is how it happened. From one island we went to the other. This… island hopping, basically, took us to all of Attica's islands in just a few days. We entered not only the neighbourhoods and paved narrow streets, but also the homes of the people who welcomed us warm-heartedly. Attica's tourism promotional videos were not made merely as advertising material, but as an experience and an immersion deeper into this very important geographical part of Greece. Attica does not only feature Athens, the capital city, but also locations and images that are extremely representative of the whole country. The diversity and beauty of Attica are multidimensional and we had to contemplate everything that Attica stands for, in order to have a complete picture of this land. The message viewers receive watching these videos is that when they visit Attica they will definitely want to come back!
3. What, in your opinion, are Attica's competitive advantages in attracting visitors of all ages and travel preferences, all year round?
Attica's competitive advantages are its climate, the simplicity of daily life, the openness and warm heart of its people, and of course the stunning and extraordinary destinations all around the region, each with their own unique identity that combines the traditional with the contemporary. Attica and Greece in general have a particular European atmosphere; which is always well-received by people of all ages.
4. Over the last few years, more and more international film productions choose Attica for shooting. What are the reasons behind this, in your opinion, and what are the benefits for this land from attracting foreign productions?
I believe that, compared to previous decades, we have now taken the issue of film production in Greece seriously and have been actively involved, just like other neighbouring countries. At last, with the establishment of the National Centre of Audiovisual Media and Communication – ΕΚΟΜΕ, doors are now open to collaborations and productions that take place around Greece and in many locations in Attica. After all, our country is one of the most ideal settings when it comes to climate and geography, boasting mild weather and a variety of landscapes. It features mountains that resemble the Himalayas and heavenly beaches that resemble Bali and Thailand. In Attica, in particular, there is a vast variety of locations in such a small geographic space!
In addition, another factor that attracts foreign productions is the temperament and professionalism of the people who live here and work in the film industry. And it's not just me who thinks that, but also foreign friends of mine who have been impressed by the consistency and professionalism of local crews.
5. One might say that your work is "humanistic", which is also evident in the tourism promotional videos you created for the Region of Attica. Alongside the landscapes of Attica, its people too play a leading part. Tell us a few words about this.
Indeed, my work is humanistic. From our tourism campaigns, the viewer remembers not only the beautiful landscapes but also the characters we choose to feature. These characters have to do not only with the personalities of locals but also with the personalities of visitors / tourists, who have certain "weaknesses" and characteristics the viewer can identify with. I always try to add humour and a sense of uplift to my work. It is something people appreciate, since what they see is not merely a medley of shots and images, but short stories of people that may in a way remind us of our own daily life.
6. Which locations-neighbourhoods or sights of Attica would you choose for the shootings of a film and why?
The list is endless. Of course, it depends on the type of film and shootings I would want to do. In Attica there are locations for all types of films! From adventure and mystery movies, to a summer romantic drama.
7. With its inland, coastline and beautiful islands, Attica is a colourful mosaic of destinations and experiences that nobody can discover in a single day. What would your itinerary include if you had a 7-day holiday in Attica? 
The only way you can experience a place beautifully is when you don't just pass by for a day. Ideally, I would like to visit a number of places in Attica, therefore 7 days are not enough. Having visited all of the region's islands and many of its inland destinations for the filming of Attica's videos, I truly immersed into these places. Without a doubt, I would suggest to visitors to visit Attica at least 5 times, for 7 days each, in order to be able to truly taste Attica. This is the only way to discover this extraordinary cultural wealth; to get to know the people and marvel at these landscapes. It is certain that 7 days are not nearly sufficient! There are such stunning locations that I don't know which to remember first. If I had to name only three, these would be the impressive Acropolis Museum and two of Attica's nearby islands, Hydra and Aegina, which literally enchanted me!